New fractionation plants, steam crackers and export facilities are being built along the Gulf Coast, all spurred by rising U.S. production of natural gas liquids. This incremental NGL output and these new projects are putting serious pressure on existing NGL pipeline and storage infrastructure, and prodding the development of new salt-cavern storage capacity for mixed NGLs, NGL purity products, and ethylene and other olefins. Also, new, expanded and repurposed pipelines to enhance NGL-related flows throughout the region are in the works. Today, we continue our series on NGL storage facilities along the Gulf Coast with a look at Easton Energy Services' plans for more underground storage capacity in Markham, TX, and new NGL and olefin pipelines.
NGL storage capacity and the ability to quickly move mixed NGLs (also known as y-grade), purity products (ethane, propane, normal butane, isobutane and natural gasoline) and olefins like ethylene and propylene to where they need to be are critically important to those whose assets rely on a steady stream of these commodities for operations, production, transport, fractionation and export. As we said in Part 1 of this series, the most economical and practical way to transport and store these commodities is in their liquid state, which necessitates that the transport and storage occur under high pressure. And the most cost-effective way to provide large volumes of storage capacity at high pressure is to develop underground storage caverns within salt dome formations. There is currently about 260 MMbbl of NGL-related storage capacity in place at the NGL hub in Mont Belvieu, TX (red star in Figure 1), and more than 100 MMbbl at salt cavern facilities elsewhere along the Texas coast (blue and light-orange stars).
Tens of millions of barrels of additional storage capacity are in various stages of development in the region, and the aim of this series is to identify and describe major projects and where they stand. In Part 1, we noted that Phillips 66 is in the process of adding 6 MMbbl of capacity at the company's 9-MMbbl  Clemens Caverns facility near Brazoria, TX. This new storage capacity will support the development of new fractionation capacity nearby and a planned ethane-only steam cracker down the coast, as well as LPG exports from Phillips 66's 200-Mb/d LPG export terminal in Freeport, TX. In Part 2, we discussed Caliche Development Partners' Coastal Caverns project in Beaumont, TX, where the company has already developed a 5-MMbbl cavern for storing ethylene and is in the process of adding another 8 MMbbl of storage capacity. Caliche also has installed a header system to provide access to and from its NGL/ethylene storage facility via multiple pipeline interconnections.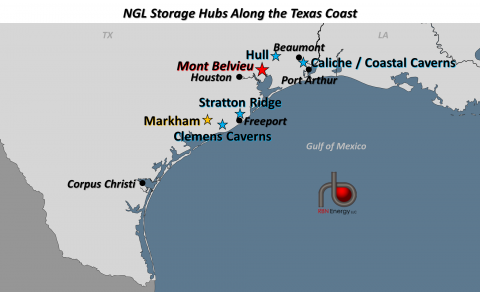 Figure 1. NGL Storage Hubs Along the Texas Coast. Source: RBN (Click to Enlarge)
Today, it's Easton Energy's turn. The Houston-based company, backed by Cresta Fund Management, was formed in early 2018 to focus on the acquisition and development of NGL-related infrastructure along the Gulf Coast. Easton made a big splash in this space last November, when it acquired more than 400 miles of NGL pipelines from Williams for $177 million. Most of that mileage is in coastal Texas between Markham and the Texas-Louisiana state line. The company also has secured the rights to commercialize at least 13 existing salt caverns in Markham (light-orange star in Figure 1) from Texas Brine, the mineral rights lease owner there. We understand that three of the caverns already are under contract and in use, and that Easton has been working with prospective customers interested in using a number of the 10 remaining caverns. As you might guess, the company sees the combination of its pipeline and storage assets playing a significant role in the regional NGL and olefins markets going forward.
We'll begin with a look at the storage side of Easton's business. The Markham NGL storage facility is located about midway between the Texas-Louisiana line and Corpus Christi, a 250-mile stretch of coastline that is still in the midst of an energy- and petrochemicals-based construction boom. Easton's thinking is that more salt-cavern storage in a central location along the Texas coast will be required as (1) more mixed NGLs (or y-grade) are piped in from the Permian and elsewhere; (2) more fractionation capacity comes online in the Corpus Christi area, in Sweeny, TX, and in Mont Belvieu; and (3) more steam-cracker and export capacity is added up and down the coast. The follow-on to this is that NGL marketers, steam-cracker operators, exporters and others will need readily accessible storage capacity (and interconnected pipelines) to manage incoming y-grade flows, and to stage purity products and olefins for downstream use or export. We should note that while there are a number of salt cavern storage opportunities up the coast from Markham, high-pressure storage alternatives down the coast — including in the Corpus Christi area — are very limited.
As we said just above, Easton holds the rights to 13 existing salt caverns at Markham (white dots in Figure 2) — their combined capacity is about 50 MMbbl. As you can see, the Markham facility is either connected to or very near a number of y-grade, purity-product and olefin pipelines.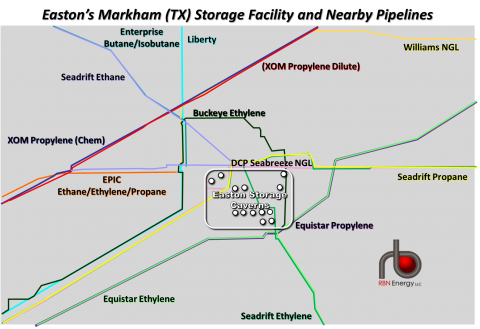 Figure 2. Easton's Markham Storage Facility and Nearby Pipelines. Source: Easton Energy Services (Click to Enlarge)
The 10 Easton caverns whose capacity is still available to new customers range in size from 1.6 MMbbl to 8.6 MMbbl. Use of these caverns, though, would require the build-out of new brine ponds, a process that would be expected to take about a year. (Refer to the first episode of our Magical Mystery Tour blog series for an explanation of the "brine displacement" method for filling and emptying salt caverns.) There is apparently plenty of room for these space-hungry brine ponds — Easton recently bought 140 acres of nearby land for them — and the maximum injection/withdrawal rate for most of the 10 caverns will be 109 Mb/d. Our understanding is that, in most or all cases, Easton would serve as an agnostic, fee-for-service provider of competitive storage services and would not take title to the commodities it stores (unless requested). In other words, its approach is to "take operational storage commercial."
As for Easton's NGL pipeline assets, they are extensive. There are four key elements of the Astro Pipeline System that the company now owns:
The Live Oak system (blue lines in Figure 3), which comprises seven pipelines totaling about 110 miles that run from Mont Belvieu to the Houston Ship Channel and Deer Park areas. The 115-Mb/d system is used primarily to deliver purity products to a number of LyondellBasell/Equistar refinery and petchem facilities, and to support internal product transfers among Equistar's Channelview, Bayport and Houston facilities.
The Texas Belle Pipeline (maroon line), a newly completed, 31-mile pipeline that can transport up to 70 Mb/d of various purity products between ONEOK's Mont Belvieu storage facility and refineries in the Houston Ship Channel area.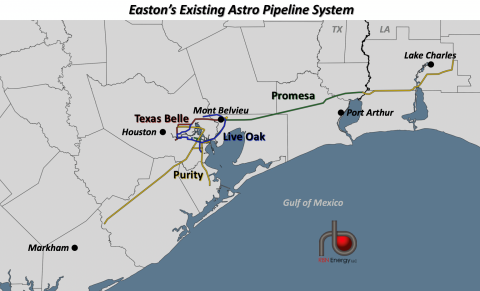 Figure 3. Easton's Existing Astro Pipeline System. Sources: Easton Energy Services and RBN (Click to Enlarge)
The Promesa Pipeline (green line), an idle, 103-mile merchant ethylene pipeline system that comprises seven short-distance pipes collectively known as Promesa West between the Houston Ship Channel and Mont Belvieu, and a single, long-distance pipe known as Promesa East that runs between Mont Belvieu and Orange, TX. (Promesa West is owned by Easton, and Promesa East is under long-term lease from DowDuPont.) The western end of Promesa West includes Astro's Battleground Header system that maintains connections with seven existing ethylene pipelines, while Promesa East maintains a link to Mont Belvieu's NOVA Hub, a major ethylene trading hub and the site of extensive ethylene storage capacity owned by others.
A group of 10 idle purity-product pipelines (tan lines in Figure 3 and Figure 4) totaling 201 miles that connect to Mont Belvieu, the Houston Ship Channel, Texas City, Sweeny, Beaumont (all in Texas) and Lake Charles, LA, among other places. One of the purity pipes — Pipeline #2 — is of particular interest in that it runs from the Houston area to a point a few miles northeast of Markham, and has the potential to support future connections between Houston and Corpus Christi, with Markham serving as the intermediate hub.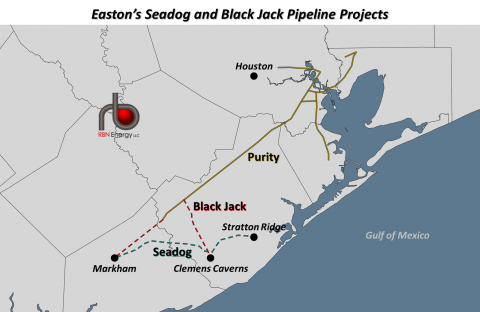 Figure 4. Easton's Seadog and Black Jack Pipeline Projects. Sources: Easton Energy Services and RBN (Click to Enlarge)
We understand that Easton is developing two new pipelines that will further integrate its Markham storage facility with other key NGL-related infrastructure along the Texas coast. First, there's the company's planned 53-mile, 12-inch-diameter Seadog Pipeline (dashed blue-green line in Figure 4) connecting the Markham, Clemens Caverns and Stratton Ridge storage facilities. The bidirectional pipeline, scheduled to come online in the fourth quarter of 2020, will have the capacity to transport up to 100 Mb/d of ethane or propane. The other planned pipe — called the Black Jack Pipeline (dashed red line) — by the third quarter of 2020 will connect the southern terminus of Purity Pipeline #2 (tan line south from Houston; see the last bullet above) to both Markham and other storage facilities and facilitate the transfer of up to 120 Mb/d of heavier NGLs like normal butane, isobutane and natural gasoline up the coast to the Houston Ship Channel, Texas City and Mont Belvieu. Finally, Easton is partnering with Lodestar Energy Group on the development of a new rail terminal for LPG and olefins that would be located about seven miles south of Easton's Markham storage facility.
As you can see, Easton Energy Services is pursuing a number of opportunities for developing new storage and transport infrastructure along the Texas coast. In the next blog in this series, we'll check out what another midstream player is looking to do.
"Friends in Low Places," written by Early Bud Lee and Dewayne Blackwell, was a #1 hit single for country music star Garth Brooks, and remains a crowd favorite at his shows. It is a track on Garth's second studio album, No Fences, which was released in August 1990. No Fences was recorded at Jack's Tracks Recording Studio in Nashville, with Allen Reynolds producing. It yielded four #1 singles on the Billboard Hot Country Songs chart. The album would go to #1 on the Billboard Top Country Albums list and #3 on the Billboard Top 200 Albums chart.
No Fences helped launch Garth Brooks into international superstar status, and helped bring country music into the spotlight again. Personnel on the record were: Garth Brooks (lead and backing vocals, acoustic guitar), and 20 different Nashville session players. "Friends in Low Places" also had 30 friends and singers from low places helping out on the vocals, including its writers, Earl Bud Lee and Dewayne Blackwell.
Garth Brooks is an American singer-songwriter from Oklahoma. He has released 15 studio albums, two live albums, three compilation albums and 67 singles so far in his career. He has won 23 Academy of Country Music Awards, 20 American Music Awards, three ASCAP Awards, 17 Billboard Music Awards, 13 Country Music Association Awards and two Grammy Awards. He is a member of the Country Music Hall of Fame and the Songwriters Hall of Fame. According to the Recording Industry Association of America, he is the best-selling solo albums artist in the U.S. with over 148 million albums sold in the states. He still records and tours, and is currently involved in a "Dive Bar" concert series of seven shows at smaller venues.