The proposed 400 Mb/d Shell Pipeline Company Westward Ho pipeline from St. James, LA to Nederland, TX was first touted in 2011 and initially expected to be in service by Q3 2015 but is now delayed at least until the end of 2017. The project is designed to replace the Shell Ho-Ho pipeline that used to ship crude from Louisiana to refineries on the Texas Gulf Coast until it was reversed in 2013. Westward Ho has struggled to attract shipper commitments to bring additional crude into the saturated Texas Gulf Coast market. Today we review the project's rationale.
Shell Pipeline Company LP (SPLC) originally proposed the Westward Ho project in 2011 in a non-binding open season. That was followed by a first binding open season in April 2012 that ran through June 2012. The original proposal was made in the context of SPLC's plans to reverse their existing pipeline from Houma to Houston – known as Ho-Ho - in 2013 (see the map in Figure #1 and Oh-Ho-Ho It's Magic for more on that reversal project). The Ho-Ho reversal came in response to rapidly escalating volumes of light domestic crude oil from shale showing up in Houston – initially from the Texas Eagle Ford and Permian Basins and then as more pipeline capacity opened up - from North Dakota and the Rockies via Cushing, OK. We have documented these flows of shale crude into the Gulf Coast region in numerous blogs (see Stocks and PADDs and Export Rules for example). Because Houston area refineries are primarily configured to process heavier crude rather than light domestic shale (see They Did It Seaway) it made sense to reverse Ho-Ho to provide a route to refineries in Louisiana that are configured to process lighter crudes. Given the demand for the Ho-Ho route and the fact that it was easier to reverse an existing pipeline than to build a new one, SPCL chose to reverse Ho-Ho first but at the same time announced they would build Westward Ho as a replacement pipeline for shippers moving crude from Louisiana to Houston.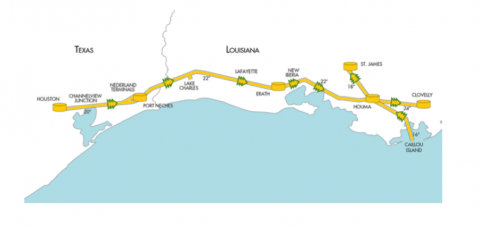 Figure #1 Source: Shell Midstream Filing (Click to Enlarge)
The first Westward Ho open season in April 2012 proposed building a pipeline with up to 900 Mb/d capacity from St. James, LA to Nederland / Port Neches (the Port Arthur/Beaumont refining region) and then continuing with a 500 Mb/d pipeline to East Houston. The open season memorandum included a proposed "walk-up" tariff for uncommitted shippers of $1.85/Bbl from St. James to Houston and discounts down to $1.05/Bbl for shippers willing to commit 300 Mb/d for a 20-year term. SPLC attracted enough committed shippers in the first open season to proceed with planning and permitting the project based on 300 Mb/d capacity and by October 2012 they won approval from the Federal Energy Regulatory Commission (FERC) for the pipeline rate design and tariffs. The initial target was to complete the pipeline by Q3 2015. In early October 2014 SPLC announced a delay to the pipeline start up date until the end of 2017 and later that month launched a second binding open season to try and secure additional shippers. The second open season documents had a more limited scope than the first – describing a 400 Mb/d pipeline from St. James to Nederland only (no mention of the Houston extension) that would be completed by 2017 (see map in Figure #2). The second open season also proposed less onerous terms than the first with shippers only asked to make 3 or 5-year commitments. The proposed tariff was not made public this time around.
To access the remainder of Don't Stop 'Til You Get Enough (Commitment) – Westward-Ho Fights Gulf Coast Crude Tide you must be logged as a RBN Backstage Pass™ subscriber.
Full access to the RBN Energy blog archive which includes any posting more than 5 days old is available only to RBN Backstage Pass™ subscribers. In addition to blog archive access, RBN Backstage Pass™ resources include Drill-Down Reports, Spotlight Reports, Spotcheck Indicators, Market Fundamentals Webcasts, Get-Togethers and more. If you have already purchased a subscription, be sure you are logged in For additional help or information, contact us at info@rbnenergy.com or 888-613-8874.