Accurately assessing the value of—and prospects for—a midstream energy company requires a deep, detailed analysis that considers the firm's individual processing plants, pipelines, storage and other assets; asset location and the degree to which the assets complement each other; and the underlying contracts that generate revenue. Do less, and you may be getting a pig in a poke. It's true, things are definitely looking up in the midstream sector, but that hardly makes every midstream company a winner. Today, we review highlights from a new East Daley Capital report that shines a harsh, bright light on the inner workings of more than 20 U.S. midstream companies.
A house for sale can look move-in-ready from the curb, a year-old SUV can look sparkly and spiffy on a dealer's lot, and a prospective date on match.com … well, you get the idea. Everyone—including the folks that run midstream companies—tries to put their best foot forward, to highlight their most positive attributes, and to de-emphasize the real turn-offs. Nothing and no one is absolutely perfect—we get that—but surely it makes sense, if you're evaluating a midstream company's value and prospects, to gain as full an understanding as you can of what's not put out there on a pedestal for public view. In a newly issued report, Dirty Little Secrets—Lifting the Covers on Midstream Energy Company Risk, our good friends at East Daley Capital have done a lot of that work for you, taking company-by-company analyses far beyond the general overviews that are typically offered by research firms. (More information on the report, which runs more than 100 pages, is available here.)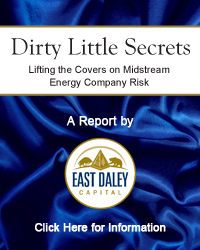 Dirty Little Secrets: Lifting the Covers on Midstream Energy Company Risk
RBN partner and Spotlight Series contributor East Daley Capital is excited to announce their new market research report, Dirty Little Secrets: Lifting the Covers on Midstream Energy Company Risk.
The report's general analysis and its detailed look at 23 midstream companies provide a number of thematic insights that are helpful when considering individual midstreamers' pros and cons. We can't get to them all, but in this blog series we'll discuss three themes that stand out to us. One is that a surprising number of supply-push contracts for gas and crude pipeline capacity will be expiring in the next few years, and in many instances the likely terms for contract extensions or renewables may be much less favorable to the pipeline owners. A second theme in the report is that vertically integrated midstream companies that, for example, can gather natural gas, process it to remove natural gas liquids (NGLs), then pipe gas to market and mixed NGLs (or "y-grade") to storage and/or fractionators—and maybe even fractionate the y-grade into ethane, propane and other "purity products" —have a real leg up on midstreamers whose assets are more disjointed. The third insight we'll focus on is that location really, really matters­­—that is, the near- and mid-term success of a midstream company depends to a significant degree on how many of its pipelines, processing plants and other assets serve production areas are on the rise and not on the ropes. The only way to know how a specific midstreamer stacks up in these three categories (exposure to contract-expiration risk; degree of vertical integration; and favorable/unfavorable locations) is to do what the report does, which is to pull back the corporate curtain, switch on a 5,000-lumen flashlight, and start poking around.
In today's blog we'll focus on one of those themes —the prospects for expiring contracts for crude, NGL and gas pipeline capacity, contract risk, and what it all may mean for some pipeline owners. The Shale Era is now almost 10 years old, and the first round of supply-push pipeline projects (those spurred by the urgent need to move more gas, NGLs or crude out of rapidly expanding production areas) are approaching the same age. The first round of shale-driven pipeline projects came to natural gas, so that is what we are going to focus on here. Figure 1 from the report shows the boom in gas pipeline development that occurred in the era's early years (red dashed oval).
Figure 1; Sources: East Daley Capital, Energy Information Administration
The development of most pipelines is supported by 10- or 15-year "take-or-pay" shipper commitments for capacity; the first of those contracts are coming up on their expiration dates, and many of the rest will be expiring by the early 2020s. That's no biggie if the pipeline in question is transporting hydrocarbons out of a production area that is "hotter than a fur coat in Marfa" (to use a West Texas expression); it's another matter if the production economics and producer interest in an area has cooled considerably and there's much less need­­—or, Heaven forbid, no need at all—for that pipe.
In fact, there are three categories of risk for legacy pipelines with soon-to-expire contracts: uneconomic supply-push pipelines; overbuilds; and competition from new pipelines. We'll look at these categories in that same order; keep in mind that some pipelines face risk in more than one category. It turns out that a number of natural gas pipelines built eight to 12 years ago move gas out of what we refer to as Tier 2 or Tier 3 production areas (more on them later) that are either marginally profitable and subject to large activity swings with small changes in commodity prices or uneconomic and experiencing steady declines in gas output. As you might guess, the greatest risk is to pipelines built to serve Tier 3 areas like the Barnett Shale, the Fayetteville Shale, and parts of the Rockies, where producers have largely stopped drilling and where production may well be declining over the long term. Take the Fayetteville Shale in Arkansas. Figure 2 shows gas production volumes over the past six years (blue shaded area) and pipeline takeaway capacity out of the area (red line). Current production is only half the area's takeaway capacity (and on a steady downward slope) —not a happy situation for pipeline owners like Kinder Morgan and Energy Transfer Partners (ETP), the co-owners of the 2 Bcf/d Fayetteville Express Pipeline (FEP), who face "contract cliffs" in the not-to-distant future. (FEP's Thelma and Louise moment—https://www.youtube.com/watch?v=66CP-pq7Cx0—comes in late 2020, when contracts for more than three-quarters of its capacity expire.) 
Figure 2; Sources: East Daley, Drilling Info
FEP also could serve as an example for overbuilding, the second category of risk. In the Fayetteville Shale and a number of other once-promising gas plays, shippers at the beginning of the boom locked in large volumes of capacity, figuring production volumes were certain to soar—and fearing they would be left without adequate takeaway capacity two or three years down the road if they didn't commit to a pipeline. Another example of overbuilding-associated risk, is Boardwalk Pipeline Partners' 1.7 Bcf/d Gulf Crossing Pipeline, which since 2009 has transported gas from the Barnett Shale in Texas and the Eastern Anadarko in Oklahoma to the Perryville, LA hub—a corridor with more capacity than it currently needs. (See Turn the World Around for more on Perryville.)
Contracts for Gulf Crossing capacity come up for renewal in 2019, and while Cheniere Midstream Holdings' planned 1.4 Bcf/d Midcontinent Supply Header Interstate Pipeline (MIDSHIP) out of the fast-rising South Central Oklahoma Oil Province (SCOOP) and Sooner Trend Anadarko Canadian Kingfisher (STACK) plays in Oklahoma could - if built - feed at least some gas into Gulf Crossing (starting in 2019), it's unclear if that would be enough to offset declines in Barnett Shale and East Anadarko production. Overbuilding is not unique to gas pipelines, of course.  The report cites 2020 contract-cliff concerns about Plains All American's (PAA's) 215 Mb/d White Cliffs Pipeline from the Bakken, the Denver-Julesburg (DJ) and the Powder River Basin to the Cushing, OK oil hub, a corridor served by White Cliffs, the Saddlehorn/Grand Mesa Pipeline, and Pony Express (see Ain't That a Shame).
The third category of risk for legacy pipelines is competition from new pipes; gas pipelines out of the Marcellus/Utica are a prime example. As gas production in the Northeast play grew (and grew and grew—see Too Much Pipe on My Hands?), regional pipelines filled up, new pipes were built, and existing long-haul lines were made bi-directional or reversed entirely. Additional pipelines are under development now and, assuming they get built, they will compete with existing pipes for capacity commitments. For instance, ETP's planned 3.25 Bcf/d Rover Pipeline (see Bat Out of Hell) and/or Spectra Energy's 1.5 Bcf/d Nexus Gas Transmission project would compete with existing infrastructure moving Marcellus gas through the Midwest, and Spectra, NextEra Energy and Duke Energy's 1.1 Bcf/d Sabal Trail Pipeline (across Georgia and Florida) and a Dominion-led joint venture's planned 1.5 Bcf/d Atlantic Coast Pipeline (ACP, across West Virginia, Virginia and North Carolina) would compete with legacy pipes already serving the Southeast (such as Williams' Transco, ETP's Florida Gas Transmission, and Kinder Morgan's Southern Natural Gas, or Sonat).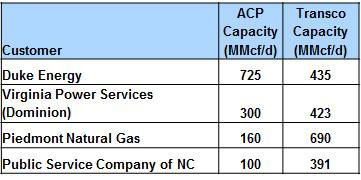 Figure 3; Source: East Daley
Figure 3 shows four major electric and gas utilities with capacity commitments on both Transco and ACP. While many of these customers are likely to keep some capacity on Transco for diversity's sake, there probably will also be some volume cuts over time. Transco and several other long-haul pipelines that traditionally moved gas from the Gulf Coast to the Northeast and Midwest face other challenges too, of course, none greater than the loss of much of their northbound long-haul business, though they have been fighting back with reversal projects that enable them to move increasing volumes of gas southbound to the Gulf Coast (see Part 2 of RBN's Miles and Miles of Texas Drill Down Report).
As we said, the contract-cliff vulnerability of a number of existing gas and crude pipelines is only one of the themes of the Dirty Little Secrets report. In upcoming blogs, we'll discuss two others: one being that vertically integrated midstream companies generally have more favorable prospects than midstreamers whose assets are more disjointed, and another being that the outlook of a midstream company depends to a significant degree on the mix of production areas its assets serve.
More information on the Dirty Little Secrets report is available here.
"Dirty Little Secret" was a 2005-06 hit for The All-American Rejects, rising to #9 on the Billboard Hot 100.