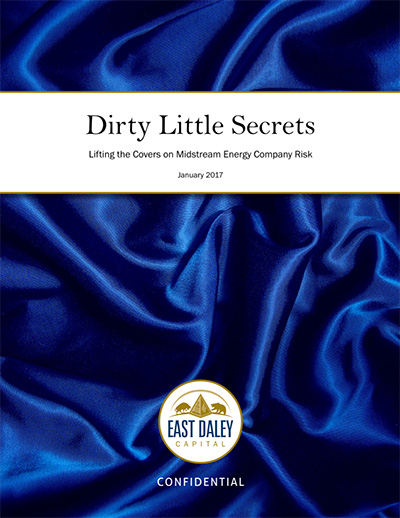 RBN partner and Spotlight Series contributor East Daley Capital is excited to announce their new market research report, Dirty Little Secrets: Lifting the Covers on Midstream Energy Company Risk.
Dissecting the risk behind midstream energy companies is often done with a sword rather than a scalpel. The complex nature of the business typically forces management teams to bucket assets together at a high level, diluting the ability to evaluate the impact of commodity price movements, contract renegotiations or the precise impact of the output from a single well. Perhaps the dirtiest little secret in the midstream energy space is that midstream energy companies, even large cap diversified companies like Energy Transfer Partners (ETP) and Kinder Morgan (KMI), can be dissected at a very granular level. Company reported segments can be subdivided by commodity risk, commodity risk by infrastructure, infrastructure by basin and basin into distinct assets. At its most granular level, assets can even be broken down by contract and counterparty. Dirty Little Secrets details 23 prominent companies in the midstream space by subdividing them into a detailed asset-level forecast. In doing so, dirty little secrets, both good and bad, come to light in the outlook for 2017 and beyond.
Key findings in the report include:
Production basins and sub-basins can be divided into one of three risk tiers, and the companies best leveraged in tier one will have the most opportunity to thrive in a competitive landscape.
New natural gas pipeline expansions will collide with legacy contract cliffs as the sector nears the verge of yet another shake down.
Ethane, Ethane, Ethane! It's coming, it's in Q4, it's quantifiable and it will likely be joined by another new fractionator.
In the Permian Basin, horizontal wells drilled are at a new high and logging initial production rates 47 percent and 40 percent higher than 2014 for oil and gas. The degree of uplift across the midstream space will vary significantly.
Liquefied petroleum gas (LPG) exports are overbuilt in the short term and terminal fees are dropping. If there is a storm, minimum volume commitments (MVCs) provide cover but not shelter.
The surge of growth in the Permian will usher in a new wave of crude oil expansions as the region quickly goes from too much to too little capacity in 2017.
Purchase of Dirty Little Secrets includes a 108 page PDF Report which is divided into two sections. The first 31 Pages analyze market components, shifting trends, and explain methodology. The next 77 Pages are comprised of 3-4 page analysis of 23 individual midstream companies including key points, asset by asset risk profile, and segment operating income forecast. Purchase also includes a presentation from an East Daley senior analyst.
Download a Preview of Dirty Little Secrets HERE
For more details and pricing contact tjbraziel@rbnenergy.com 281-819-1983, or