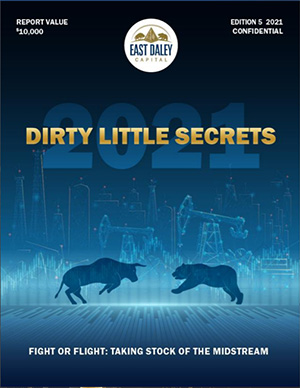 RBN partner and Spotlight Series contributor East Daley Capital is excited to release, 2021 Dirty Little Secrets Report - Fight or Flight: Taking Stock of the Midstream
Dirty Little Secrets is the definitive guide to uncovering opportunities and navigating risk in the U.S. oil and gas sector.
Highlights from 2021 Dirty Little Secrets :
Natural Gas: The Once and Future King. The call on dry gas grows as associated gas falls. We assess the basin-level activity we expect, with all roads leading to Ark-La-Tex. 
Dealer's Choice: Crude Oil Scenario Modeling in the Permian Basin. We outline what the Permian would look like under three price scenarios driving our view that Permian natural gas processing could hit full utilization by 1Q2024 in our base case and as early as 4Q2021 if oil prices rise.
Crude Oil Egress Capacity Glut: The Dire Outlook for Rates and Volumes. Incremental Cushing egress capacity coupled with pipeline developments outside of Cushing will divert supply from the most important crude oil hub in North America, creating a more overbuilt market in 2021 than in 2020. But the Permian will have over 3 MMb/d of excess capacity with more commitments than actual production in 2021, a serious infrastructure glut. 
Running Fast and Slow: Dissecting our Treadmill Incline Intensity Metrics. East Daley predicted an overbuild in long-haul crude and natural gas transportation assets last year, but the crash in commodity prices, large E&P bankruptcies, and lower production outlooks have sped up and exacerbated the cash flow declines for these assets, which are the main Treadmill drivers for the large-cap companies.
The New Regime: Aboveground Regulatory, Legislative, and Judicial Hurdles for Midstream. The incoming Joe Biden presidency presents risks for energy and the midstream sector: more oversight, new climate regulations, slower permitting, and new hurdles for certain pipe projects. But restricted supply could help rebuild pricing and margins. We examine go/no-go implications of key disputed infrastructure, including Mountain Valley Pipeline (MVP), Dakota Access Pipeline (DAPL), and Keystone XL (KXL).
Midstream Free Cash Flow: The Pot of Gold at the End of the Rainbow. The midstream sector offers compelling free cash flow growth as capex slows – we assess durability and sustainability and arrive at some company-level assessments that may not be obvious.
Purchase of Dirty Little Secrets includes a 150+-page PDF Report which is divided into six sections: and includes an overview of the 26 midstream companies under East Daley coverage.