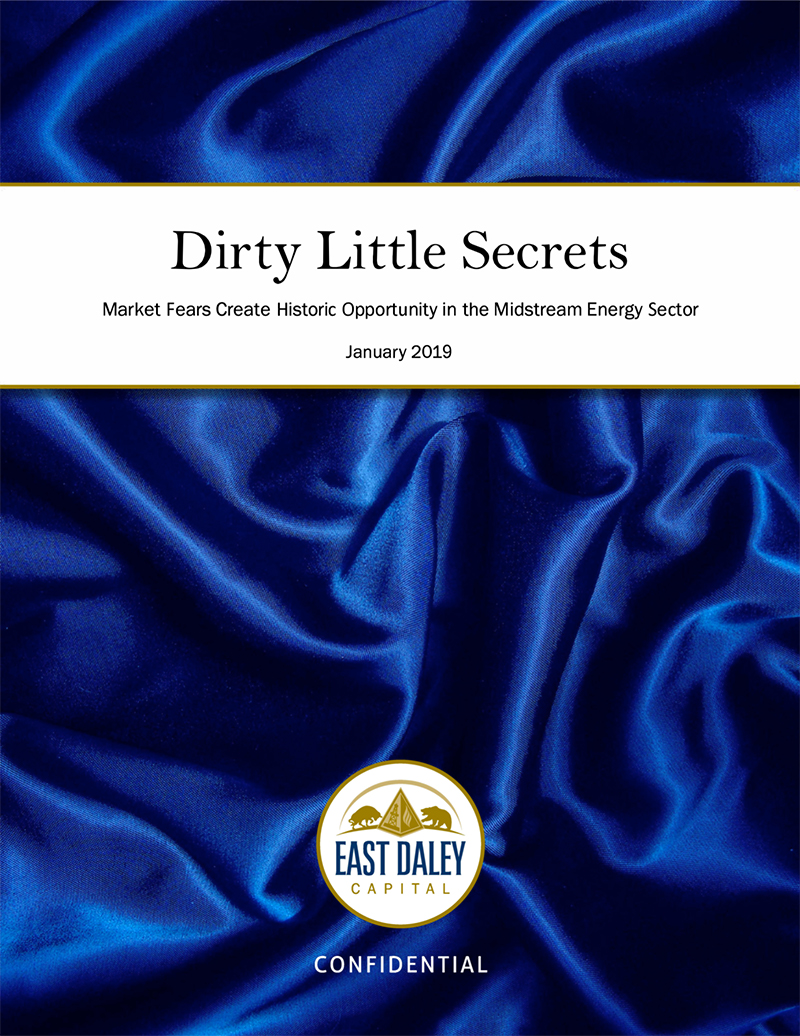 RBN partner and Spotlight Series contributor East Daley Capital is excited to release, Dirty Little Secrets - Market Fears Create Historic Opportunity for the Midstream Sector.
Dirty Little Secrets is the definitive guide to uncovering investment opportunities and navigating risk in the U.S. midstream oil and gas sector.
With over 200 pages of detailed analysis, this report provides the most comprehensive review of upside and downside risk of 27 midstream companies. This report is used by investors, institutional banks, fund managers, private equity, midstream companies and E&Ps to understand how changing energy market dynamics will impact the midstream sector in 2019 and beyond.
Highlights from Dirty Little Secrets 2019:
Investors are missing a historic opportunity in a midstream sector that is expected to grow more than $10 billion in EBITDA (20%) over the next four years.
AMZX and WTI have a strong correlation despite midstream cash flows having a tighter correlation to production growth, which will grow by 5% CAGR over the next four years. 
That $10 billion in net growth from 2018-2022 is not created equal: companies like Energy Transfer Partners (ET), Enterprise Products Partners (EPD) and Williams Companies (WMB) will drive that growth, while others will struggle to manage the $4 billion treadmill in legacy asset declines over that same time period.
 U.S. crude oil supply is predicted to increase by 1.0 MMb/d in 2019, a growth rate similar to 2014 despite a 50% decline in oil prices.
A record level of DUC inventories (more than 2,500 wells in the Permian alone) continue to fuel midstream asset growth.
Production growth will fuel midstream infrastructure opportunities in new ways, such as water disposal; East Daley estimates that $5.8 billion of CapEx spend will be required to expand produced water disposal capacity through 2022.
Purchase of Dirty Little Secrets includes a 200+-page PDF Report which is divided into two sections. The first 68 pages analyze market conditions, shifting trends, and an explanation of methodology. The next 143 pages are comprised of 3-4 page analysis of 27 individual midstream companies including key points, asset risk profiles, and segment operating income forecasts.
Download a Preview of Dirty Little Secrets HERE
For more details and pricing contact tjbraziel@rbnenergy.com 281-819-1983, or