U.S. gas plant production of propane is up 25% since early 2011, far above growing volumes of ethane, held to only an 8% rise by rejection economics.   As propane supplies have surged, prices have come down hard…. But not nearly as hard as would have been the case if it were not for rapidly increasing exports.  And where are all these barrels going?   That's right.  In a conga line of ships headed to Latin America where the growth in imports from the U.S. into some countries has been off the scale.  Which countries are taking all this propane?  How long can this go on?  How much dock capacity does the U.S. need?  What could derail this development?  Today we begin a blog series to explore these questions.
Propane Export Update
The propane market has been grappling with an oversupply situation since Spring 2012.  That was when the ramp up in propane production collided with the year-of-no-winter, pushing propane inventories into the stratosphere.  We explored the propane situation a couple of months back in Exports Prescribed for Propane Relief, which looked at supply, demand, exports and the export dock expansion projects coming from Enterprise and Targa.
Since then, U.S. production has continued to increase, and hit a record volume of 758 Mb/d in November 2012 according to EIA.  There were zero imports of propane into the mainland U.S. in Q4 2012.  On the other hand, exports were up to 176 Mb/d in Q4 2012, getting to almost 200 Mb/d in January 2013 according to Waterborne Energy numbers.  To put that number in perspective, see Graph #1 below.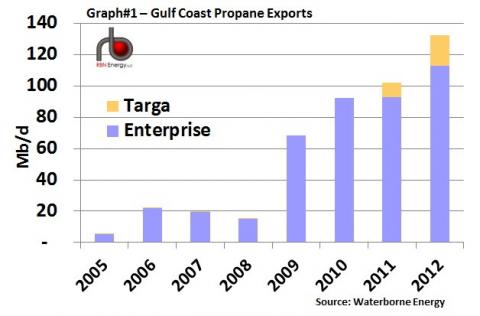 (Click to Expand)
As recently as 2008, U.S. exports were less than 20 Mb/d.  In 2011, total exports were only 100 Mb/d.  Now volumes are double that.  One other fact that is obvious from this graph is that Enterprise handled about 85% of the exports last year.  We'll look at some of the reasons for the disparity between Enterprise and Targa volumes in the section on LPG [1] ships titled "Chill Out", below.  One other thing to remember about these propane exports is that they must share export terminal space with other products, mostly butane.  Butane represented about 10% of total LPG exports in 2012.
This level of propane exports pegs the dock capacity meter, so further volume increases are constrained until new dock capacity comes online.  Back in November Enterprise was saying that its terminal expansion could be complete in January.  That didn't happen.  Now the word on the street is sometime in the second half of February.  However, it is unclear whether all of the increase up to about 250 Mb/d of capacity will be online when the expansion is complete, or if the capacity expansion will come on over time, not reaching full capacity until early Summer.
Targa's Galena Park project is even further out, with initial startup planned for late this year and full capacity not expected until 2014.  Last year, Targa exports averaged about 20 Mb/d.  In January 2013, Targa exported about 38 Mb/d of propane, which is probably at or near capacity.  In "Exports Prescribed for Propane Relief," we reviewed Targa's Galena Park expansion project which includes a de-ethanizer, a pipeline from Mont Belvieu, a dock for ships of all sizes and a refrigerated loading facility.  Targa's terminal will be able to load four VLGC's (Very Large Gas Carriers) by fall of this year and 2-4 more by 3Q 2014. Targa reports that at least 4 VLGC's/month are already under multi-year contracts. The expansion project is expected to cost $480MM and is believed to be on track. 
A couple of weeks ago Targa also announced that it has acquired additional property on the Houston Ship Channel ("Targa Patriot Marine Terminal" or "Patriot Terminal") that provides expansion potential for its export capabilities. Targa Patriot, is located about two miles from Galena Park, and near to Mont Belvieu. This site has a dock, acreage and rail access.
Chill out – The Ships
As we show in Graph #1 above, Enterprise moved 85% of the propane export volumes last year.  The reason is not the size of the Enterprise dock.  Instead the volume disparity is primarily a function of the kind of ships each company can handle at the present time.  To understand the issue, let's spend a few minutes examining the LPG vessel fleet.
By one count, there are about 1,000 operational LPG ships in the world.  That's not very many when you consider that the vast majority of them are quite small.   Ships in the global LPG fleet vary in size and in type.  The sizes range from 500 metric tons to 45,000 metric tons (1 metric ton of propane is about 521 gallons).   So translating those sizes to barrels, the ships range from 6,200 barrels of capacity up to 558,000 barrels of capacity.  The sizes go by names such as VLGC – very large gas carrier, midsize and handysize. 
LPG vessels can be fully refrigerated, semi-refrigerated and/or fully pressurized: 
A fully refrigerated ship has compressors and maintains the tank pressure at close to atmospheric pressure by cooling the LPG to below its boiling point (butane to just below 0 deg C and propane to about -42 deg C). The large VLGCs and most of the larger ships are fully refrigerated, and are designed to receive and delivery fully refrigerated product.  You would not want to load or discharge a fully ref ship into pressurized storage. 
A semi-refrigerated ship is also sometimes called a semi-pressurized ship.  The product is cooled, but not as chilled as a fully refrigerated vessel.  For that reason, the product must be held in pressurized tanks.  These ships also have compressors and can load and discharge LPG cargoes at facilities which are both refrigerated and pressurized.  Most of these vessels are considerably smaller than the fully ref ships (one third the size), and are frequently used to transport petrochemical gasses, like ethylene as well as LPG.
Fully pressurized ships are the small ships used mostly for local distribution of product.  The LPG is carried in cylindrical or spherical steel tanks at ambient temperatures. These ships do not have any compressors and cannot discharge into refrigerated storage. 
If you are interested, there is a somewhat out of date but very informative article on the Poten & Partners website titled LPG Shipping – Past, Present and Future that provides the history of the LPG fleet.  To follow the numbers, you'll need to know that propane is 0.582 metric tons per cubic meter.
So here's the catch for Targa.  Today the company does not have the facilities to load fully refrigerated LPG vessels.  There are two problems.  First they don't have the product refrigeration capacity to get the propane cold enough to load VLGCs.  Second, they don't have the capacity to produce 'Low E' propane.  Fully refrigerated propane must contain no more than about 2% ethane, otherwise the vapor pressure is too high.  Regular U.S. propane, known as HD-5 grade contains up to 5% ethane.  Thus the propane normally traded in Mont Belvieu must be run through a de-ethanizer before it can be loaded on a fully refrigerated vessel.  Enterprise has de-ethanization capacity for this purpose.  Today Targa does not.  That is one of the key facilities being added in their dock expansion project described above. 
Thus Targa's volumes are low because they are loading semi-ref vessels that can take somewhere between 55,000 barrels and 140,000 barrels per cargo.  In contrast, Enterprise can load full refrigerated VLGCs that can take 550,000 barrels per cargo, and more. That's the reason for the big disparity in volumes.  It means that there is a big difference in the kind of market that the two companies can serve at this time, and certainly explains the reason why Targa is spending $480 million to compete in the fully refrigerated cargo market.
The Conga Line of Ships to Latin America
During the month of January 2013, thirty-three LPG cargos left U.S. shores.  Twenty eight of those cargos went south to Latin America.  That's our definition of a conga line.  Given that most of the export volume is coming from Enterprise, let's first look at the breakdown of countries increasing their imports of U.S. propane from the Enterprise dock.  Graph #2 below tells us that in 2012 a huge majority, about 80% of Enterprise exports went to Latin America (a portion of the 'Other' category is Latin America), with the major countries being Mexico, Ecuador, Dominican Republic, Brazil and Honduras.  Many of these Latin American trade partners have been there for a long time - even in the U.S. net import days.  It is just that their appetite for more imports has been growing radically for the past few years.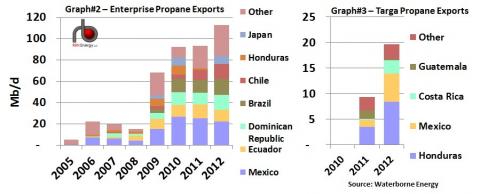 (Click to Enlarge)
Latin America is one of the largest consumers of residential and commercial LPG's.  Latin American demand is expected to continue to increase because of residential and commercial growth and a lack of natural gas pipelines and infrastructure. On top of that, in many cases like Mexico, their own NGL production is declining. In addition, Latin America countries are some of our closest neighbors making delivery costs economical.
Graph #3 shows the country breakdown of the much smaller Targa exports.  Prior to 2011, volumes were zero.  In 2011 exports started to Honduras, Mexico, Guatemala and other countries.  Last year the big growth was to Honduras and Mexico.  The shipments from Targa are all on semi-ref ships moving product to smaller terminals best situated to receive the smaller ships.  Expect that mix of countries to shift significantly when Targa gains the ability to load VLGCs later this year.
So far we've been looking at U.S. export volumes.  So are most of these barrels displacing supplies from other regions, or are they satisfying growth in demand?  Graph #4 provides that answer.  Since 2006, the demand for waterborne propane imports in Latin America is up almost 80%.   Most of that growth has been met by North America.  Supply from the Middle East has been backed out, with about half of the West Africa barrels suffering the same fate.  Volumes from South America (mostly Venezuela and Argentina) are also down.  Net-net, we can conclude that most U.S. exports have gone to meet increasing Latin America demand, and to a lesser extent to displace barrels from other producers in the global LPG market. 
Note that Graph #4 does not represent total demand.  Instead it is that portion of demand met by waterborne imports. So for example, waterborne imports are up into Mexico in part due to declines in Mexico's own LPG production.  At this point we have not looked behind the waterborne import numbers to understand the supply/demand dynamics on a country-by-country basis.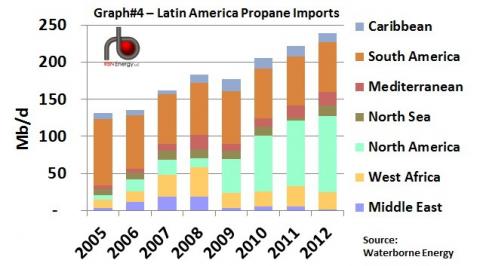 (Click to Enlarge)
Who's Doing All This Exporting?
While as we have seen Targa and Enterprise are exporting propane, another cast of players dominate the international propane game.   Most of these players are neither end-use customers nor big ship owners.  Instead they are marketing and trading companies, specializing in international LPG markets.   Some, like Geogas have been around for a long time.
We'll talk next about some of these players bringing propane suppliers and consumers together and in many cases handling the whole enchilada.
The Biggies:
Geogas is one of the long time veterans in the international LPG trading business. The company was founded in 1979 in Geneva and considers itself the largest international LPG trading company. They are a big player in the Caribbean propane business and own a terminal in San Pedro de Macoris in Dominican Republic. They also own and/or time charter several LPG ships of all sizes.  
Petredec Limited is a Bermuda based LPG trading and ship owning company that started in 1980 (initially Petrolane and Saudi company Redec). Their original focus was on shipping and trading internationally. They eventually acquired their own tankers for operations in the Caribbean markets. Since then they have expanded worldwide and are currently one of the largest independent LPG suppliers and shippers particularly in the Caribbean and Central America. 
Vitol is another long time energy trading company started in 1966. Headquartered in Geneva Switzerland, they are one of the largest privately owned international companies. Vitol also develops terminals and provides refining services.   They own Coastal Caverns Inc. (CCI), which has a potential propane export terminal in the works near Beaumont.  See below. 
Statoil, the giant Norwegian national oil company has operations in 41 countries.  Among their myriad of businesses they trade LPGs produced by Statoil and  the Norwegian royalty company states direct financial interest (SDFI).   Norway is one of the top exporters of LPG. Over half of their LPG sales go to Northwest Europe via small ships.  They have their own LPG terminals at two plants in western Norway.
Trafigura is a leading commodities market trader active in the LPG trade.  The company is involved in trading, shipping, mining and a myriad of other businesses.
Smaller players:
Carib LP Gas  is a Caribbean and Central America LPG supply company. They have been around for 18 years and are a partner of Petredec. Most of their propane comes from Trinidad, Colombia, Venezuela and the U.S. Their market includes the Dominican Republic, Haiti, Panama, Jamaica, Costa Rica, Honduras, Guatemala and EL Salvador.   
Grupo Zeta and Grupo Tomaz  are Mexican, privately held companies (Miguel Zaragosa and Tomaz Zaragosa respectively) focused on LPG sales into Mexican and Central American markets. Grupo Tomaz and Grupo Zeta each have retail and import terminals in Guatemala and Honduras and terminals in Tuxpan, Mexico.  Grupo Zeta also has a terminal in Manzanilla, Mexico. Recently they have become more active in the markets and are moving vessels in their own name as opposed to buying through third parties as they did in the past. 
This is certainly not a complete list of the players, but it does give you a sense of the kind of companies  involved in this trade, and who will likely benefit as U.S. exports continue to move to growing Latin America markets.
Once the propane hits your system, there's no way it is gonna stop…
To sum up, US propane markets and infrastructure are evolving. It's a no brainer that there are probably entrepreneurs old and new who plan on being a part of the action and certainly cannot be ignored. Here are a few updates.
First, Vitol's Coastal Caverns (CCI) unit that we mentioned above is understood to be continuing development for an LPG export facility in conjunction with its LPG storage under development in Beaumont, Tex.  If it moves forward, the new project would take place in two phases and would include storage capacity for up to 6 MM Bbls of domestic and international-grade propane, processing of 100Mb/d and export capacity of up to 6MM tons per year.
Second, we see another big international player who may have its eye on LPG exports.  Recently OXY closed on the purchase of the Ingleside Naval facility that sits right next to their Corpus Christi Ingleside chemical complex.  We are told they are in fact working on a proposed propane export terminal.
Finally there was a Phillips-OXY export terminal that was getting bounced around a few months ago.  We understand that this project has been deep-sixed, probably replaced in the OXY system by the Ingleside project.
In future blogs in this series we will continue to report on U.S. propane export developments, look at other trade partners, dig deeper into the shipping business, and drill down into a couple of the industries' biggest challenges… international propane specs and pricing.    In the meantime, stay with that conga beat.
"Conga" was the first hit single released by Gloria Estefan and Miami Sound Machine in 1985.
[1] LPG – liquefied propane gas, the term used for propane and butanes in international markets and by refiners, includes propane, normal butane, isobutane and mixed butanes.  In international markets, significant quantities of butanes are used for residential and commercial use, primarily for home cooking and heating.
Each business day RBN Energy releases the Daily Energy Post covering some aspect of energy market dynamics. Receive the morning RBN Energy email by signing up for the RBN Energy Network.