In the nearly three months since it began initial service, natural gas flows on Cheniere Energy's Midship Pipeline out of the SCOOP/STACK have ramped up, and now consistently top 700 MMcf/d. This, despite production from the Oklahoma basins declining by close to 10% in that time. In other words, Midship is doing what it was supposed to do — namely, giving producers and shippers incremental capacity to reach relatively more attractively priced markets. However, the pipeline was also meant to connect that supply region with growing LNG export demand on the Gulf Coast, which has been slashed in recent months as global oversupply and poor economics have marginalized U.S. LNG cargoes. That raises the question, where are Midship flows heading? Today, we provide an update on Midship gas flows.
​
This is a follow-up to the Born to Flow blog we wrote in early May, a couple of weeks after Midship first came online. Midship is the recently commissioned large-diameter greenfield pipeline that was built to move an initial 1.1 Bcf/d (and potentially up to 1.44 Bcf/d) of associated gas production from the Cana Woodford field's SCOOP/STACK plays in central Oklahoma south to third-party interconnects at the Oklahoma-Texas border (orange dots near the center of Figure 1). These downstream lines — namely Kinder Morgan's Natural Gas Pipeline of America (NGPL; green line) and Midcontinent Express (MEP; yellow line) pipelines, and the Gulf Crossing leg (purple line) of Boardwalk Pipeline Partners' Gulf South Pipeline (GSPL; lavender system) — can then move the gas east and south to the TexOk Hub in northeastern Texas or the Perryville Hub (pink circles) in northeastern Louisiana for further delivery into the U.S. Southeast and Gulf Coast markets, including making a path down to the LNG export terminals along the Texas/Louisiana shores. Midship has 925 MMcf/d in long-term commitments from producers Marathon Oil Corp. (250 MMcf/d), Gulfport Energy Corp. (300 MMcf/d), and Devon Gas Services (300 MMcf/d), along with a 75-MMcf/d commitment from Cheniere's Corpus Christi terminal.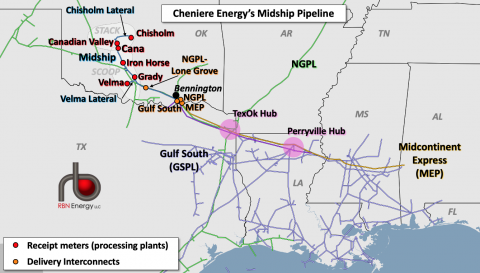 Figure 1. Midship Pipeline Map. Source: RBN
As we discussed in that previous blog, the Midship's start-up on April 21 occurred in a radically different market than when the project was conceived several years ago — as a relief valve for SCOOP/STACK producers and shippers and a supply route for growing Gulf Coast demand, including from Cheniere's Sabine Pass and Corpus Christi terminals. (Given its free-on-board sales model, Cheniere is responsible for securing feedgas for LNG production and its offtakers don't take title of the gas until after it's been liquefied.) Back then, associated gas production out of the SCOOP/STACK was on the rise and pipeline takeaway constraints were developing, particularly for moving gas to southeastern markets, where LNG exports, including from Cheniere's Sabine Pass facility in Louisiana, were just starting to take off, and a second wave of export projects was gaining momentum.
But falling crude oil prices and the COVID pandemic's prolonged dampening effect on demand changed all that. Monthly data from the newly released Energy Information Administration's (EIA) Drilling Productivity Report (DPR) puts production in the broader Anadarko region at ~6.4 Bcf/d for June, down 1.8 Bcf/d from the peaks in October 2019, with two-thirds of that decline occurring in just the past few months. The rig count in the Cana Woodford sits at just seven as of last Friday's Baker Hughes report, down from 53 on average last October and from nearly a 100 at the start of 2019. And as we mentioned in the May blog, each of the producer shippers this year announced a pullback in their SCOOP/STACK activity as part of their 2020 capital spending cuts.
​
As for LNG exports, we've discussed the dramatic fallout from COVID in a number of blogs, including last Friday's Undone. The upshot is that with international price spreads generally too narrow to cover U.S. LNG offtakers' variable costs, U.S. LNG cargoes have been marginalized. Feedgas demand at the four operating Gulf Coast export facilities have fallen to just 2.3 Bcf/d in recent days, from a peak near 8.5 Bcf/d in late January, according to data from the RBN LNG Voyager report, with Cheniere's Sabine Pass and Corpus Christi facilities and the Freeport LNG terminal taking the biggest hits.
Given all this, you might think Midship would sit empty for now. But that's not been the case. Midship receives supply from six processing plant tie-ins (red dots in the Figure 1 map). Daily pipeline flow data from our good friends at Genscape shows that five of the six plants are consistently flowing gas to Midship (left graph in Figure 2). While initial volumes were sporadic, as is typical for a newly commissioned pipeline, Midship flows jumped to more than 600 MMcf/d soon after shipper commitments kicked in May 1. In June, volumes averaged nearly 750 MMcf/d after hitting a high of about 810 MMcf/d on June 17, and have remained above 700 MMcf/d on average in July to date. Since SCOOP/STACK production has been down, we can conclude that these are volumes that were previously moving on other pipes out of the region but have now found a more economically attractive outlet in Midship.
Figure 2. Midship Gas Receipts (left) and Deliveries (right). Source: Genscape
As for where the gas is heading, the bulk of the volumes have been moving east toward the Perryville Hub in northeast Louisiana and beyond. About 400 MMcf/d is moving onto Gulf South (yellow layer, right graph in Figure 2), while another ~300 MMcf/d is getting on MEP (purple layer, right graph). NGPL took nominal amounts (less than 100 MMcf/d) at Bennington in May and June, and those have dropped to near zero in July (green layer, right graph). (That ratio is in line with the primary delivery capacity commitments among the shippers, 725 MMcf/d of which is contracted for the MEP or GSPL interconnects, with the remaining 200 MMcf/d for NGPL-Bennington.) NGPL-Lone Grove has taken nominal flows on just a few days and thus is not visible on the graph.
A closer look at pipeline flows on MEP — which extends from southern Oklahoma southeast through northeast Texas and northern Louisiana to a termination point in Choctaw County, AL — shows that its overall receipts have remained near historical levels since Midship came online, meaning the Midship receipts on the pipe have come at the expense of volumes from other third-party interconnects. Specifically, the higher receipts from Oklahoma on Midship were offset by lower receipts onto MEP from Houston Pipe Line Co. (HPL) and NGPL in Texas (i.e., Barnett Shale gas). MEP's deliveries also are largely in line with historical volumes — though some volumes are delivered at the Perryville and Delhi hubs, close to 80% of MEP's flows move all the way to its eastern terminus for delivery into Transco Pipeline's Station 85 for consumption in the Southeast/Atlantic states. Another 10-12% is delivered to Destin Pipeline in Clarke County, MS.
GSPL is more of a sprawling web-like network, with lines branching out to Gulf Coast delivery areas in southeastern Texas, Louisiana, and Mississippi, as well as into the westernmost portion of southern Alabama and the Florida Panhandle. Midship ties into GSPL's Gulf Crossing zone from Bennington, OK, to northeast Louisiana, and supply receipts on the Gulf Crossing leg also have displaced some volumes that were coming online from MarkWest Pioneer's Arkoma Connector intrastate pipeline in southern Oklahoma, as well as some from the Enterprise system in northeast Texas. But total receipts on Gulf Crossing are still up about 100 MMcf/d or so overall since Midship came online. The Gulf Crossing leg delivers some small volumes (less than 100 MMcf/d for the most part) to a power plant and interconnecting intrastate pipeline in Texas, but the vast majority of it is delivered into the broader GSPL system and other interstate pipelines in Louisiana, in and around the Perryville Hub for further delivery into the Southeast/Atlantic States. [We should note that there was an uptick in GSPL flows to Texas in late winter/early spring that occurred before Midship came online. GSPL happens to be a feedgas supply route for both the Freeport LNG and Cheniere's Corpus Christi export terminal on the Texas Gulf Coast. GSPL receipts peaked in February and March and corresponded with increased deliveries to Freeport LNG as new liquefaction capacity was being commissioned/completed there. But that uptick quickly petered out by early April, as a wave of U.S. LNG cargo cancellations began and cargo liftings out of the Freeport terminal began to taper by April (again, see last week's Undone blog for more on that).]
That all brings us back to where we started this blog, which is that Midship is doing what it's meant to do. As we outlined in our Stardust blog series, SCOOP/STACK production has only two pipeline corridors out of the supply region: north to the Midwest and eastward to the Southeast/Gulf markets. But flows to the north face intense competition from Northeast, Bakken and Canadian gas supplies in a market where demand isn't growing. Thus, producers have favored the southeast-bound corridor, which was expected to become capacity-constrained when SCOOP/STACK production was still climbing. Now, of course, production is down, and pipes are having to compete for volumes. That's made Midship's job tougher and limited its flows, but it is clearly still providing a competitive outlet, as evidenced by the shift of existing production volumes from other pipes to Midship in recent weeks.
That also applies to pipelines downstream of Midship. For now, with Texas Gulf Coast LNG demand in the dumps, Midship flows are primarily moving via MEP and GSPL to eastern Louisiana and beyond to serve power and industrial demand in the Southeast/Atlantic states. And, as we reviewed above, flows on both pipes imply that the injection of Midship flows has displaced their supply receipts from other pipes. These flow trends are likely to hold as long as SCOOP/STACK production and LNG export demand remain depressed, though the downstream dynamics could shift again when LNG cargo cancellations ease, likely by winter.
​
"Born to Run" was written by Bruce Springsteen, and appears as the first song on side two of Springsteen's third studio album of the same name. The song was recorded between January and August 1974 at 914 Sound Studios in Blauvelt, NY, with Springsteen and Mike Appel producing. Copies of the song were intentionally leaked to key East Coast deejays, where it quickly became a popular requested song. With the pump primed, the song was officially released as a single in August 1975, and went to #23 on the Billboard Hot 100 Singles chart. "Born to Run" would go on to be covered by many artists, including Allan Clarke (who was the first one to record the tune), Suzi Quatro, Frankie Goes To Hollywood, and Roger Daltrey. Personnel on the record were: Bruce Springsteen (vocals, guitar), Garry Tallent (bass), Ernest "Boom" Carter (drums), David Sancious (keyboards), Danny Federici (organ, glockenspiel), and Clarence Clemons (tenor sax).
The album, Born to Run, was recorded between May 1974 and August 1975, with Springsteen, Mike Appel, and Jon Landau producing. Released in August 1975, the album went to #3 on the Billboard Top 200 Albums chart, and has been certified 6x Platinum by the Recording Industry Association of America.
Bruce Springsteen is an American singer, songwriter, and musician. Nicknamed "The Boss" by his fans, he has sold more than 135 million records worldwide as a member of the E Street Band and as a solo artist. He has made 19 studio albums, 23 live albums, one soundtrack album, eight compilation albums, seven EPs, and 70 singles. Springsteen has won 20 Grammy Awards, two Golden Globe Awards, one Academy Award, and one Tony Award. He is a member of the Songwriters Hall of Fame and the Rock and Roll Hall of Fame. He has been awarded Kennedy Center Honors and the Presidential Medal of Freedom, and was named the MusiCares person of the year. Springsteen continues to record and tour, and was recently involved in the Jersey 4 Jersey Show to raise money for COVID-19 relief funds.