The build-out of incremental natural gas takeaway capacity out of the Marcellus/Utica region has come in fits and starts, with new pipelines—as opposed to the reversal or expansion of existing pipes—proving to be the most troublesome. Energy Transfer Partners and Traverse Midstream Holdings' long-planned 3.25-Bcf/d Rover Pipeline to southern Michigan is a case in point. The latest challenge for the $4.2 billion project is getting final federal approval in time to allow tree clearing along the pipeline's 711-mile route to be completed before federally protected bats start roosting in early April. If that timeline's not met, Rover's planned completion later in 2017 may be delayed a full year, enabling Western Canadian gas producers to sell more gas to Ontario and the Upper Midwest. Today we assess what's at stake for ETP, Traverse, and producer-shippers in the Marcellus/Utica and Western Canada.
The adjacent and over/under Marcellus and Utica shale plays in Pennsylvania, northern West Virginia and eastern Ohio have had a profound effect on the U.S. energy sector. Natural gas production in the Marcellus took off about seven years ago, rising from ~2 Bcf/d in early 2010 to ~18 Bcf/d now. Utica production's meteoric ascent started in mid-2013; since then the play's output has increased from ~300 MMcf/d to ~4.2 Bcf/d. In addition to giving the U.S. an entirely new gas-production epicenter, the development of the Marcellus/Utica is forcing a major reworking of the nation's gas pipeline delivery network. That network was once geared to moving vast quantities of Gulf Coast gas to the Northeast and Midwest, but now it is focused on moving gas out of Pennsylvania, West Virginia and Ohio in just about every direction—to New England, the Mid-Atlantic states, the Southeast, the Gulf Coast, the Midwest and Ontario/Quebec. We discussed this extensive re-plumbing at length in our 50 Ways to Leave the Marcellus Drill Down Report, and more recently in I Saw Miles and Miles of Texas/Part 1, our series of Drill Down reports on transporting Marcellus/Utica and other gas to LNG export terminals along the Gulf Coast (and to Mexico) and in our Too Much Pipe On Our Hands? blog series.
Energy Transfer Partners (ETP) and Traverse Midstream Partners' planned Rover Pipeline project (yellow and black dotted line in Figure 1) has been mentioned frequently in these reports and blogs. It is the largest single Northeast natural gas takeaway project on the radar screen. The numbers—$4.2 billion, 711 miles, and 3.25 Bcf/d—speak for themselves; the project represents almost 20% of the total takeaway capacity additions we are tracking. Rover also is critical to plans by ETP to make more of its Trunkline (purple line) and Panhandle Eastern Pipeline (red line) bi-directional to allow delivery of more Marcellus/Utica gas to the Gulf Coast and other markets.
Figure 1; Source: RBN
Rover has faced a number of challenges along the way. For one, as we said in our Spotlight Report on ETP, the project since its inception has been competing head-to-head with Spectra Energy's proposed 1.5-Bcf/d NEXUS Gas Transmission project, which would begin in the same general gas-supply area (eastern Ohio) and serve the same general markets (southeastern Michigan and Ontario). A widely held view has been that either Rover or NEXUS will get built, but probably not both, or at least not both in the medium term. (Rover's capacity is currently more than 95% subscribed, while only a little over 60% of NEXUS's is, which would appear to give Rover a significant edge.) Another challenge Rover has faced is that Ascent Resources, a Utica producer that has committed to taking 1.1 Bcf/d (or 34%) of Rover's capacity, ran into financial/credit-rating problems that for a time raised doubts about whether Ascent would have the wherewithal to honor its Rover contract. (Those issues appear to be behind Ascent Resources now; in mid-November 2016 it raised nearly $800 million in new equity to fund continued drilling and production in the Utica and to pay off debt.)
The most immediate concern of Rover's developers today, though, is not competition from NEXUS or counterparty risk. Instead, their minds are focused on the roosting habits of the Indiana bat (an endangered species; see photo below) and the northern long-eared bat (a threatened species— "threatened" being the term used for species on their way toward being endangered).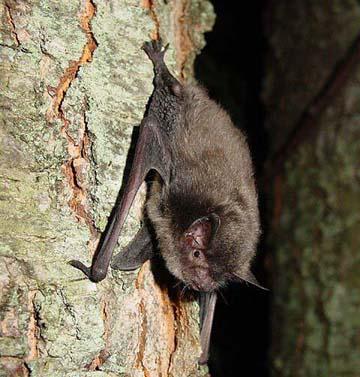 Indiana bat; Source: U.S. Fish & Wildlife Service 
As it turns out, during the warmer months these not-so-adorable creatures like to rest or sleep under the exfoliating bark of dead or dying trees, including many along 511 miles of Rover's route. The developers have committed (as part of the federal environmental review process) to clearing trees only between October 1 and March 31 in Pennsylvania, Ohio and Michigan, and between November 15 and March 31 in West Virginia, which means the clock is ticking to get all 3,000 acres of the needed tree-clearing done prior to April Fool's Day. All ETP and Traverse need is a final certificate of approval for the Rover project from the Federal Energy Regulatory Commission (FERC), and in a December 16 (2016) letter to FERC, ETP (the lead developer, with a 65% ownership interest in Rover) basically said, "C'mon guys, help us out here …" More specifically, ETP asked the commission to approve Rover ASAP, ideally by the end of December, so the developers can turn their lumberjacks loose as soon as they've recovered from their New Year's Eve celebrations.
If Rover gets final FERC approval within the next few days, the developers' expectation is that they can clear the trees along Rover's route by the end of March, finish the portion of the line from the production areas to Defiance, OH (in the northwestern part of the state) by June 2017, and complete the rest of the pipeline into southeastern Michigan by November 2017. A delay of even a few weeks in getting that FERC certificate, though, some tree clearing would likely need to wait until the fall and winter of 2017-18, and Rover's completion would be set back by as much as a year.
We can't handicap the chances that Rover's developers will get what they need from FERC as quickly as they say they need it—predicting the timing of federal action on pretty much anything is a fool's errand. But if Rover's timetable is delayed to 2018, there could be a number of significant effects:
Production growth in the Marcellus/Utica could be hampered. Producer-shippers in the Marcellus/Utica have scheduled up to 1.55 Bcf/d to begin flowing on Rover in June 2017 and up to another 1.6 Bcf/d to start in November 2017, according to the developers' letter to FERC. Antero Resources, which has committed to 800 MMcf/d of capacity on Rover (second only to Ascent's committed volume), has said (in its late-October 2016 earnings call) that takeaway constraints out of the Utica have forced it to rein in its drilling there until Rover comes online.
Depending on the terms of their Rover contracts, producer-shippers could press ETP and Traverse for changes in their committed-capacity volumes or in how much they pay for that capacity.
Western Canadian gas producers, who stand to lose market share in the Upper Midwest and Ontario when Rover is finished and starts operating, could sell considerably more gas into those markets in the second half of 2017 and in 2018 than they would if Rover is up and running later this year.
As we said this past summer in One Way Or Another, natural gas producers in Western Canada already have lost a significant portion of their market share in the Upper Midwest and Ontario to Marcellus/Utica producers, and they stand to lose even more as new takeaway capacity out of the U.S. Northeast comes online. Figure 2 shows how Marcellus/Utica production growth (blue shaded area) has impacted west-to-east gas flows on TransCanada's Mainline.
Figure 2; Source: Canada's National Energy Board 
Whatever happens, it will be a tense few days for a lot of folks: ETP and Traverse, for starters, as well as Marcellus/Utica producer-shippers who have been banking on Rover being ready to receive at least some gas in June 2017, not a year later. Other producers that have committed to capacity on Rover include Range Resources (400 MMcf/d), Southwestern Energy (200 MMcf/d), Gulfport Energy and Eclipse Resources (150 MMcf/d each), and Rice Energy (100 MMcf/d).
"Bat Out of Hell" was a hit album and single for Meatloaf in 1979, and served as the title of two later Meatloaf albums: Bat Out of Hell II: Back Into Hell in 1993 and Bat Out of Hell III: The Monster Is Loose in 2006. A musical based on the songs in the original album is set to debut in the UK in February 2017.