With so much positive news out there about ever-rising production from unconventional oil and natural gas plays, word that the Energy Information Administration has reduced its estimate of recoverable oil from California's Monterey Shale region by 95% is sobering, to say the least. EIA's Monterey shocker serves as a reminder that the U.S. energy renaissance is in its infancy, that each shale play has different characteristics and challenges, and that there is still a lot to learn. In this blog, we look at what had been seen as California's next big thing, and at whether new technology and techniques might revive Monterey's promise.
California has been producing oil conventionally since the late 19th century, and in the first three decades of the 20th century the Golden State and Oklahoma routinely competed for bragging rights as the leading oil-producing state. California oil production peaked in 1985 at 1.08 MMb/d. Since then production has declined to about half that level—550 Mb/d was produced in 2013—but that was still enough to rank California third among the states, behind Texas (2.6 Bb/d in 2013) and North Dakota (860 Mb/d) and just ahead of Alaska (515 Mb/d). To reverse declines in California's conventional output, producers for the past several years have been eyeing the potential of extracting tight oil from the Monterey Shale, an oil-rich geologic formation that underlies a large swath of central California (the San Joaquin Basin) and coastal areas north and south of Los Angeles (the Los Angeles Basin) (see Figure #1).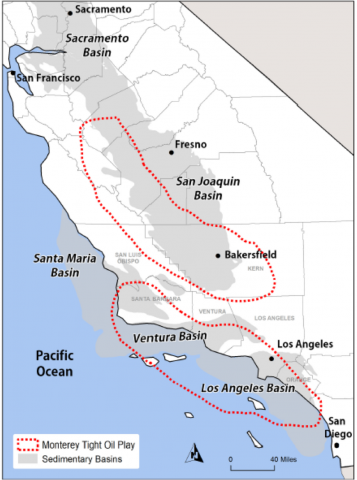 Figure #1
Source: www.postcarbon.org (Click to Enlarge)
Talk of the Monterey Shale's potential reached a fever pitch in July 2011, when a study prepared by INTEK Inc. for the EIA entitled "Review of Emerging Resources: U.S. Shale Gas and Shale Oil Plays" (http://www.eia.gov/analysis/studies/usshalegas/pdf/usshaleplays.pdf) estimated that the Monterey Shale play had 15.4 Billion Bbl of "technically recoverable" shale oil—an astonishing 64% of the total recoverable onshore shale oil in the Lower 48 states. The study predicted that an average of 16 wells would be drilled per square mile in the 1,752-square-mile play (for a total of more than 28,000 wells), and that the average well would produce 550 MBbl. EIA later revised that estimate down to 13.7 Billion Bbl, but still, the Monterey Shale was viewed by some as the next big thing, not just for California but for the U.S. as a whole. A March 2013 economic analysis by the University of Southern California, using those sky-high estimates, predicted that booming production from the Monterey Shale would create as many as 2.8 million new jobs and provide as much as $24.6 billion/year of new tax revenue by 2020. It all turned out to be a serious case of California dreaming. In May, EIA said a new estimate of the Monterey Shale's potential (to be released in June) would show only 600 MMBbl of technically recoverable oil in the play—one-twentieth of what INTEK had projected less than three years ago. What happened? Mostly, it came down to a bad assumption that "the code" for extracting tight oil from the Monterey Shale would be just as easy to crack as the codes for the Bakken and the Eagle Ford. Another way to put it: The Monterey Shale still holds vast amounts of oil, but the technical wherewithal to extract it economically just is not within reach—at least not yet.
To access the remainder of You're No Good—Monterey Shale Crude Oil Busts Before It Booms, But It's Not Done Yet you must be logged as a RBN Backstage Pass™ subscriber.
Full access to the RBN Energy blog archive which includes any posting more than 5 days old is available only to RBN Backstage Pass™ subscribers. In addition to blog archive access, RBN Backstage Pass™ resources include Drill-Down Reports, Spotlight Reports, Spotcheck Indicators, Market Fundamentals Webcasts, Get-Togethers and more. If you have already purchased a subscription, be sure you are logged in For additional help or information, contact us at info@rbnenergy.com or 888-613-8874.