The U.S. market for distillates has been crazy the past few months — especially in PADD 1 —  and given all that's going on, it's likely to stay that way for months to come. Inventories of ultra-low-sulfur diesel, heating oil and other distillates are at their lowest levels for this time of year since before the EIA started tracking them 40 years ago and diesel prices are in the stratosphere, all despite diesel crack spreads being in record-high territory — a strong incentive for refineries to churn out more distillate. In the encore edition of today's RBN blog, we discuss the many factors affecting distillate supply, demand, inventories and prices and take a look ahead at where the market may be headed next.
In observance of the Thanksgiving holiday weekend, we've given our writers a break and are revisiting — and updating — a recently published blog on the U.S. distillates market. If you didn't read it then, this is your opportunity to see what you missed and catch up on recent developments! Happy Black Friday!
It may be true (technically speaking) that everything that comes out of a refinery is a distillate — after all, the first step in refining (after removing salt from crude oil) is boiling the oil and running it through an atmospheric distillation unit to separate crude into diesel oil, kerosene, heavy naphtha, light naphtha and other distilled products. But when we talk about distillates, we're really talking about "middle distillates" — so-named because they condensate in the middle of the fractional distillation tank. These would include diesel and heating oil and usually jet fuel/kerosene, while vacuum gasoil (VGO) is not included. (The terminology here can get a bit tricky as our friends outside the U.S. typically use the word "gasoil" to refer to middle distillates generally, while Americans often use the word "gasoil" to refer to VGO specifically.) Middle distillates typically account for 25% to 50% of a refinery's yield, depending on, among other things, the facility's equipment and the qualities of the crude slate used. Refiners can tweak their operations and their crude slates to ramp up (or down) how much middle distillate they produce.
The events that have roiled energy markets over the past couple of years — COVID, Russia's invasion of Ukraine, the U.S. economic recovery and (more recently) talk of a recession, to name a few — have also altered the dynamics of the U.S. distillates market, nationally but especially in PADD 1 (East Coast). PADD 1 isn't just a leading consumer of distillates — it's pretty much tied with PADD 2 (Midwest) for the #1 spot — it's also the region most dependent on others for its supply. As in other parts of the U.S., distillates are used to fuel trucks, tractors, trains and marine vessels of every size. They are also used in manufacturing, as a backup fuel at power plants that can be fired by either natural gas or diesel, and — importantly — for residential and commercial space heating, especially in the Northeast.
We've mentioned in a number of blogs that East Coast refining capacity (concentrated primarily in New Jersey, the Philadelphia area and Delaware) has been declining over the past several years. As a result, only about one-sixth of the ~1.2 MMb/d of distillates that PADD 1 consumes (annual average) is produced in-region — the rest is brought in from elsewhere. Large volumes are piped in from PADD 3 (Gulf Coast) via the Colonial and Products pipelines (the latter formerly known as the Plantation Pipeline) and much smaller volumes are piped in from the Midwest. To help meet its prodigious demand, PADD 1 also is the recipient of distillate imports, mostly from Canada, the Persian Gulf, India, Europe and Latin America.
As we said in the introduction to today's blog, the standout issue regarding the PADD 1 distillates market right now is that inventories are at a historically low level. As of the week ended November 11, they stood at a hair under 26 MMbbl (right end of red line in Figure 1), compared to almost 40 MMbbl at this time last year (blue line) and almost 60 MMbbl in mid-November 2020 (purple line). (The average for the third week of October during the 2010-19 period was just over 50 MMb/d, or more than twice the current mark.)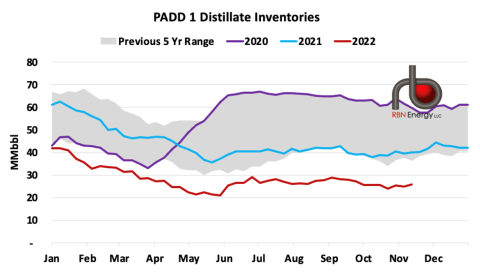 Figure 1. PADD 1 Distillate Inventories. Source: EIA
Over the past three Octobers and Novembers (2019-21), implied distillate demand within PADD 1 (based on EIA's "distillates product supplied" data) averaged 1.2 MMb/d, which suggests that East Coast inventories are only sufficient to meet about three weeks of demand — an extraordinarily thin cushion, particularly as the winter heating season begins in a region that depends heavily on heating oil. (About 18% of households in the Northeast use heating oil as their primary space-heating fuel, down from 25% a decade ago, according to EIA.) We've heard that 20 days' supply is a low in the post-WW2 era, which if true is quite a statement.
Check out RBN's ClusterX EMF Channel Live Cells
Go to Cluster
In addition to their concern about supply, heating oil and diesel consumers in PADD 1 have to deal with highest-ever prices. As shown in Figure 2, the region's retail prices for diesel remain well above $5/gal (right end of red line) and could surpass the $6 mark this winter. In fact, through all of 2022 so far, diesel prices have been significantly higher — and more volatile — than they were in any of the five previous years.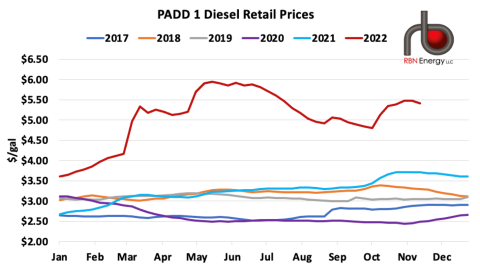 Figure 2. PADD 1 Diesel Retail Prices. Source: EIA
Ok, so the PADD 1 distillates situation is concerning, at least from the perspective of diesel and heating oil consumers there. But how did things go awry? After all, utilization rates for U.S. refineries remain high — 102% in PADD 1 for the week ended November 11, 88% in PADD 2 and 95% in PADD 3 — and the indicative refining margins in PADD 1, at $45 to $54/bbl as of mid-November, depending on the refinery (see RBN's weekly U.S. Refinery Billboard report for details), are remarkably robust. That suggests refiners are already doing all they can to maximize production. The red line in Figure 3 shows 2022 distillate production in PADD 1, which in mid-November stood near its highest mark in the 2020-22 period (249 Mb/d; right end of red line). Remember that PADD 1 production fell in mid-2019 when a devastating fire at Philadelphia Energy Solutions' 355-Mb/d refinery forced the permanent closure of that facility.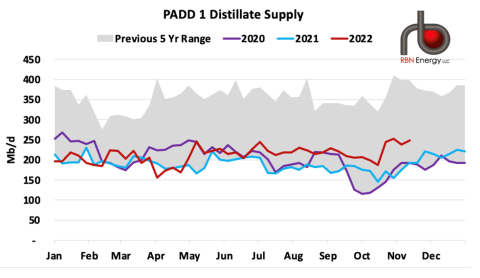 Figure 3. PADD 1 Distillate Production. Source: EIA
What about pipeline flows of distillate into PADD 1 from PADD 3, the East Coast's primary source? EIA's stats on PADD-to-PADD pipeline flows are posted a couple of months after the fact, but in both July and August (the most recent months available) inflows to PADD 1 from the Gulf Coast were lower than normal for that time of year — July's 729 Mb/d was the lowest for a July since 2009, and August's 667 Mb/d was well below the 706-Mb/d average for the 2010-19 period. (Flows from PADD 2 to the East Coast averaged only 25 Mb/d in August.)
[The U.S. Refinery Billboard provides an unprecedented view into the economics and operations of domestic refineries. This weekly report includes regional price spreads and netbacks as well as a refinery-specific breakdown of indicative margins based on 5-year average feedstock and yield sets in Baker & O'Brien's PRISM™ refinery modeling system. Click here for more information and a sample report.]
As for distillate imports, they've generally been sagging. Imported volumes to PADD 1 have been unimpressive for most of 2022 (red line in Figure 4), and in most recent weeks they've been surfing the bottom of the 5-year range (though there was an out-of-character spike the first week of November). A few factors could be at play here, but one that stands out to us is the pull of distillates to Europe — for some obvious reasons. For one, Russia had been a leading distillates supplier to Europe before Ukraine was invaded. Since then, flows of Russian diesel to the continent have been declining, and a European ban on imported Russian distillate is set to be implemented in February 2023. For another, with natural gas at a premium there, European power producers able to switch their plants from natural gas to diesel have been stockpiling distillate. All this also means that the occasional shipments of diesel that PADD 1 would typically receive from Europe in past years won't be happening for the foreseeable future. In addition, the closure of the Come-by-Chance refinery in Eastern Canada in 2020 reduced the amount of diesel available for import from Canada, the primary supplier of imported diesel to the East Coast.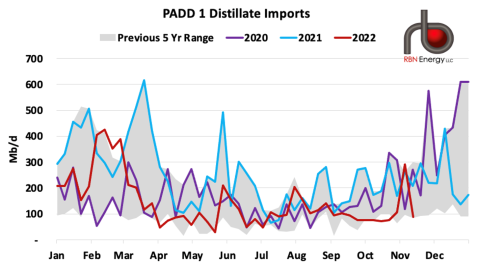 Figure 4. PADD 1 Distillate Imports. Source: EIA
There's another market influencer out there too, namely the impact of IMO 2020, the International Maritime Organization (IMO) mandate that most ocean-going ships powered by fuel oil (the most common bunker fuel) use products containing less than 0.5% sulfur by weight, a significant reduction from the previous specification of 3.5% sulfur by weight. Our understanding is IMO 2020 has resulted in about 700 Mb/d of global middle distillate supplies going to bunker, putting a further squeeze on supply. We should note that these additional barrels in the bunker pool aren't always captured in official statistics (EIA, BP Stats review, etc.) because the final fuel is still sold as bunker, even though it contains more distillate than old-school ship fuel.
Where does all this leave us? Obviously, low distillate inventories and high prices are not a good place for PADD 1 consumers to be, particularly with colder weather on the horizon. Still, the higher prices themselves should help to ensure that sufficient volumes of diesel/heating oil will find their way to storage, service stations and heating-oil distributors in the Northeast this winter. Also — and this isn't really positive news either — the economic slowdown that so many are now anticipating would likely reduce distillate demand, taking a little more pressure off the tight-supply situation.
There's one more thing we'd like to mention before we wrap up. There's been off-and-on talk about the possibility of implementing a temporary ban on U.S. exports of refined products, including diesel, as well as a waiver of the Jones Act to allow foreign-flagged tankers to ship gasoline, diesel and heating oil from the Gulf Coast up to PADD 1. In our view, an export ban would be counterproductive and well, dumb. For one thing, PADD 3 is highly dependent on the export market to balance, with over 35% of the total middle distillate production from their refineries going to foreign destinations. The gap in PADD 1 supply is nowhere near enough to soak up that quantity of PADD 3 exports. So PADD 3 would end up massively long diesel and crack spreads for those refiners would plummet, leading many to cut rates and/or temporarily shut down if the ban carried on long enough.
Also, an export ban would completely undermine Europe's effort to decrease its dependence on Russia — it may even force Europe to reverse its planned import ban on Russian distillates. And then there's the Latin American angle — parts of the region are highly dependent on refined products from the U.S. For example, Mexico imports about two-thirds of its requirements from the U.S. and Central America depends on the U.S. for about 90% of its needs. And international diesel crack spreads? With an export ban, they would likely soar into the triple digits, with $200-plus/bbl a real possibility. Isn't the world messed up enough already?
"Why" was written by Annie Lennox and appears as the first song on Annie Lennox's debut solo album, Diva. Released as the first single from the LP in March 1992, it went to #6 on the Billboard Adult Contemporary chart and #34 on the Billboard Hot 100 Singles chart. Lennox sings "these are the dreams I'll dream instead" in the soulful ballad about love lost and redemption. British director Sophie Muller directed the video for "Why," which won an MTV Video Music Award in 1992. Personnel on the record were: Annie Lennox (vocals, keyboards); Stephen Lipson, Peter-John Vettese and Marius de Vries (keyboards, programming),; Ed Shearmur (piano); Doug Wimbish (bass); Kenji Suzuki and Stephen Lipson (guitars); Keith LeBlanc (drums); Steve Jansen (drum programming); Paul Moore (trumpet); and Gavyn Wright (violin). 
Diva was recorded in 1991-92 at Mayfair and The Church studios in London with Stephen Lipson producing. Released in April 1992, the album went to #23 on the Billboard 200 Albums chart and has been certified 2x Platinum by the Recording Industry Association of America. It won the Brit Award for Album of the Year in 1993. Five singles were released from the LP. 
Annie Lennox is a Scottish singer, songwriter and philanthropist. After attending the Royal Academy of Music in London, she joined Dragon's Playground as a flautist in 1976. From 1977 to 1980 she was the lead singer of The Tourists, a band that included Dave Stewart. With Stewart, Lennox formed the synth-pop duo Eurythmics in 1981, which resulted in Lennox's biggest success. She started her solo career in 1992. She and Stewart would revive Eurythmics for an album, Peace, and tour in 1999. After that tour, Lennox returned to her solo career. With The Tourists, she released three studio albums, two compilation albums and six singles. With Eurythmics, she released eight studio albums, one live album, one soundtrack album, two compilation albums, one EP and 33 singles. As a solo artist, Lennox has released six studio albums, one compilation album and 23 singles. She has won one ASCAP Award, one Academy Award, one Billboard Music Award, eight Brit Awards, one Golden Globe Award, four Grammy Awards, one MTV Video Music Award, and four Ivor Novello Awards. Lennox has been awarded an OBE and a Billboard Century Award and is a member of the Rock and Roll Hall of Fame and Songwriters Hall of Fame. She continues to record and do philanthropic work.