Much of RBN's forecast 1.4 MMb/d expansion in Canadian crude production between 2014 and 2019 is expected to come from oil sands bitumen in Western Canada. An increasing proportion of this crude has to find its way to refineries configured to process this type of crude on the Gulf Coast. But pipeline capacity on that route is in critically short supply.  An important set of expansions to existing Enbridge and Enterprise pipelines between Canada and Texas, parts of which are set to come online soon, hopes to alleviate the situation. Today we wrap up a two part series describing these projects and their impact.
Recap
In Part 1 we described plans to expand the Enbridge Western Gulf Coast Access System (WGCAS) to deliver as much as 800Mb/d of crude from Western Canada to the Texas Coast. This system expansion has become increasingly important to Canadian shippers because of continued delays in permit approval for the rival TransCanada Keystone XL pipeline. The WGCAS system has three sections. The first is the 2.5 MMb/d Enbridge Mainline that stretches from Edmonton, Alberta across the US border to the Chicago, IL region and delivers crude from Western Canada and the Bakken to the US Midwest and Eastern Canada. The second section is the Enbridge Spearhead pipeline between Chicago and Cushing, OK. The third is the Enbridge/Enterprise Products Partners 50/50 JV Seaway pipeline between Cushing and Freeport, south of Houston on the Texas Gulf Coast. Although the pipeline capacity on Spearhead is the weakest link in the current WGCAS, we explained that Enbridge has to expand the whole system, including sections of the Mainline north of Chicago to accommodate expanded demand from Canadian producers. Expansions to one of those northern sections, the Alberta Clipper, have been delayed until late 2015 by permit issues. In this episode we describe the two new build sections of the WGCAS between Chicago and the Gulf Coast and discuss the overall impact of the expansion.
Flanagan South
Flanagan South is a new pipeline expected online during Q3 2014, that will run parallel with the existing 193 Mb/d Spearhead pipeline from Flanagan to Cushing (see map below in Figure #1). Together the 600 Mb/d Flanagan South and 193 Mb/d Spearhead will offer as much as 793 Mb/d of crude capacity between Chicago and Cushing.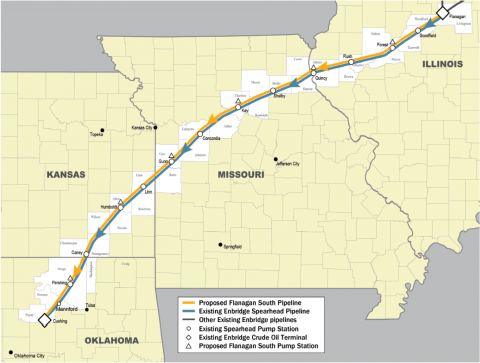 Figure #1
Source: Enbridge
The Flanagan South project is expected to provide long awaited relief to the biggest current constraint on the WGCAS between Chicago and Cushing. That constraint is caused by the existing Spearhead pipeline only carrying 193 Mb/d of crude  – far less than increasing shipper demand to move barrels through Chicago to Cushing and the Gulf Coast. As a result, Spearhead has been running at full capacity with shippers frequently required to reduce nomination volumes because it is over subscribed (a process called apportionment). Such apportionments have played a big role in turning the attention of Canadian producers to rail alternatives to pipeline – as described in our latest RBN drill down report "Go Your Own Way" (see the Ad below for details).
To access the remainder of The Promised Land? Flanagan South and the Seaway Twin you must be logged as a RBN Backstage Pass™ subscriber.
Full access to the RBN Energy blog archive which includes any posting more than 5 days old is available only to RBN Backstage Pass™ subscribers. In addition to blog archive access, RBN Backstage Pass™ resources include Drill-Down Reports, Spotlight Reports, Spotcheck Indicators, Market Fundamentals Webcasts, Get-Togethers and more. If you have already purchased a subscription, be sure you are logged in For additional help or information, contact us at info@rbnenergy.com or 888-613-8874.