Since the start of 2014 two competing pipeline projects designed to provide crude producers in North Dakota with additional takeaway capacity have met with very different fates. The first proposal – the Sandpiper project launched by Enbridge in late 2012 has completed a successful Open Season and petitioned federal regulators for approval of its tariff structure. Sponsor Koch Industries quietly canceled the second competing proposal – the Dakota Express pipeline first proposed in July 2013. Looking at rail and pipeline takeaway capacity versus crude production in North Dakota, both these pipelines are "nice to have" not "need to have". Today we begin a two part analysis of these competing projects.
Earlier this month (February 13, 2014) the North Dakota Pipeline Company (jointly owned by Enbridge and Marathon Petroleum Company – MPC) petitioned the Federal Energy Regulatory Commission (FERC) for a Declaratory Order approving the principals of a revised tariff structure for their Sandpiper crude oil pipeline project. [An earlier petition for a Sandpiper Tariff structure approval made at the end of 2012 was denied by the FERC in March 2013 in part due to shipper concerns about how the pipeline would be financed.] The Sandpiper project involves expansion of Enbridge's North Dakota Pipeline System that has current capacity to deliver 210 Mb/d of crude from western North Dakota to the Enbridge Mainline at Clearbrook, MN. The request for FERC approval of the tariff principals for Sandpiper follows the end of a successful second Open Season for the project in January 2014 that attracted shipper commitments for 155 Mb/d out of the proposed 230 Mb/d initial capacity expected online in 2016. During that Open Season Enbridge announced in November 2013 that MPC (through subsidiary Williston Basin Pipeline Company) would purchase 37.5 percent of Sandpiper, which will translate into 25 percent of North Dakota Pipeline Company when the project is completed. In the process MPC also became the anchor shipper on Sandpiper.
Three weeks before the latest Sandpiper petition to the FERC, a rival pipeline project to move Bakken crude out of Western North Dakota, known as the Dakota Express pipeline, was cancelled by Koch industries (January 22, 2014) without explanation. We assume that Dakota Express was cancelled because of a lack of shipper interest during the initial non-binding 45 day Open Season that Koch held for the pipeline in July and August 2013.
In this two part blog series we try to untangle why Sandpiper appears to be succeeding where Dakota Express failed. But before we get to that we look at whether either of these pipelines is actually needed by North Dakota producers. Analyzing "the stack" – comparing actual and projected crude production in North Dakota against existing and proposed takeaway capacity, provides the answer to that question. In the Bakken such "stack" analysis requires us to account for both pipeline and rail loading capacities, since both compete for shipper business in North Dakota. Below is our "stack" chart based on data provided by the North Dakota Pipeline Authority (NDPA).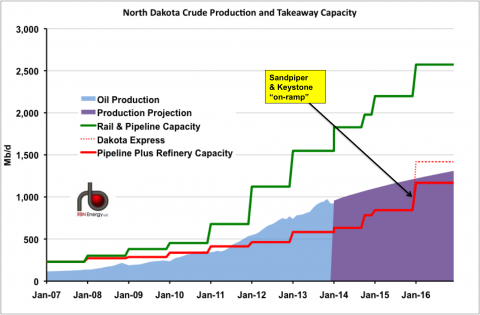 Source: NDPA and RBN Energy (Click to Enlarge)
The chart shows actual Bakken crude oil production in North Dakota up until December 2013 (pale blue shaded area) and projected production through the end of 2016 (purple shaded area based on NDPA and Bentek estimates). The solid red line is pipeline takeaway capacity out of North Dakota plus local refinery consumption. From 2014 onwards that number includes build out projects expected to be complete by the end of 2016 including the addition of 230 Mb/d of capacity on Sandpiper and 100 Mb/d on the Keystone XL Bakken Marketlink "on-ramp" at Baker, Montana during 2016. Above the solid red line is a dotted line representing the Dakota Express capacity if that project had not been cancelled. The green line is rail-loading capacity on top of the pipeline and refinery numbers (not including Dakota Express).
Assuming for a minute that North Dakota producers relied entirely on pipeline takeaway (after local refinery consumption) to get their crude to market, the solid red line on the chart shows that they would have been inadequately served from 2011 onwards because production exceeded pipeline capacity. In fact pipeline capacity only comes close to meeting crude production with the addition of Sandpiper and Keystone XL in 2016. Note also that if both Sandpiper and Keystone get built then the Dakota Express (250 Mb/d) capacity would not have been required until after 2016.
To access the remainder of The Night They Drove Old Dakota Express Down – Crude Pipeline Wars in the Bakken you must be logged as a RBN Backstage Pass™ subscriber.
Full access to the RBN Energy blog archive which includes any posting more than 5 days old is available only to RBN Backstage Pass™ subscribers. In addition to blog archive access, RBN Backstage Pass™ resources include Drill-Down Reports, Spotlight Reports, Spotcheck Indicators, Market Fundamentals Webcasts, Get-Togethers and more. If you have already purchased a subscription, be sure you are logged in For additional help or information, contact us at info@rbnenergy.com or 888-613-8874.