Depending on whom you believe, the international liquefied natural gas (LNG) market is either struggling through a period of oversupply and rock-bottom prices or poised for a new round of demand growth based on that low-cost supply abundance. (Hint: The answer may well be both of the above.) For electric and natural gas utilities that want to become LNG importers as quickly—and as cheaply--as possible, an increasingly popular option is buying or (more likely) chartering a floating storage and regasification unit, or FSRU. Today, we look at the growing use of FSRUs and how they may boost the LNG market.
The LNG-laden tankers departing from the world's growing list of liquefaction and export terminals (a list soon to include Cheniere Energy's Sabine Pass facility in Louisiana) are destined for import and regasification terminals in Asia, Europe, Latin America and elsewhere—even hydrocarbon-rich locales like Kuwait. Traditionally, these LNG-receiving facilities have been built on land, next to long piers where LNG tankers dock and offload their cargo. Increasingly, though, LNG importers are turning to FSRUs--LNG tankers fitted with special equipment that enables them to receive, store and regasify (or vaporize) LNG. It's hard to say for sure yet, but FSRUs may eventually become a significant factor in the international LNG market.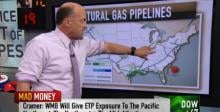 Source: CNBC Mad Money - Click to View Video
On Monday our good friend Jim Cramer did a Mad Money segment examining the Energy Transfer – Williams transaction, and used RBN analysis and maps to help tell the story.
As we'll get to in this, our first-ever look at FSRUs, these floating behemoths offer several benefits to prospective LNG importers, most of them involving speed, cost and flexibility. An FSRU acts very much like a traditional, land-based LNG receiving/import terminal, except that it's assembled in a shipyard, floated in to a waterfront or offshore site and moored, then connected to a pipeline and/or dockside power plant. (An apt analogy might be, a FSRU is to a land-based terminal as a docked cruise ship is to a waterfront hotel.) Like a land-based terminal, an FSRU receives shipments from LNG carriers that moor alongside it; the stored LNG is transferred via pipes or flexible cryogenic hoses. The transferred LNG then is stored on the FSRU for gasification on an as-needed basis; depending on the FSRU's size and equipment, the FSRU can heat and thereby vaporize LNG into gaseous form at rates ranging from the tens of millions of cubic feet/day (cf/d) to the high hundreds of millions of cf/d. 
To access the remainder of Take Me to the River—A Float-in Solution for Quick-start LNG Importers you must be logged as a RBN Backstage Pass™ subscriber.
Full access to the RBN Energy blog archive which includes any posting more than 5 days old is available only to RBN Backstage Pass™ subscribers. In addition to blog archive access, RBN Backstage Pass™ resources include Drill-Down Reports, Spotlight Reports, Spotcheck Indicators, Market Fundamentals Webcasts, Get-Togethers and more. If you have already purchased a subscription, be sure you are logged in For additional help or information, contact us at info@rbnenergy.com or 888-613-8874.