Enbridge own and operate the longest liquids pipeline system in North America extending from Fort McMurray in Alberta to Montreal in Eastern Canada and south through the US Midwest to Freeport on the Texas Gulf Coast. Although the major purpose of the pipeline is to deliver heavy western Canadian crude, it also carries light crude to eastern Canada and the US Midwest. Projects underway that are expected to be completed at the end of 2014 will expand flows of light crude to the east by 400 Mb/d. Today we continue our series reviewing the Enbridge initiatives with the Light Oil Market Access (LOMA) projects.
In Episode One of this series, we reviewed the 9 refineries in eastern Canada with combined capacity of 1.3 MMb/d. These refineries mostly process light crude that until recently has come from offshore Atlantic seaboard production and imports, but they are processing growing volumes of US shale oil today. Extensive upgrades, reversals and expansions to the Enbridge network have begun to change the dynamics of crude supply to these refineries. In Episode Two we began with an overview of the Enbridge system and the two huge expansion projects underway to increase eastbound flows. Then we described the Eastern Access project to rebuild and expand Line 6B by the end of 2014. In this episode we cover the second major Eastern Access initiative - the reversal and expansion of Line 9 and start our description of the light oil market access (LOMA) initiative with the Sandpiper project.
Line 9 Reversal
The 240 Mb/d Enbridge Line 9 stretches from Sarnia, Ontario to Montreal, Quebec (see Figure #1). The pipeline was originally built in the 1970's to feed eastern Canadian refineries with crude from Alberta via the Enbridge Mainline. It was reversed in the 1990's to feed imported crude from Montreal when Western Canadian crude became too expensive. Enbridge is now in the process of reversing the line again to feed crude from western Canada and North Dakota via Line 6B to refineries in Ontario and Quebec. The 9A portion of the pipeline reversal is already complete and started transporting crude oil east from Sarnia to North Westover, Ontario in August 2013. In March 2014, Enbridge received approval from Canada's National Energy Board to reverse the remaining portion, known as Line 9B to flow east from North Westover to Montreal, Quebec and to increase the capacity by 60 Mb/d to 300 M b/d. The target in-service date for the Line 9B reversal is Q4 2014. The eastbound Line 9 will carry mainly light crude that will be supplied via expansions to the Enbridge Lakehead system upstream of Superior to increase flows of Bakken crude south to Flanagan. Once crude reaches Montreal on Line 9 then it can potentially be loaded onto tankers for shipment to Canada's Atlantic Coast. We will discuss that possibility together with the fate of the existing pipeline that feeds crude imports to Montreal from Portland, ME, later in this series.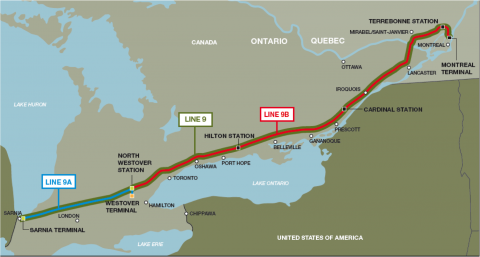 Figure #1
Source: Enbridge (Click to Enlarge)
Light Oil Markets Access (LOMA) Project
Enbridge's highest profile pipeline expansion investments have been devoted to increasing their capacity to deliver expanding production of heavy Canadian crude from Alberta through the Midwest to the Gulf Coast (see the Promised Land Part 1 and Part 2). That emphasis is understandable given that pipeline capacity out of Alberta has been extremely tight and that proposals such as the TransCanada Keystone XL pipeline have been delayed by permitting issues. Somewhat under the radar but also very important for Enbridge is the LOMA project that is dedicated to delivering increased volumes of light crude from both the Canadian and US sectors of the Williston Basin, to refineries in the Midwest and eastern Canada.  Light sweet crude production in the Williston Basin now exceeds 1 MMb/d and is expected to increase half as much again by 2019. Most new production in western Canada will be heavy bitumen from the oil sands region but new horizontal drilling in the Duvernay, Cardium and Viking plays are expected to produce significant light crude flows within the same time frame. With the US Gulf Coast market increasingly overwhelmed by light crude production from Texas, the LOMA initiative provides northern plains producers with better access to eastern US and Canadian markets. The project initiatives, estimated to cost a total of $6.2 Billion, are summarized in Figure #2. 
To access the remainder of Take a Pipe On The East Side? – Light Oil Market Access Into Eastern Canada you must be logged as a RBN Backstage Pass™ subscriber.
Full access to the RBN Energy blog archive which includes any posting more than 5 days old is available only to RBN Backstage Pass™ subscribers. In addition to blog archive access, RBN Backstage Pass™ resources include Drill-Down Reports, Spotlight Reports, Spotcheck Indicators, Market Fundamentals Webcasts, Get-Togethers and more. If you have already purchased a subscription, be sure you are logged in For additional help or information, contact us at info@rbnenergy.com or 888-613-8874.