As U.S. crude oil and natural gas market prices and rig counts climb, the SCOOP and STACK in central Oklahoma continue to be two of the handful of plays attracting significant increased activity and investment, both on the producer and midstream sides.  Production growth from the 11-county region covering the two plays is helping to offset declines in oil and gas volumes from other parts of Oklahoma and the Midcontinent region as a whole. Today we look at historical and recent drilling activity as an indicator of potential growth.
This is Part 2 of our blog series on the SCOOP/STACK. In Part 1 we provided an overview of the play's geographic and geologic profile and recent trends in production from the area. As we described, the SCOOP and STACK (acronyms for South Central Oklahoma Oil Province and Sooner Trend Anadarko Canadian Kingfisher, respectively), are situated within a fairly compact area—an 11-county section of central-Oklahoma—mostly inside the bounds of what is generally known as the Cana-Woodford, which is part of the greater Anadarko Basin. From a geological standpoint, producers in these plays are primarily targeting the Devonian-age Woodford Shale formation, though the STACK in north-central Oklahoma also has access to the Mississippian-era Meramec reservoir (see Scoop-y Doo and All Come to Look for a Meramec).
As we noted in Part 1, producers have successfully exploited this area for decades, first using conventional vertical drilling to target oil and natural gas. In the early years of the Shale Revolution, activity in Oklahoma shifted to primarily target natural gas. But by late 2012–early 2013, gas-focused rigs had declined significantly in the area, and starting in mid-2013, rigs increasingly began targeting unconventional oil and condensates in the play. This effort was led by Continental Resources in what it named the SCOOP and by Newfield Exploration in the STACK. Energy Information Administration's (EIA) historical crude oil production data for Oklahoma shows that after more than two decades of declining, the state's oil production nearly doubled from 205 Mb/d in 2011 to 398 Mb/d in 2014. Growth slowed in 2015, and based on the most recent data available through October 2016 it has shown a small decline, with 2016 output averaging 424 Mb/d, down 8 Mb/d (2%) from 2015, though the EIA monthly data since April 2016 shows production averaging about flat with October up 12 Mb/d over September.
We also observed that with the increased drilling for crude oil, associated gas production growth has accelerated in the area. After stagnating in prior years, gross gas volumes in Oklahoma as a whole jumped nearly 0.9 Bcf/d (16%) in 2014 to 6.3 Bcf/d and rose another 0.5 Bcf/d (8%) in 2015 to 6.8 Bcf/d, according to data from our friends at PointLogic Energy. In 2016, gross gas volumes flattened, on average, right around that 6.8-Bcf/d level. Looking at the same data by play, however, production in most of Oklahoma has been relatively down. But these declines are being offset by growth out of the Cana-Woodford region, which is more or less synonymous with the SCOOP and STACK geography. Gross gas production volumes from the SCOOP/STACK counties grew by 1.0 Bcf/d, or 60%, between 2013 and 2016 to about 2.7 Bcf/d. Back in 2013, SCOOP/STACK production was about 30% of the about 5.5 Bcf/d total in Oklahoma. Just three years later (in 2016), it accounted for 40% of the nearly 6.9 Bcf/d total. This is because with crude oil prices relatively low, producers have been—and continue to be—quite picky about where they focus their rigs. So next let's take a look at what the rig counts in Oklahoma have been doing. For our analysis, we used state-level Baker Hughes rig count data to get total Oklahoma rig counts and then used its county-level data to break that down by the six major plays within Oklahoma, as they are defined by PointLogic:  Ardmore Woodford, Arkoma Woodford, Cana-Woodford, Granite Wash, Mississippian and "Other". Before we get to that play-by-play breakdown, let's start with what's happened to total rig counts in the state, as shown in Figure 1.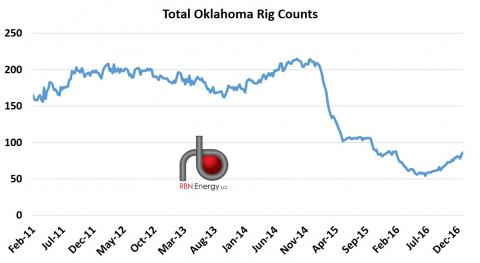 Figure 1; Source: Baker Hughes
From 2011 to late 2014, rig counts in the Sooner State generally were in the 150-200 range and peaked at 215 in Baker Hughes's September 19, 2014 report. But by mid-2015, following the oil price collapse, only 105 of those were remaining. From there, rig counts were choppy but overall continued to fall to a low of 54 rigs in mid-2016. Since then rigs have been returning, and as of the latest data released December 30, 2016 they stood at 86 total rigs, with nearly all targeting oil and condensates. If we drill down to the various plays within Oklahoma, a clear hierarchy emerges. Figure 2 shows the change in rig counts in the Cana-Woodford versus the areas in the state between the September 2014 and late December 2016. 
Figure 2; Source: Baker Hughes, RBN
The Mississippian play in northern Oklahoma (yellow area) used to have 70 rigs operating near its peak in September 2014; it now has just 10. The rig count in Granite Wash (green area) in western Oklahoma peaked near 25, but there are now only four operating there. In the "Other" counties (dark gray), the rig count has declined from 35 rigs in September 2014, to five now. The Anadarko, Ardmore and Arkoma areas (pink, purple and orange area on the map, respectively), were only minimally active even back in 2014 and rig counts there remain low today, with six rigs operating currently in the three plays combined. Then in the center, there's the Cana-Woodford (blue area), where the rig count tallied around 82 in September 2014. While the rig count there is down as well, the 65 rigs currently operating now represent 75% of all rigs operating in Oklahoma and also 10% of total U.S. rigs (658)—just in that 11-county area.
If we drill down further within the Cana-Woodford (i.e. SCOOP/STACK) counties (Figure 3), it's evident that the majority of the activity is concentrated in an even smaller area––a handful of counties, primarily in the STACK (yellow-circled area). Of the 65 rigs in the play currently, 19 rigs (29%) are in Kingfisher County in the northwest part of STACK. Just west of that, Blaine County has the second-highest rig count in the region at 14 rigs (22%). Also in the STACK is Dewey County, with six rigs operating currently. There is one SCOOP (orange-circled area) county in the top four—Grady, with 11 rigs operating. The remaining six counties each have five or fewer rigs, but together add up to 15 rigs. (Murray County, which is not shown in the graph, is at zero rigs currently.) Much of this current rig count was added in the last six months as oil and gas prices have climbed. Ten of the 19 rigs in Kingfisher were added since June 2016, and five of the six rigs operating in Dewey were added in that same period.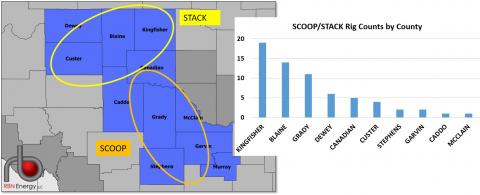 Figure 3; Source: Baker Hughes, RBN
The recent rig additions signal the potential for ongoing production growth out of these counties, and we expect will eventually be enough to more than offset the declining areas. Besides rig counts there also are other indications the market is banking on the SCOOP/STACK play. As we talked about in Like A Prayer?, there has been substantial investment made in midstream infrastructure in SCOOP/STACK to support production growth, with more on the way. In the next blog in this series, we'll look at the economics behind this renewed interest and activity in the play.
"Stardust" is an American popular song composed in 1927 by Hoagy Carmichael, with lyrics added in 1929 by Mitchell Parish. The song became an American standard, and is one of the most recorded songs of the 20th century, covered by over 1,500 artists, including by Bing Crosby, Louis Armstrong, Benny Goodman, Ringo Starr, and Willie Nelson. The song was included on the Carmichael compendium "Stardust, and Much More", a reissue album from RCA/BMG, part of a series of classic jazz and blues collections.