Volatility is back big time in the U.S. natural gas market. The CME/NYMEX Henry Hub prompt natural gas futures contract in mid-November raced up more than $1.00 (28%) in the span of two days to a settlement of about $4.84/MMBtu on November 14, the highest price since February 2014, only to whipsaw back down 80 cents the next day. And, since then it hasn't been unusual to see daily swings of 20-45 cents in either direction. As of yesterday, the now-prompt January 2019 contract was at about $4.34/MMBtu, down 27 cents on the day. The gas market hasn't seen quite this level of volatility in a decade or more. Why now and what are the fundamentals behind it? With the coldest, highest-demand months still ahead, today's blog provides an update of the gas supply-demand balance driving the recent price volatility.

The U.S. gas market has played a bit of a Jekyll-and-Hyde character in 2018. As we discussed recently in Colder Weather, domestic gas storage inventories (gray area in Figure 1 below) have lagged significantly all year, falling as much as 900 Bcf below last year at one point (in April; dashed yellow circle) and staying at least 600 Bcf behind 2017 for much of the year.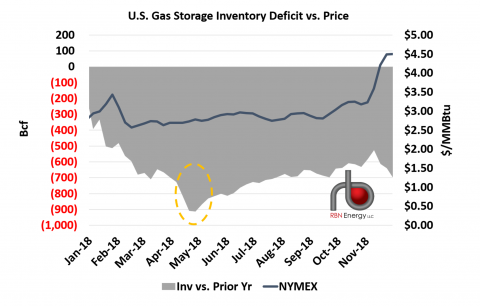 Figure 1. Gas Storage Inventory Deficit vs. Prices. Source: EIA, Bloomberg (Click to Enlarge)
Yet, until recently, the price action remained downright docile, even as the end of injection season was in sight. Henry Hub prompt futures prices (shown as weekly averages by the navy blue line in the graph) were treading just under $3/MMBtu for much of the summer as the market seemed to be taking a wait-and-see approach. It wasn't until late September that prices breached the $3 mark — and even then, just barely — and they proceeded to hover mostly between $3.15 and $3.30 through much of October. As we noted in our July blog series Sky's the Limit, a major factor tamping down prices in the face of a large storage shortfall was rampant production growth earlier this year, and that growth continued in October as several Northeast takeaway projects came online (see our Waiting on the World to Change blog series).
Join Backstage Pass to Read Full Article