The past 10 years have been challenging, to say the least, for Western Canadian natural gas producers, and the situation may not get better any time soon. Squeezed out of many of their traditional markets in eastern Canada and the U.S. Midwest and Northeast and stymied by delays in the development of West Coast liquefied natural gas (LNG) export projects, producers in Alberta and British Columbia have been suffering from lower prices and searching for new outlets for their gas. Alberta's oil sands and power generation sectors will help, but the big fish producers need to land is LNG exports. Today, we consider recent developments in a region long on natural gas reserves but short on gas buyers.
The map in Figure #1 shows the extent of Western Canada's natural gas resource plays. The largely untapped Montney shale play in Alberta and British Columbia (BC) offers the promise of becoming Canada's Marcellus. Canada's National Energy Board estimates that the Montney Formation has 449 Tcf of marketable natural gas (enough to supply all of Canada for another 150 years or so at current consumption rates), and the nearby Horn River in BC play has another 78 Tcf. Then there's the Duvernay Formation (also in Alberta), with major shale gas reserves of its own, plus Alberta's 32 Tcf of conventional gas reserves (the kind of gas produced from vertical wells without hydraulic fracturing) and the potential for several hundred Tcf of coalbed methane from Western Canadian coal seams.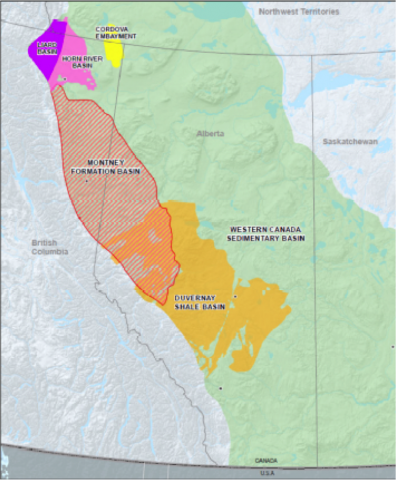 Figure #1; Source: National Energy Board (Click to Enlarge)
The problem for Western Canadian gas producers isn't supply, it's competition for market demand from U.S. shale producers. Most of the gas produced in Alberta has traditionally flowed east and south, much of it to Ontario and Quebec, Canada's economic powerhouses, and to gas consumers south of the border, in the industrial Midwest and the Northeast (see Stuck in the Middle). Some also has flowed southwest, to California, and some has remained in-province for a mix of uses: primarily power generation and industrial consumption (mostly used to produce steam for in-situ oil sands production – see We Are The Champions for more on that technology), but also for residential and commercial space heating. (While it ranks fourth in population among the Canadian provinces behind Ontario, Quebec and BC, Alberta ranks first in gas consumption, accounting for about half of Canada's total gas use.) But seemingly never ending expansion of shale gas output from the U.S. Appalachian Marcellus (and, more recently, Utica) gas basins has increasingly pushed out Western Canadian gas from traditional markets to the east and south. 
To access the remainder of Montney's Python—Western Canadian Shale Gas Is Being Squeezed you must be logged as a RBN Backstage Pass™ subscriber.
Full access to the RBN Energy blog archive which includes any posting more than 5 days old is available only to RBN Backstage Pass™ subscribers. In addition to blog archive access, RBN Backstage Pass™ resources include Drill-Down Reports, Spotlight Reports, Spotcheck Indicators, Market Fundamentals Webcasts, Get-Togethers and more. If you have already purchased a subscription, be sure you are logged in For additional help or information, contact us at info@rbnenergy.com or 888-613-8874.