The major re-plumbing of the U.S. crude pipeline distribution network to get 4 MMb/d of new domestic production as well as incremental Canadian barrels delivered to refineries is getting close to completion. The price crash and an expected slow down in production will almost certainly slow the pace of infrastructure development. The result is likely to be intensified competition between rival midstream companies and industry consolidation. Today we look at the larger implications of a small pipeline project in Houston.
A couple of weeks ago (April 14, 2015) Magellan Midstream Partners L.P. (MMP) and TransCanada Corporation announced a 50/50 joint venture project to build a 9 mile 24 inch diameter pipeline connecting TransCanada's Houston tank terminal to MMP's East Houston Terminal. The proposed pipeline would allow crude from TransCanada's Houston Lateral pipeline to reach MMP's East Houston terminal. The Houston Lateral is currently under construction from Liberty, TX to Moore Road, Houston and branches off the main 700 Mb/d TransCanada Cushing Marketlink pipeline between Cushing, OK and Nederland, TX (see the map in Figure #1). Both the Cushing Marketlink and the Houston Lateral are part of the TransCanada Gulf Coast Project – aka the southern leg of the Keystone XL pipeline (the northern section of which is still waiting for Presidential approval). The Houston Lateral is expected to be online sometime early in the second half of 2015, delivering mostly Canadian heavy crude to Houston refineries. The initial capacity of the Houston lateral has not been publicized by TransCanada but the pipeline was designed to allow all crude flowing from Cushing to be redirected to Houston if desired. At present that would enable flows up-to 700 Mb/d into Houston. The Gulf Coast leg of the project was also designed to be expanded to 830 Mb/d if required.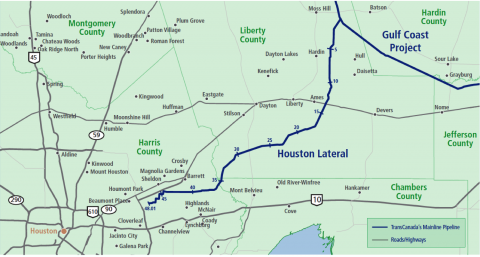 Figure #1; Source: TransCanada (Click to Enlarge)
The MMP/TransCanada joint venture pipeline linking the Houston Lateral to MMP's East Houston terminal has greater significance than its short 9-mile length suggests. If built it would provide a critical link in the crowded Houston area crude pipeline distribution system where large Midstream companies are battling it out for a share of the fees and tariffs from 2.3 MMBbl of crude now passing through the region. We have previously followed the expansion of Houston Ship Channel crude terminal and pipeline systems that feed over 2 MMb/d of refining capacity in the Houston and Texas City region. These systems have expanded and adapted to a flood of new crude – at first light oil from shale and lately heavier crude from Canada. Along the way we have posted blogs about terminals owned by individual players like MMP (see The Gates of Magellan) and Enterprise Products Partners (EPD – see ECHO and the Blending Men) as well as covering the Houston crude storage system in detail (see Houston The Flood Is Upon Us). Probably the most significant development in this distribution system last year was EPD's acquisition of Oiltanking's Houston and Beaumont, TX terminals at the end of 2014 – considerably increasing that company's market share (see Starship Enterprise). Also of recent significance is the emergence of MMP's East Houston terminal as a pricing point for West Texas Intermediate (WTI) crude delivered to Houston from the Permian Basin in West Texas (see Start Me Up). In fact MMP and EPD seem to be increasingly locked in a battle for crude barrels in Houston with each one acquiring assets and making alliances to secure passage for their customer's crude. TransCanada's Houston Lateral project appears to be right in the middle of this rivalry. 
To access the remainder of Locked Up In Chains? Wider Repercussions of a Crude Pipeline Link in Houston you must be logged as a RBN Backstage Pass™ subscriber.
Full access to the RBN Energy blog archive which includes any posting more than 5 days old is available only to RBN Backstage Pass™ subscribers. In addition to blog archive access, RBN Backstage Pass™ resources include Drill-Down Reports, Spotlight Reports, Spotcheck Indicators, Market Fundamentals Webcasts, Get-Togethers and more. If you have already purchased a subscription, be sure you are logged in For additional help or information, contact us at info@rbnenergy.com or 888-613-8874.