There hasn't been a major new refinery built in the lower 48 since 1976. Now, no less than 5 projects to build new oil refineries are on the drawing boards in North Dakota. These projects are really "micro" refineries since they all have 20 Mb/d capacity compared to the 128 Mb/d national average of operating US refineries (source: Energy Information Administration - EIA). The projects all aim to take advantage of a shortage of refined products in North Dakota – especially diesel – as well as abundant supplies of crude from the Bakken shale. Today we review their progress.
North Dakota is producing a heck of a lot of crude oil these days, only a fraction of which is consumed in State. The latest production data from the North Dakota Pipeline Authority (NDPA) released this week indicates crude output in April 2014 just crept past the 1 MMb/d mark - up a whopping 292% from 343 Mb/d in Jan 2011. Yet the Tesoro Mandan refinery is still the only facility processing crude in the State and although it was upgraded in 2012 from 58 Mb/d capacity it now has a maximum 71 Mb/d of crude, just over 6% of current production. As we have described in previous posts and Drill Down reports (see I've Been Working on the Railroad), the rest of North Dakota's production leaves the State for other refineries by rail (63% of April production) and pipeline (30%).
">

"SURVIVING THE FLOOD OF LIGHT CRUDE OIL"

  A JOINT CONFERENCE PRESENTED BY

RBN ENERGY AND TURNER, MASON & COMPANY

Why are refineries limited in the portion of light crude that can be run?  What are the current limits on light crude runs?  If U.S. refineries cannot absorb all of this volume and it cannot be exported, where will all this light crude go?    These questions and many more will be addressed at this conference, to be held August 19-20 in Houston.  More information on Surviving the Flood here.
The Mandan refinery does not meet local refined product demand – most noticeably only producing about 20 Mb/d of middle distillate diesel range material compared to local demand that reached a peak of 63 Mb/d last August (2013). The chart in Figure #1 below shows EIA demand data for diesel fuel (mostly ultra low sulfur diesel – ULSD - for road and rail use) from 2009 when it averaged just 28 Mb/d through March 2014 when monthly consumption was 52 Mb/d.  Most of the difference between Mandan diesel supply (red line on the chart) and North Dakota demand is met by trucking or railing in fuel from Montana and Wyoming refineries. Surging diesel demand in North Dakota reflects the big increase in the State's oil drilling and transportation activities. A blog series posted by our friends at Turner Mason in December 2013 provides a great analysis of where that increased demand for ULSD comes from. They estimated that new drilling activity in North Dakota is consuming 15.5 Mb/d of diesel with another 3.8 Mb/d needed to power trucks picking up oil from wells not attached to pipelines yet and 1.5 Mb/d to power crude by rail locomotives shipping crude out of North Dakota. Demand for gasoline has also increased in North Dakota from the State's increasing oil boom population, although not as dramatically as diesel.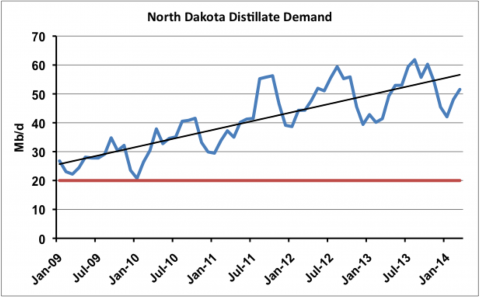 Figure #1
Source EIA, RBN Energy (Click to Enlarge)
Apart from the need to meet a refined product supply deficit, refinery projects are coming out of the woodwork all over North Dakota because locally available crude and high demand for diesel mean that potential refining margins are very compelling to investors. The chart in Figure #2 below shows the refining crack spread between a barrel of ULSD sold in Chicago and a barrel of CME NYMEX West Texas Intermediate (WTI) crude delivered to Cushing, OK. This is a very simple crack spread (see Gulf Coast Diesel Crack Habit) for more on the diesel crack spread) that tells us the difference between pipeline diesel prices in Chicago and crude prices for WTI in the Midwest.  The spread averaged $29.70/Bbl over the whole period since 2012 – reflecting generally higher prices for diesel in the Midwest versus crude and has averaged close to $25/Bbl in 2014. And in reality the diesel crack in North Dakota is likely much better because Bakken crude prices in 2014 have been about $5/Bbl below WTI on average.  Although the crack spread is a very "rule of thumb" simplification of the profitability of a refinery, it indicates that these new refineries could generate healthy margins for their owners as long as current pricing relationships hold up.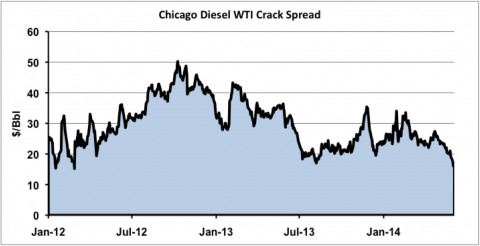 Figure #2
Source: CME data from Morningstar (Click to Enlarge)
The Projects
When we first covered this topic last April there were only three North Dakota refineries on the drawing board (see If You've Got The Money). Now that list has grown to five. The following are brief summaries of each project:
Dakota Prairie Refining: is now under construction and was 60% built by the end of May 2014 - slated for completion by the end of 2014 despite some cost overrun from $300 Million to $350 Million.  Dakota Prairie is a 50/50 joint venture between MDU Resources Group, Inc. and Calumet Specialty Products Partners, L.P.  MDU own a conglomerate of industrial and utility assets in North Dakota including WBI Energy the local utility that will supply gas to the refinery and Fidelity Exploration and Production Company that will supply Bakken crude oil. Calumet manages many similar specialty product and refinery businesses in the US. The facility is located near Dickinson, ND and will process 20 Mb/d of Bakken crude and produce approximately 7Mb/d of ULSD.
Thunder Butte Petroleum: is also under construction – although only Phase 1 is being built so far. North Dakota's Mandan, Hidatsa and Arikara (MHA) Nation will own and operate the refinery. The plant will be located on the Fort Berthold Indian Reservation near Makoti, ND. This $450 MM facility – financed in part from taxes collected by the tribes for oil production in Fort Berthold – is expected to refine 20 Mb/d of Bakken crude into diesel, gasoline and propane. Phase 1 – a truck unloading terminal and two 140 MBbl storage tanks will be completed by September 2014 including a rail spur to the nearby Canadian Pacific railroad. Portions of the refinery are in construction off-site in Houston, Texas, and will be shipped and assembled on site.
Trenton Diesel Refinery: This project, owned by Dakota Oil Processing is planned for a location known as Marley Crossing, 16 miles southwest of Williston, ND and adjacent to the Trenton Savage Services terminal served by BNSF railroad. The Trenton Diesel Refinery received an air quality permit in 2012 that has since lapsed and has no firm start-up date yet because its $200 MM financing has not been completed. The refinery will primarily produce distillates and naphtha.
Devils Lake Refinery: This project is being planned by American Energy Holdings at a cost of  $250 Million and will be another 20 Mb/d capacity refinery, located on the east side of Devils Lake. The company plans to produce diesel and Jet for Minot and Grand Forks Air Force bases as well as naphtha for gasoline. Although construction was originally planned to start in spring 2014, American Energy Holdings do not appear to have gained approval for the Devil's Lake site or any permits or financing.
Fairview Refinery: Quantum Energy is developing this project, on land acquired from Northstar Transloading in East Fairview, ND close to the Montana border. If it is built, the refinery will be located next to the Northstar rail facility, set to be completed in January 2015 with up to 100 Mb/d rail load capacity. The 20 Mb/d capacity refinery will produce 7 Mb/d of diesel and is similar to the Dakota Prairie project. Quantum expects to invest $250 million in the project. As of May 2014, the company was "in the process of seeking zoning and permitting required" but had not yet received a permit.
These 5 projects are very similar in size and scope, but there is not room for all of them in the North Dakota refined product market. At the moment, only the first two, Dakota Prairie (due online by the end of this year), and Thunder Butte Petroleum (which is still in Phase 1) appear to stand a chance of being completed. The other three look unlikely to get built unless they improve both their finances and their progress with permits. These two factors – environmental permits and money are probably the biggest hurdles to new refinery construction in the US. In fact the environmental issues are very likely the reason why all these projects are only 20 Mb/d capacity. Small plants fall underneath the more powerful regulatory radar of the Environmental Protection Agency (EPA) and only need to apply for State Air Permits in North Dakota (even these do not apply to the MHA Nation). The second big hurdle is getting investor backing for projects ranging in cost from $200 Million to $450 Million. Because typical refineries take decades to provide a return, investors have to look beyond short-term price advantages such as today's favorable crack spread. There might be buoyant demand for diesel in North Dakota in 2014 but will the drilling boom last 20 years? Other challenges for these small projects are how to offload the less valuable byproducts of refining such as fuel oil and NGLs -- and the lack of a pipeline transportation infrastructure that means products must be sold nearby to sustain high margins.
Nevertheless, the fact that at least one and possibly two of these refineries will get built with one online at the end of 2014 is a testament to the renaissance of US refining in the oil shale era. Although it is unlikely we will see a spate of new refineries popping up around the US, there is a good chance that specialists like Calumet will continue to develop smaller refineries successfully where there is market need for refined products and access to local crude oil.
Each business day RBN Energy releases the Daily Energy Post covering some aspect of energy market dynamics. Receive the morning RBN Energy email by signing up for the RBN Energy Network.
If You've Got The Money I've Got The Time was written by Left Frizzell and Jim Beck in 1950 and was a #1 COuntry Hit for Lefty. Willie Nelson took his version to #1 in the Country chart in 1976