In January 2015 new international regulations came into force that reduced the permitted sulfur content in ships "bunker" fuel in Northern European and North American coastal regions. The change has required vessels travelling in those zones to use more expensive fuels or install scrubbers to remove sulfur. The changeover was expected to cause a sharp increase in shipping costs but as we discuss in today's blog, so far the impact has been far less painful than expected, at least so far.
New Maritime Bunker Fuel Regulations
We provided an introduction to this topic as part of our series on residual fuel oil at the end of November 2013 (see Yo Ho Ho And A Cargo of Bunkers). Here's a quick recap to get you up to speed on changes in the bunker market. Most large cargo ships use heavy oils known as bunker fuels to power their engines. For years ships in international waters were not subject to environmental regulations and their engines could burn bunkers producing higher emission levels of materials like sulfur and nitrogen than were permitted on dry land. In October 2008 the International Maritime Organization (IMO) adopted new standards to control emissions from ocean going vessels. The new standards are geographic - ships operating in areas where air quality falls below certain standards (designated Emission Control Areas – ECA's) are required to meet tighter emission limits. As part of the ongoing rollout of tighter standards, beginning in January 2015, new and existing ships operating in ECAs are required to use fuels with maximum 0.1 percent sulfur content (down from the previous 1% requirement). The ECA zones are coastal regions of Northern Europe and North America that significant cargo traffic passes through. In the US for example, the ECA effectively covers all of the East, West and Gulf Coast regions within a 200-mile distance of the coast (green lines on the map in Figure #1). The offshore ECA restrictions (1000 parts per million (ppm) sulfur) are less severe than current U.S. onshore fuel regulations for ultra low sulfur diesel (ULSD - 15 ppm) or proposed US "Tier 3" gasoline sulfur levels (10 ppm - see The Tears of a Refiner). Outside the ECA regions ships can still use fuel oil with up to 3.5% sulfur – reducing to 0.5% in 2020.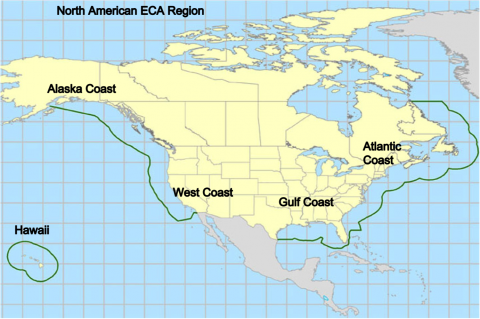 Figure #1 Source: Environmental Protection Agency (Click to Enlarge)
About this time last year (May 2014) ship owners and companies using their vessels to transport everything from dry bulk cargo to oil and even people (cruise liners) were pretty concerned about the impact of the new 0.1% sulfur regulations coming into effect in January 2015. That was because back then the options open to bunker fuel buyers needing to comply with the new ECA rules were all looking expensive to implement and it was expected by many in the market that shipping costs would increase sharply as a result. We'll first take a look at the options available to meet the ECA regulations, then at how shipping companies chose to respond before January and finally at what has happened since.
To access the remainder of If the Price Is Right You Can Sail Away – Ship Owners Respond to New Bunker Fuel Regulations you must be logged as a RBN Backstage Pass™ subscriber.
Full access to the RBN Energy blog archive which includes any posting more than 5 days old is available only to RBN Backstage Pass™ subscribers. In addition to blog archive access, RBN Backstage Pass™ resources include Drill-Down Reports, Spotlight Reports, Spotcheck Indicators, Market Fundamentals Webcasts, Get-Togethers and more. If you have already purchased a subscription, be sure you are logged in For additional help or information, contact us at info@rbnenergy.com or 888-613-8874.