A highly anticipated event in the U.S. natural gas market is when the Northeast region crosses the line from being a net gas taker from, to becoming a net gas supplier to, the rest of the country. Ever since the Marcellus and Utica shale began ramping up, Northeast production has been on a course to eclipse regional demand. RBN predicted 2015 would be the tipping point when the supply-demand balance would finally reverse on an annual average basis, marking a new phase for Northeast prices and for the U.S. gas market as a whole. We've seen that despite capitulating oil prices, capital budget cuts and lower rig counts, Northeast production has continued to reach new highs in 2015 – beating the record again this past Sunday (November 22,2015) at 20.3 Bcf/d according to Genscape. But regional demand also has been at record high levels. Today with less than two months left in the year, we determine whether the Northeast region will – or already has - crossed the threshold to net supplier in 2015.
Recap
Before the advent of shale gas the Northeast was a major net demand center with relatively small amounts of local supply. In Living in the Fast Forward Curves Part 2 and Part 3, we traced the region's path to becoming a net supplier of gas to the U.S., triggered by massive growth in regional production from the Marcellus/Utica shales. As local production grew it gradually pushed out inbound flows from other regions, with more of the displacement occurring in the summer when Northeast gas demand is lower. Over the last couple of years we've seen Northeast gas seeping out of the region for a few months of the year, mostly via backhaul capacity on pipelines that used to bring gas in. The ability to serve local demand by displacing external supply sources and the availability of some backhaul capacity to facilitate outflows provided a cushion for production to grow while the region awaited increased takeaway capacity to send more gas out of the region. Starting this year, we expected production to outstrip both local demand and takeaway capacity, not just for a few months but for most of the year, leading to the lowest prices yet for the region (see End of Displacement). That marks the beginning of a new, extremely constrained phase in the Northeast's transformation in which excess supply is trapped in the region, presenting all sorts of challenges for midstream operators and market prices.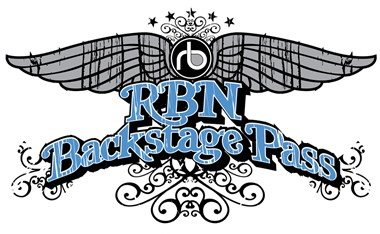 With A Little Help From My Friends: Big Changes in Mexico / U.S. Energy Interactions
We have released our latest Drill-Down report for Backstage Pass subscribers describing the dramatic transformation in energy relations between the U.S. and Mexico in the past few years.
More information about With A Little Help From My Friends: Big Changes in Mexico / U.S. Energy Interactions here.
We've talked a lot about the region's production growth in recent blogs. But has demand kept pace with supply in 2015 or has the balance tipped in favor of supply as we expected? Figure 1 shows the Northeast production trend relative to demand using pipeline flow data from Genscape on an annual average basis since 2012, including projections for full year 2015.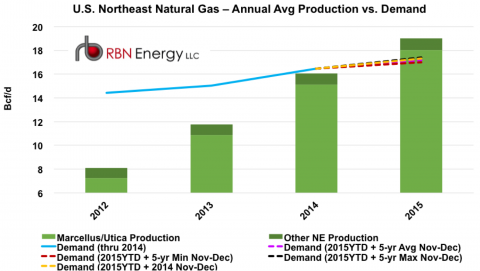 Source:  Genscape, RBN Energy (Click to Enlarge)
Until 2014, regional demand (blue line) was averaging well above production (green stacked bars), and the Northeast was short gas. By 2014, Marcellus/Utica production (lighter green bars) had ballooned to an average 16 Bcf/d, and the supply-demand gap (difference between blue line and green bar) in the region narrowed to less than 0.4 Bcf/d but the region remained net short of gas on an annual basis. Contrast that with our range of full year 2015 estimates (dashed lines), which show production this year has overtaken demand in the region by a considerable margin. The evidence seems conclusive that the Northeast has crossed the line to become a net supplier to the U.S. – but lets look a little closer at the numbers to confirm this.
Join Backstage Pass to Read Full Article