The St. James, LA crude trading hub provides feedstock to 2.6 MMb/d of regional refining capacity as well as refineries in the Midwest. St. James is also an important distribution hub for crude from North Dakota, South Texas, the Gulf of Mexico and onshore Louisiana as well as imports arriving at the Louisiana Offshore Oil Port (LOOP). Crude storage and midstream infrastructure at St. James has been expanding in recent years as the trading hub handles larger volumes of domestic production. Today we begin a new series looking at infrastructure and crude pricing at St. James.
St. James is located on the Mississippi River 60 miles upriver from New Orleans and about 60 miles Northwest of the Clovelly, LA landing point for crude imported through LOOP. We have previously discussed the offshore LOOP terminal (see Thrown For a LOOP) that is the only deep water port on the Gulf Coast capable of unloading million barrel plus cargoes from very large crude carriers (VLCCs) and ultra large crude carriers (ULCCs – up to 3 MMBbl). We have recently looked at the potential for LOOP to develop export capabilities (see The Great Beyond).  The map in Figure #1 shows the central position that St. James occupies in the Eastern Gulf Coast crude oil refining and distribution system. We will get to the inbound and outbound pipeline systems and refinery connections in a minute. Being on the Mississippi River means that St. James can also accommodate barge or tanker (up to Aframax size – about 750 MBbl) receipts or loadings and receive crude delivered from the Midwest via inland waterways. In the past 5 years midstream companies have built out rail unloading facilities at St. James that receive domestic crude – particularly from North Dakota (see Back to the Delta). The Louisiana hub has also been used as a transit point to ship surplus supplies of U.S. ultra light crude (condensate) from the Eagle Ford basin in South Texas to Canada via the Capline pipeline for use as a diluent in heavy Western Canadian oil sands (see Plains Trains and Diluent Deals). More recently St. James has been a receipt point for condensate delivered by barge down the Ohio River and Mississippi from the Marcellus and Utica (see Give a Little Bit).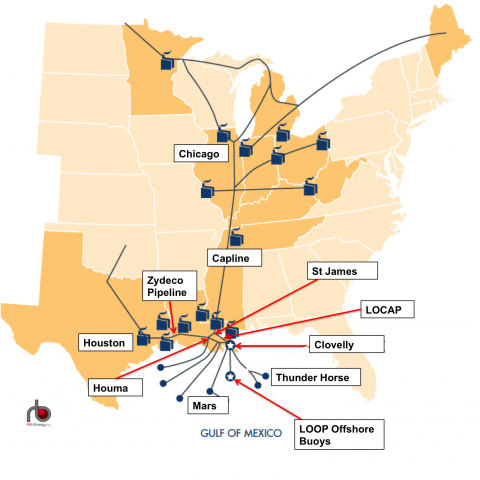 Figure #1; Source: LOOP and RBN Energy (Click to Enlarge)
St. James has long been a trading hub for regionally produced crudes such as the Gulf Coast benchmark Light Louisiana Sweet (LLS). Heavy Louisiana Sweet (HLS) and the medium sour crude Mars (produced offshore in the Gulf of Mexico - GOM). LLS is a blended crude stream with qualities defined by specifications for the Capline pipeline that include a wide API Gravity range from 34 to 41 (in practice deemed by price reporting agencies like Argus at 38.5 API), sulfur 0.4% max and various other specifics for metals content and Total Acid Number (TAN). Before the shale boom, LLS was a blended mixture of offshore Gulf of Mexico production with onshore light sweet as well as light sweet imports from regions such as West Africa. In the past 5 years shippers have increasingly blended lighter shale crudes like Eagle Ford into the LLS stream as well as U.S. benchmark West Texas Intermediate (WTI) crude from the Permian basin that was surplus to Houston refinery needs and shipped across the Gulf Coast to St. James. Now that picture is changing again with the end to U.S.crude export restrictions reducing the flow of shale crude east across the Gulf Coast to Louisiana (see Reach Out). We will explore the changing flow of crudes along the Gulf Coast and pricing implications later in this series.
To access the remainder of I Got Storage (I Feel Good) – The St. James Crude Hub Continues to Develop you must be logged as a RBN Backstage Pass™ subscriber.
Full access to the RBN Energy blog archive which includes any posting more than 5 days old is available only to RBN Backstage Pass™ subscribers. In addition to blog archive access, RBN Backstage Pass™ resources include Drill-Down Reports, Spotlight Reports, Spotcheck Indicators, Market Fundamentals Webcasts, Get-Togethers and more. If you have already purchased a subscription, be sure you are logged in For additional help or information, contact us at info@rbnenergy.com or 888-613-8874.