Crude production from the Denver Julesburg (DJ) and Powder River Basin (PRB) plays in the Niobrara shale in Colorado and Wyoming is up 260 percent to 361 Mb/d since January 2012 and is expected to double again by the end of 2019. Takeaway capacity is expanding but is complicated by crude streams travelling through the region from Canada and North Dakota. Rising condensate production also presents a challenge to midstream companies. New pipeline proposals to expand takeaway from the DJ by as much as 500 Mb/d have recently surfaced – suggesting that local producers are looking to secure capacity. Today we look at recent and planned expansions to Niobrara takeaway capacity.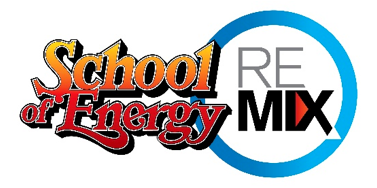 ONLY 2 MORE DAYS!!
Until the early bird rate for School of Energy – REMIX HOUSTON expires
Conference Scheduled for
October 29-31, 2014
For more information see:
We first described growing producer interest in the Niobrara shale in April of 2013 (see Bananarama in the Rockies). As we use the term here, the Niobrara is a generic region that extends across northeast Colorado, northwest Kansas, southwest Nebraska and southeast Wyoming and encompasses several plays in the region including other hydrocarbon bearing shales such as the Codell. To date, most of the oil and gas development in the region has focused on two areas, the Denver-Julesburg (DJ) Basin and the Powder River Basin (PRB). The DJ basin hot spot is the Wattenberg field in Weld County in northeast CO. PRB drilling activity is concentrated in Campbell and Converse counties WY. DJ Basin drilling in Ward County includes both a wet gas zone (where production is primarily rich gas with high liquids content) and an oil zone.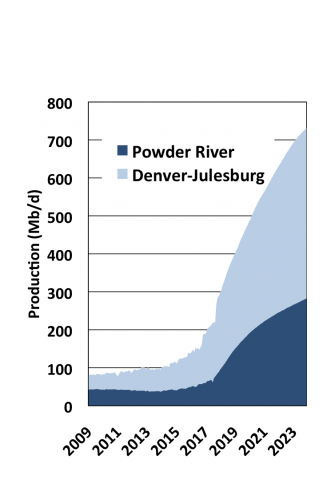 Figure #1
Source: RBN Energy (Click to Enlarge)
Crude production data for the Niobrara is hard to assemble because the basin crosses state lines and neither Colorado or Wyoming insist on prompt reporting of oil and gas volumes by producers. Figure #1 shows RBN's production estimates for the DJ and the PRB since 2005 and our forecast out to 2019. The chart shows production picking up slowly in 2011 before taking off as producers increased horizontal drilling in 2012. From 2012 to present (August 2014) output has increased more rapidly.  DJ Basin increased 260 percent from 90 Mb/d in January 2012 to 235 Mb/d in August 2014 and PRB production was up from 50Mb/d to 130Mb/d (also 260 percent) over the same period. Our forecast is for DJ Basin crude output to double again to 450 Mb/d and PRB to more than double to 280 Mb/d by the end of 2019. That's an expected increase in crude production for both these Niobrara plays of 370 Mb/d in the next 5 years.
Join Backstage Pass to Read Full Article