Northeast regional interstate pipeline companies are coming to terms with significant supply growth expected between now and 2017. Companies that traditionally delivered natural gas to the Northeast from outside the region are busy reconfiguring their assets.
In two previous postings in this series we examined the major infrastructure projects being developed by interstate natural gas pipelines in response to the growth of Northeast natural gas production in the Marcellus shale.  We reviewed projects developed by Tennessee Gas Pipeline (TGP), and then Spectra Energy (see TGP and Spectra). This time we look at the projects being pursued by Williams Companies through it Transcontinental Gas Pipeline Company (Transco) and its Master Limited Partnership (MLP) Williams Partners. 
Williams' pipeline footprint and operations are different than both TGP and Spectra. The Transco system runs to the northeast from the Gulf Coast, but instead of crossing Pennsylvania diagonally, its route runs via the southeast U.S. due north to Georgia, the Carolinas, Washington, Baltimore, Philadelphia and New Jersey on its way to New York City (see the map below). Operationally, Transco has historically been dependent on its Leidy Line that connects its mainline with the huge storage facilities near Leidy, PA to meet its shipper's needs. This line has operated in both directions depending on season.  It would deliver gas to storage from the Gulf Coast in the summer on an east to west flow, and transport storage withdrawals in the winter back to the mainline on a west to east flow for delivery into NY/NJ and other markets.  Today, the Leidy line has become very strategic for Transco since it can also now receive Marcellus gas produced in Pennsylvania.  In fact, Transco has had to interrupt lower priority services on that line into the mid-Atlantic region due to the volumes being delivered in PA.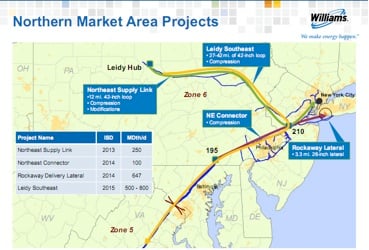 Source: Williams Website (for all the project maps in this blog)
Northeast Supply Link
The Northeast Supply Link project is an expansion of Transco's Leidy Line and mainline facilities to enable firm transport of an incremental 250,000 Dth/d of natural gas from receipt points on the Leidy Line in Pennsylvania to delivery points in New York City and Transco's 210-market pool in New Jersey (see map above). The project combines sections of pipeline loop, pipeline replacement, a new compressor station and additional compression at an existing station and other minor modifications. There are 4 shippers that have contracted for this capacity: Hess Corporation, MMGS, Inc (Mitsui). Anadarko Energy Services Company and Williams Gas Marketing Inc. The project is scheduled to commence service in November 2013.
To access the remainder of Gulf Coast Gas? Canadian Gas? We Don't Need Ya Anymore – The Williams Expansions you must be logged as a RBN Backstage Pass™ subscriber.
Full access to the RBN Energy blog archive which includes any posting more than 5 days old is available only to RBN Backstage Pass™ subscribers. In addition to blog archive access, RBN Backstage Pass™ resources include Drill-Down Reports, Spotlight Reports, Spotcheck Indicators, Market Fundamentals Webcasts, Get-Togethers and more. If you have already purchased a subscription, be sure you are logged in For additional help or information, contact us at info@rbnenergy.com or 888-613-8874.