When it comes to Texas natural gas markets, the Permian has been getting much of the attention lately, with its rapid supply growth, limited pipeline takeaway capacity and sometimes negative prices. However, a wave of gas infrastructure development just starting to come online along the Texas Gulf Coast is set to steal some of the Permian's spotlight over the next few months. Two large liquefaction/LNG export facilities are ramping up on the coast, as are the pipeline reversal projects designed to supply them. Also, three announced Permian-to-Gulf-Coast gas pipelines slated for completion over the next 24 months will move supply cross-state to destinations spanning the area from the Houston Ship Channel to the Agua Dulce Hub near Corpus Christi. That's a lot of change ahead for these key Texas gas markets. Today, we turn our attention downstream of the Permian to the Houston Ship Channel market, including upcoming gas infrastructure expansions and their potential impact on the greater Texas Gulf Coast gas supply and demand balance.
Let's be fair, the real excitement in Texas natural gas has been mostly focused on the Permian lately and we've blogged on it extensively. (See our Sitting, Waiting, Wishing blog from a few days ago, for the latest on the potential impacts of the possible early start-up of Kinder Morgan's Gulf Coast Express (GCX) pipeline.) For all that's going on in the Permian, we can't take our eyes off the region. But there are also important shifts occurring across the state along the coastline — what will soon be an even more important destination for Permian gas. Today, we focus on one of those developments: changes in the Houston Ship Channel (HSC) market. HSC pricing has trended decidedly weaker over the past few months, especially when compared to this time last year. Figure 1 plots the HSC basis price, which is the difference between HSC and Henry Hub. When HSC basis is positive, gas there is priced over Henry; negative basis means HSC gas is selling at a discount. Note that our prices come from the good folks at Natural Gas Intelligence (NGI).
Figure 1. Houston Ship Channel Basis Prices. Source: NGI (Click to Enlarge)
The dashed red rectangle in Figure 1 highlights the negative trend that has emerged in HSC basis for April, May and June to date of this year (navy blue bars), compared with basis in 2018 for the same months (light blue bars). While HSC averaged $0.06/MMBtu above Henry Hub during the second quarter of last year, that premium to the benchmark hub has disappeared this year, averaging $0.04/MMBtu and $0.06/MMBtu below Henry Hub in April and May, respectively. So far in June, HSC has averaged $0.04/MMBtu below Henry, versus a premium of $0.07/MMBtu last year. Should HSC average at the current level for the rest of June, the second quarter of this year will average a discount of $0.05/MMBtu to Henry, a swing of $0.11/MMBtu in a year's time. We know what you're thinking — that doesn't sound like much, given that prices often move more than that in a few minutes of trading at the Waha Hub. But it's a reasonably large move for HSC and of a magnitude sufficient to impact the gas flows around HSC. Thus, it warrants a deeper look at the key drivers, not just to understand what's happening now but also because it can provide clues as to the impact of the upcoming infrastructure changes.
To get a handle on why HSC pricing has flipped from a premium to a discount, we start today with an overview of recent gas flow patterns and pricing around HSC. Given that Texas has a complex network of inter- and intrastate pipelines that crisscross it, we can make better sense of it by aggregating the pipelines into transportation "corridors" by direction of flow.
Houston Ship Channel and Texas Gulf Coast Natural Gas Flows Explained
Figure 2 depicts the major gas pipeline flow corridors around the HSC market and how those flows fit into the broader Gulf Coast gas market. Detailing the various pipes that make up each corridor would take a series of blogs and a lot of coffee, especially for our readers who don't focus on natural gas. For our purposes today, we will run through each of the corridors (represented by the blue arrows) at a high level, noting key infrastructure and flow changes. (For more detail on the corridors, you may also want to review our Miles of Texas blog series, which went into pipeline-level detail and was later condensed into four Drill-Down reports available to our Backstage Pass customers.)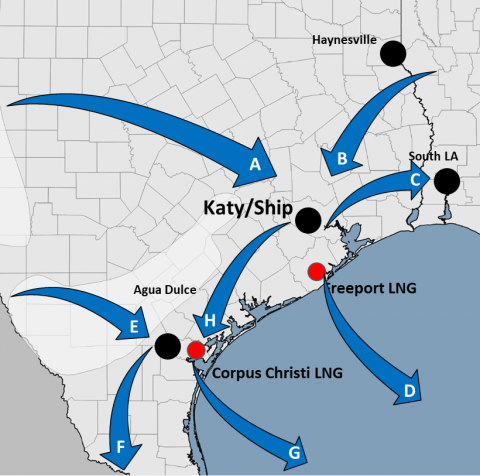 Figure 2. Texas Gulf Coast Gas Flow Patterns. Source: RBN (Click to Enlarge)
We start on the top left with the arrow labeled "A," which includes the pipelines that flow Permian gas east to the markets around Houston, including HSC and the Katy Hub just west of Houston (hence the "Katy/Ship" label on the map). While most of the gas in this corridor is flowing on Texas intrastate pipelines that don't post publicly available flow data, we estimate these volumes each week in our NATGAS Permian publication using what we can see: receipts and deliveries at the interstate connections with those pipelines. As of this week's report, we estimate Permian flows in this corridor are up ~300 MMcf/d year-to-date versus the same period last year. Those gains have been driven by small, brownfield expansions on the intrastate pipelines leaving the Permian, which we outlined in last year's blog Where Do We Go From Here.
Inflows to the Katy/HSC market have also been increasing from East Texas/Louisiana (corridor/arrow labeled "B" in Figure 2). This corridor includes various pipelines that move gas farther south into Texas from the Haynesville and East Texas areas, as well as from the Perryville Hub in Louisiana. Many of the pipelines in this corridor have also been expanding and/or reversing flow, which we detailed in-depth in Miles of Texas.
Arrow C includes interstate pipelines that move gas across the Texas-Louisiana border along the coastline. While the direction of the arrow points into Louisiana, the flows on some of the pipelines along this route sometimes reverse flow into Texas when HSC is at a premium to Henry Hub. Then, we have arrow D, representing LNG exports out of Freeport, which have yet to begin but are expected to ramp up later this year. Arrow E indicates the emerging Permian-to-South Texas corridor targeting the Agua Dulce/Corpus Christi market area — in the near-term, that would be Kinder Morgan's GCX pipeline, which is scheduled to enter full service in October of this year. Exports to Mexico are shown by arrow F and have been increasing the past few years, as we detailed in last summer's Breakthru blog. Exports from Cheniere Energy's Corpus Christi LNG, currently near 0.7 Bcf/d with Train 1 in operation, are represented by arrow G. And, finally, arrow H represents the flows between the Katy/HSC market and Agua Dulce.
As the changing dynamics along these corridors suggest, there's a complex set of events starting to unfold along the Texas Gulf Coast — from the increased gas-on-gas competition driven by an influx of Appalachian, Permian and other growing supplies, to rising demand from exports, both for LNG and by pipeline to Mexico, and all the infrastructure developments that accompany these evolving supply-demand fundamentals. If you're a regular reader of RBN blogs, none of this will come as a surprise — we've written extensively about the rising gas supplies, and the pipeline and LNG export projects under construction. What is a moving target, however, is the timing of new demand and how well that coincides with the growing Permian supplies and the transportation capacity to bring it to market. If too much supply starts flowing before the export terminals (or pipelines, in the case of flows to Mexico), prices can get hammered (a la at the Waha Hub); or, if too much demand comes on before the pipeline is built to get gas there, prices could skyrocket.
In the case of HSC, the market had built in a premium for new demand from Freeport LNG's liquefaction capacity by 2020, as completion of the facility had been expected by late 2019 — back in 2017, the 2019 forward curve for HSC basis was priced flat to Henry Hub, while 2020 was priced at about a $0.01/MMBtu premium to Henry, and the 2021 HSC basis forward curve was priced about 2 cents over Henry at the time. (Again, while that may not sound like much, note that HSC daily prices had averaged about 5 cents under Henry over the 2014-16 time period.) Along with the start of Freeport LNG, some projects were planned to bring gas to the facility, such as Boardwalk Pipeline Partners' Coastal Bend Header project, which we detailed, along with other pipeline supply projects for Freeport, in Last Mile of the Way. But, as one might expect with these capital-intensive, long-range projects, things didn't go according to plan — Coastal Bend began (partial) service earlier this year, while Freeport LNG is facing delays, with full completion now expected in 2020 (not late 2019). In the next episode, we'll look at these specific timing issues and their effects on flow dynamics around HSC, along with other future infrastructure expansions.
"Get Ready" was written by Smokey Robinson, and appears as the fourth song on side one of The Temptations' fourth studio album, Gettin' Ready. The song was recorded in Detroit at Hitsville USA in Studio A during December 1965. The Smokey Robinson-produced song was released as a single in February 1966, a few months prior to the album being released. It went to #1 on the Billboard Rhythm & Blues chart and #29 on the Billboard Hot 100 chart. Personnel on the recording were: Eddie Kendricks (lead vocals), Melvin Franklin (lead vocals), David Ruffin, Melvin Franklin, Paul Williams and Otis Williams (background vocals). Instrumental accompaniment was provided by Motown's house band, The Funk Brothers. The Supremes, Smokey Robinson and The Miracles, and Nancy Sinatra would later cover the song, but only fellow Motown artists Rare Earth would have a hit with the song again in 1970. Their version went to #4 on the Billboard Hot 100 and #20 on the Rhythm & Blues chart.
Gettin' Ready was released in June 1966, where it went to #12 on the Billboard Top 200 Albums chart. Two charting singles were released from the album, the aforementioned "Get Ready" and "Ain't Too Proud to Beg." This album marks the transition from Smokey Robinson being The Temptations' producer to having Norman Whitfield taking over the role.
The Temptations are an American rhythm and blues/soul music vocal group formed in Detroit in 1960. The "classic 5" version of the group included David Ruffin, Eddie Kendricks, Melvin Franklin, Paul Williams and Otis Williams, who were responsible for the majority of their hits in the 1960s. Ruffin was replaced by Dennis Edwards in 1968, and the group continued to have hits into the '70s, such as psychedelic soul masterpieces "Cloud Nine," "Psychedelic Shack" and "Ball of Confusion." The group has released 43 studio albums, four live albums, 15 compilation albums, three soundtrack albums and 109 singles to date. They were inducted into the Rock and Roll Hall of Fame in 1989 and were inducted into the Vocal Group Hall of Fame in 1999. In 2013, the group received a Lifetime Achievement Grammy Award and were inducted into the R&B Music Hall of Fame. Twenty-four members have passed through the ranks of The Temptations over the years. Original member Otis Williams still tours with a version of The Temptations to this day.