Growing Canadian production of oil sands bitumen requires diluent to blend it to pipeline flow specifications. The resulting demand for diluent exceeds local Canadian supply from plant condensate production (aka, natural gasoline) – leading to imports from the US of more than 150 Mb/d in 2013 – a figure expected to grow to 460 Mb/d by 2018. That expectation for future import growth is based on the assumption that Canadian condensate supplies would remain relatively flat at about 140 Mb/d. But could the developing Duvernay gas shale play in Western Alberta turn those estimates on their head? Today we investigate the consequences for US condensate demand.
Canadian demand for light hydrocarbon material used as a diluent to reduce the viscosity of oil sands bitumen - allowing the resulting "dilbit" blend to flow in pipelines - is expected to increase significantly over the next 4 years as bitumen production takes off. The green shaded area in Figure 1 below represents Canadian demand based on the typical requirement to blend raw bitumen with 30 percent diluent  – doubling from just over 300 Mb/d in 2013 to more than 600 Mb/d in 2018. The only constraint on these demand levels would be the large scale development of crude by rail transport that reduces diluent demand to less than 20 percent – but the extent of this development is still unclear (see Railbit Train to Natchez).  We don't have big time railbit volumes baked into the forecast below.  When we last looked at sources of supply for diluent back in December 2013 (see Utica Condensate Routes to Canada) the conventional wisdom was that local Canadian production – shown in red in Figure 1 – would peak at about 140 Mb/d and then stay flat over the next four years. The result would be a rising need for Western Canadian bitumen producers to import diluent supplies from overseas (the blue bars in Figure 1) – rather neatly coinciding with a growing surplus of such materials in the US.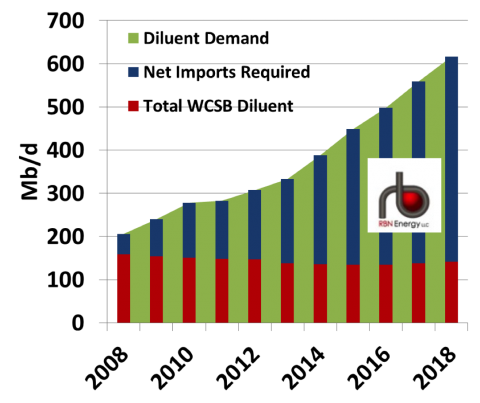 Figure 1
Source: RBN Energy
Diluent supplies are typically sourced from one of the three main branches of the condensate family, namely lease or field condensate produced at the wellhead when liquids rich natural gas is brought to the surface, plant condensate (aka natural gasoline or pentanes plus) produced by natural gas processing plants and naphtha produced from petroleum refining. [Canadian producers also use light synthetic crude oil (SCO) produced by upgrading bitumen as a diluent.] As we explained in Like a Box of Chocolates – The Condensate Dilemma, supplies of all of these condensate range materials in the US are increasing faster than demand can keep up – providing a ready surplus to supply Canadian needs.
To access the remainder of Da Duvernay – The Golden Canadian Diluent Play? you must be logged as a RBN Backstage Pass™ subscriber.
Full access to the RBN Energy blog archive which includes any posting more than 5 days old is available only to RBN Backstage Pass™ subscribers. In addition to blog archive access, RBN Backstage Pass™ resources include Drill-Down Reports, Spotlight Reports, Spotcheck Indicators, Market Fundamentals Webcasts, Get-Togethers and more. If you have already purchased a subscription, be sure you are logged in For additional help or information, contact us at info@rbnenergy.com or 888-613-8874.