EnLink Midstream Partners LP, seeking to offset declining natural gas production in the Barnett Shale — where the master limited partnership (MLP) has extensive midstream holdings — has been implementing a strategic plan focused on acquisitions and expansions in the burgeoning STACK play in central Oklahoma and in the Permian's Midland and Delaware basins in West Texas. The level of investment the plan requires has prevented increases in the MLP's distributions to unit holders for nine consecutive quarters, which in turn has left EnLink's share price languishing at about half of its 2014 high. The MLP has reported promising signs of growth in Oklahoma and the Permian as well as increased utilization of its southern Louisiana infrastructure, which it says could lead to a higher distribution to unit holders in 2018. Today, we preview our Spotlight Report on EnLink, which provides a detailed analysis of the company's business segments to determine if its strategic plan will indeed generate real growth over the next four years.
Spotlight is a joint venture of RBN Energy and East Daley Capital Advisors. With the support of Oil & Gas Financial Analytics, Spotlight provides deep dives into the fundamentals that shape the outlook for midstream energy companies. Spotlight should not be viewed as investment advice. Spotlight is included as part of our Drill Down Report series, which is available to RBN Backstage Pass members. For more about Spotlight, see the paragraph at the end of this blog.
NEW SPOTLIGHT REPORT!
EnLink Midstream - Strong Anadarko And Permian Growth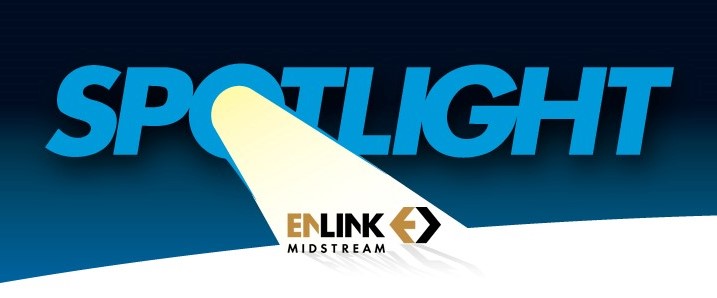 Master limited partnership (MLP) EnLink Midstream Partners LP was formed in 2013 through the combination of Devon Energy's midstream assets with Crosstex Energy LP. The company's initial core positions were in the Barnett Shale in North Texas, the Arkoma-Woodford Shale in southeastern Oklahoma, and natural gas and NGL infrastructure in southern Louisiana. Subsequently, the company added a major position in the STACK play in central Oklahoma, expanded infrastructure in the Permian's Midland Basin and formed a new joint venture in the Permian's Delaware Basin. EnLink's strategic goal has been to generate growth in the expanding Oklahoma and Permian plays to offset continuing declines in the Barnett Shale.  In this Spotlight report, we provide detailed analysis of the company's strategy and portfolio to provide in depth insights on the likely future performance of this midstream MLP.
EnLink Midstream Partners is a mid-size ($5.35 billion market cap) publicly traded (NYSE: ENLK) master limited partnership that was formed in 2013 through the combination of Devon Energy's midstream assets — primarily natural gas gathering and processing systems in the Barnett Shale in North Texas and the Arkoma-Woodford play in southeastern Oklahoma — and Crosstex Energy's Midland Basin and southern Louisiana natural gas and natural gas liquids (NGL) assets. EnLink provides gathering, transmission, processing, fractionation, storage and other midstream services to producers of natural gas, NGLs, crude oil, and condensate. The company is managed by its publicly traded general partnership, EnLink Midstream LLC (NYSE: ENLC), which owns 22% of the MLP's limited partnership units, a 0.4% general partnership interest, and 100% of the incentive distribution rights based on the MLP's performance. Devon Energy owns 64% of the general partnership units and public shareholders own the remaining 36%. We estimate EnLink will generate $933 million in segment profit in 2017, 10% higher than 2016 and 20% higher than 2015.
To access the remainder of Changing of the Guards - EnLink Builds Out STACK, Permian Infrastructure to Offset Barnett Declines you must be logged as a RBN Backstage Pass™ subscriber.
Full access to the RBN Energy blog archive which includes any posting more than 5 days old is available only to RBN Backstage Pass™ subscribers. In addition to blog archive access, RBN Backstage Pass™ resources include Drill-Down Reports, Spotlight Reports, Spotcheck Indicators, Market Fundamentals Webcasts, Get-Togethers and more. If you have already purchased a subscription, be sure you are logged in For additional help or information, contact us at info@rbnenergy.com or 888-613-8874.