Buy Individual ReportFull Report Downloads for Subscribers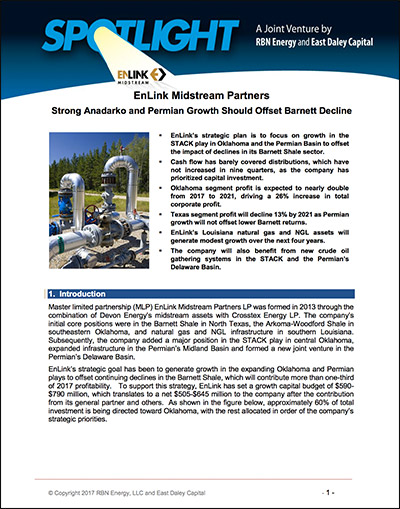 Master limited partnership (MLP) EnLink Midstream Partners LP was formed in 2013 through the combination of Devon Energy's midstream assets with Crosstex Energy LP. The company's initial core positions were in the Barnett Shale in North Texas, the Arkoma-Woodford Shale in southeastern Oklahoma, and natural gas and NGL infrastructure in southern Louisiana. Subsequently, the company added a major position in the STACK play in central Oklahoma, expanded infrastructure in the Permian's Midland Basin and formed a new joint venture in the Permian's Delaware Basin.
EnLink's strategic goal has been to generate growth in the expanding Oklahoma and Permian plays to offset continuing declines in the Barnett Shale.  In this Spotlight report, we provide detailed analysis of the company's strategy and portfolio to provide in depth insights on the likely future performance of this midstream MLP.
Key take-aways from the report include:
Oklahoma segment profit is expected to nearly double from 2017 to 2021, driving a 26% increase in total corporate profit.
Texas segment profit will decline 13% by 2021 as Permian growth will not offset lower Barnett returns.
EnLink's Louisiana natural gas and NGL assets will generate modest growth over the next four years.
The company will also benefit from new crude oil gathering systems in the STACK and the Permian's Delaware Basin.
Cash flow has barely covered distributions, which have not increased in nine quarters, as the company has prioritized capital investment.
Spotlight: EnLink Midstream – Strong Anadarko and Permian Growth is included in RBN's 2017 Drill Down report series, a suite of reports covering many of the key issues expected to impact the markets for crude oil, natural gas and natural gas liquids. Spotlight reports are part of RBN Backstage Pass™ premium resources that also include Blog Archive Access, Spotcheck Indicators, Market Fundamentals Webcasts, Get-Togethers and more. Spotlight is a joint venture of RBN Energy and East Daley Capital Advisors.  By subscribing to RBN's Backstage Pass™ Premium Services, you plug into our network and get direct access to our premium resources.