After several years of development, Shell's $6 billion Pennsylvania Petrochemicals Complex — the first of its kind in the Marcellus/Utica shale play — is really taking shape about 30 miles northwest of Pittsburgh. The facility, which will consist of a 3.3-billion-lb/year ethylene plant and three polyethylene units, is in its final stages of construction, as is a pipeline that will supply regionally sourced ethane to the steam cracker. When the Falcon Pipeline and the PPC comes online, possibly as soon as 2022, they will provide a new and important outlet for the vast amounts of ethane that is now either "rejected" into natural gas for its Btu value or piped to Canada, the Gulf Coast, or the Marcus Hook export terminal near Philadelphia. Today, we discuss progress on the Marcellus/Utica's first world-class petrochemical complex and what it will mean for the play's NGL market.
Since the start of the Shale Revolution in the late 2000s, the Marcellus/Utica region has become a hydrocarbon-production juggernaut. By the early 2010s, production of dry natural gas in northeastern Pennsylvania and wet, NGL-rich gas in western Pennsylvania, northern West Virginia, and eastern Ohio had really taken off, spurring an extraordinary build-out of gas gathering networks, gas processing plants, de-ethanization units, fractionators, new and repurposed gas pipelines, and NGL pipelines that lasted through the decade. We've blogged about the development of the shale play and its infrastructure countless times, and discussed them in detail in Drill Down reports like Join Together With Demand, and Dog Days Are Over. As important as all of those pipes and plants are, it could be argued that the crowning jewel of the Marcellus/Utica's emergence as a global hydrocarbon player is Shell's long-planned petrochemical complex in Beaver County, PA.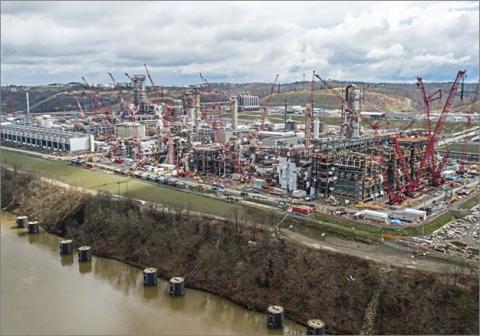 Construction on Shell's Petrochemicals Complex in 2020. Source: Pittsburgh Post-Gazette
We took our first in-depth look at the Shell petchem project in May 2016 in Ain't Wastin' Time No More. There, a few weeks before Shell announced a final investment decision to build the facility, we described what the Pennsylvania Petrochemicals Complex (pictured above; purple icon in Figure 1) will consist of:
To access the remainder of Building the Perfect Beast - Shell's New Ethane-Consuming Steam Cracker in the Home Stretch you must be logged as a RBN Backstage Pass™ subscriber.
Full access to the RBN Energy blog archive which includes any posting more than 5 days old is available only to RBN Backstage Pass™ subscribers. In addition to blog archive access, RBN Backstage Pass™ resources include Drill-Down Reports, Spotlight Reports, Spotcheck Indicators, Market Fundamentals Webcasts, Get-Togethers and more. If you have already purchased a subscription, be sure you are logged in For additional help or information, contact us at info@rbnenergy.com or 888-613-8874.