Buy Individual ReportFull Report Downloads for Subscribers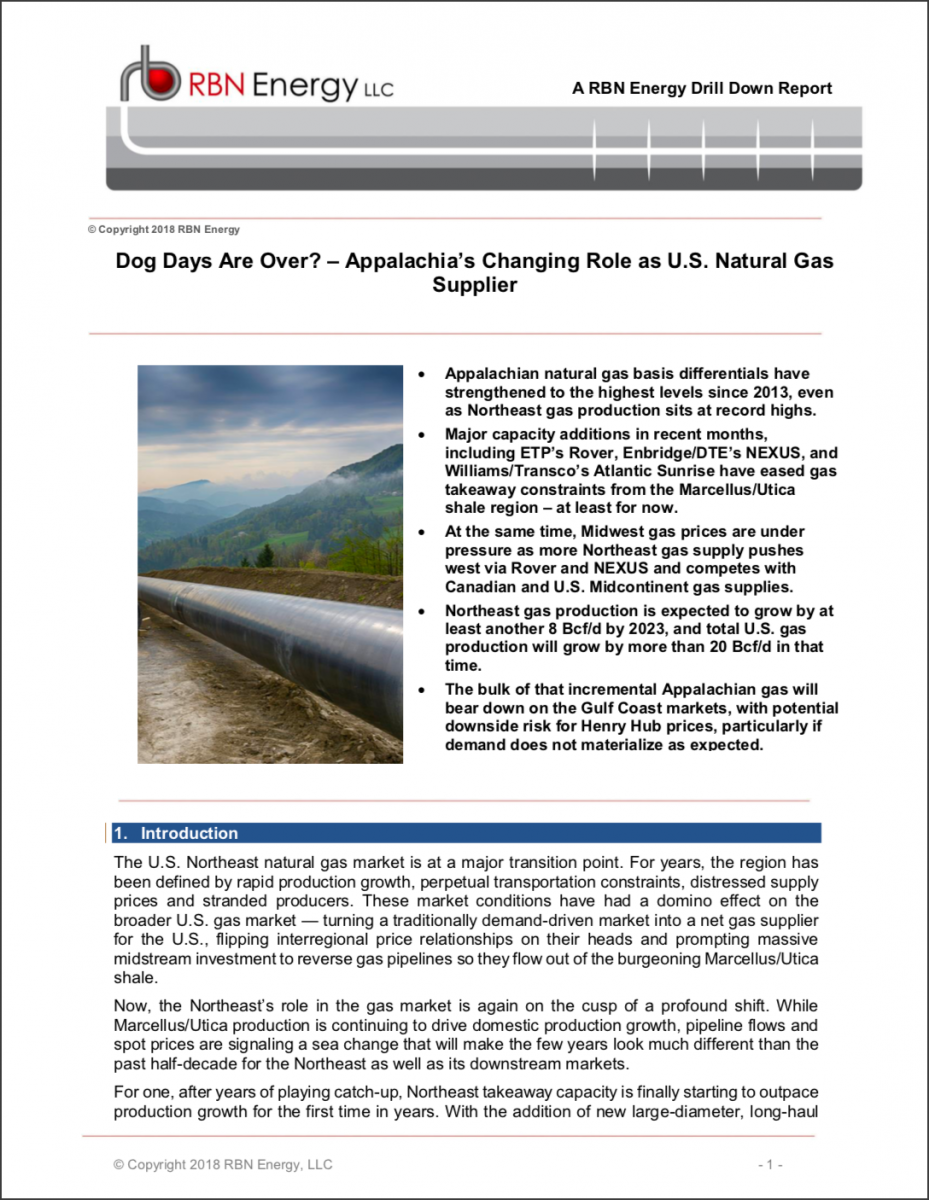 The U.S. Northeast natural gas market is at a major transition point. For years, the region has been defined by rapid production growth, perpetual transportation constraints, distressed supply prices and stranded producers. These market conditions have had a domino effect on the broader U.S. gas market - turning a traditionally demand-driven market into a net gas supplier for the U.S., flipping interregional price relationships on their heads and prompting massive midstream investment to reverse gas pipelines so they flow out of the burgeoning Marcellus/Utica shale.
In this Drill Down Report, we examine recent developments in the Northeast gas market, starting with the latest production trends and an update of takeaway capacity additions. We then look at the impact of recent pipeline expansions on the utilization of existing takeaway routes, and, in turn, basis differentials. We conclude with our outlook for Northeast production growth, including future takeaway projects, and their implications for U.S. gas supply and Henry Hub prices over the next five years.
Key take-aways from the report include:
Appalachian natural gas basis differentials have strengthened to the highest levels since 2013, even as Northeast gas production sits at record highs.
Major capacity additions in recent months, including ETP's Rover, Enbridge/DTE's NEXUS, and Williams/Transco's Atlantic Sunrise have eased gas takeaway constraints from the Marcellus/Utica shale region –– at least for now.
At the same time, Midwest gas prices are under pressure as more Northeast gas supply pushes west via Rover and NEXUS and competes with Canadian and U.S. Midcontinent gas supplies.
Northeast gas production is expected to grow by at least another 8 Bcf/d by 2023, and total U.S. gas production will grow by more than 20 Bcf/d in that time.
The bulk of that incremental Appalachian gas will bear down on the Gulf Coast markets, with potential downside risk for Henry Hub prices, particularly if demand does not materialize as expected.
"Dog Days Are Over" is included in RBN Energy's 2018 Drill Down report series, a suite of reports covering many of the key issues expected to impact the markets for crude oil, natural gas and natural gas liquids. Drill Down reports are part of RBN Backstage Pass™ premium resources that also include Blog Archive Access, Spotcheck Indicators, Market Fundamentals Webcasts, Get-Togethers and more. By subscribing to RBN's Backstage Pass™ Premium Services, you plug into our network and get direct access to our premium resources.