Over the past six years surging U.S. hydrocarbon production from shale has exceeded domestic demand in many cases – leading to the development of export infrastructure. Large volumes of natural gas liquids (NGLs) such as propane are already being exported. Natural gas exports in the form of liquefied natural gas (LNG) are about to start and the recent end to federal restrictions offers the possibility to increase crude exports if they become competitive. A critical assumption behind all these export opportunities is that the U.S. continues to be the only country (except Canada to a lesser degree) to successfully "crack the code" in shale exploitation to produce commercially significant volumes competitively. This assumption would be turned on its head if competing countries like Mexico, China, Poland, Argentina and the U.K. are able to unlock their own shale potential. Today we review RBN Energy's first Drill Down report of 2016, which considers the many "below-ground" and "above-ground" factors that will determine whether and how quickly, shale development becomes a worldwide phenomenon.
Please be warned: The genesis for this blog and the associated Drill Down report is Chapter 18 of "The Domino Effect", the newly published book by Rusty Braziel, and as such is intended to be a subliminal promotion for the book.   The report expands upon the question posed in the title of Chapter 18: "Does the U.S. Have a Monopoly on Shale?"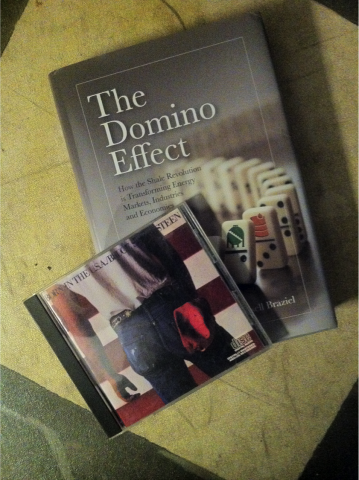 Many of the world's greatest inventors have worked their magic on U.S. soil. In 1887, Thomas Edison invented the phonograph (which led to many popular songs and RBN blog titles) in Menlo Park, NJ; in 1903, Orville and Wilbur Wright flew the first successful airplane near Kitty Hawk, NC; and in 1964, at her family's Anchor Bar in Buffalo, NY, Teresa Bellissimo covered dozens of chicken wings in her own special sauce, thereby inventing Buffalo wings. Good ideas know no boundaries though, as evidenced by the fact that you can now find very good Buffalo wings in more exotic locales like London, Dubai and Tokyo. The question before us now, though, and the subject of RBN's new Drill Down report, is whether successful exploitation of shale—pioneered in the late 1990s in Texas's Barnett Shale by George Mitchell and engineers at his Mitchell Energy—can be followed up by similar successes elsewhere?
To access the remainder of Born in the U.S.A.—Can American's Shale Success Be Duplicated? you must be logged as a RBN Backstage Pass™ subscriber.
Full access to the RBN Energy blog archive which includes any posting more than 5 days old is available only to RBN Backstage Pass™ subscribers. In addition to blog archive access, RBN Backstage Pass™ resources include Drill-Down Reports, Spotlight Reports, Spotcheck Indicators, Market Fundamentals Webcasts, Get-Togethers and more. If you have already purchased a subscription, be sure you are logged in For additional help or information, contact us at info@rbnenergy.com or 888-613-8874.