One of the most significant events to occur in the U.S. natural gas market this year will be the full-scale reversal of flows in Zone 3 of the Rockies Express Pipeline (REX), and it is right around the corner. The Zone 3 East-to-West Project (E2W) will bring on an incremental 1.2 Bcf/d of westbound capacity, opening the floodgates for Marcellus and Utica producers. As REX touches nearly every part of the US gas market, the expansion will reconfigure continental gas flows and price relationships across multiple regions as it comes online.
Based on conversations last week with our good friends at Tallgrass Energy, the operator of REX, today we bring you the up-to-the-minute scoop on the E2W expansion and other forthcoming changes on the pipeline.
Tallgrass is targeting completion of construction on the required facilities for the E2W expansion by early July and expects to bring the new capacity into service August 1, 2015 once downstream parties complete the necessary work. The project is expanding westbound firm transportation capacity by 1.2 Bcf/d from REX's eastern terminus point in Clarington, OH to Moultrie County, IL, and will bring the total westbound firm capacity to 1.8 Bcf/d for that stretch of REX. This new E2W capacity will be in addition to the 1.8 Bcf/d of eastbound firm capacity still available from the Rockies to Clarington, OH.
The E2W capacity in-service will mark a significant increase in outbound capacity for natural gas producers in the Marcellus and Utica shale plays and will be a game changer for the US Northeast supply-demand balance.  We've been talking about the reversal of REX for a couple of years going back to our 2013 series titled Get Back to Where You Once Belonged.  More recently in End of Displacement, we laid out why outbound pipeline capacity is especially critical for the Northeast natural gas market to balance this summer and beyond. Local production has pushed out nearly all of the inbound supply flows from other regions. With little to no inbound supply to push out this summer and barring the unlikely scenario of massive production declines, increased outflows from the Northeast to other markets will be an essential outlet for the production growth that has already occurred in the region compared to last year, as well as future supply growth. Thus, one of the biggest shifts occurring in the natural gas market today is the expansion of gas pipeline take-away capacity out of the Northeast, whether through backhaul capacity, whole-scale pipeline reversals, pipelines creating bi-directional capabilities, or brand new pipelines. Volume wise, E2W is the biggest such deal so far.  In addition, REX connects to about a dozen major north-south pipelines within Zone 3, which presents the likelihood of a ripple effect on flows as well as price relationships as more westbound capacity becomes available.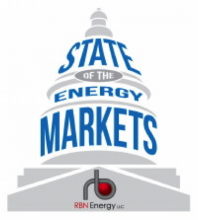 State of the Energy Markets
What is going on in today's markets for natural gas, NGLs and crude oil, why it is happening, and what is likely to happen next?
July 23rd, 2015 New York City
The map in Figure 1 shows REX's Zone 3 (highlighted in yellow), stretching from the Mexico compressor station in Audrain County, MO, to Clarington, OH, or vice versa, depending on your perspective. The pink squares along the pipe show the location of existing compressor stations, while various colored dots/labels designate interconnects with other pipes. The pink dots/labels show points where REX can receive gas, the blue dots/labels are points where REX can deliver to other pipelines and the two purple dots/labels designate bi-directional receipt and delivery capabilities. The portion of Zone 3 most affected by the E2W project is highlighted by the gray shaded area between Clarington, OH and Moultrie, IL.   In today's blog, we'll focus on REX and its expansion plans. But first, to fully understand the significance of the E2W project, it's worth briefly reviewing the original intent of REX and how flows have evolved.
To access the remainder of Big Deal! REX to Open the Floodgates: 5.2 Bcf/d of Marcellus/Utica Natural Gas Receipt Capacity you must be logged as a RBN Backstage Pass™ subscriber.
Full access to the RBN Energy blog archive which includes any posting more than 5 days old is available only to RBN Backstage Pass™ subscribers. In addition to blog archive access, RBN Backstage Pass™ resources include Drill-Down Reports, Spotlight Reports, Spotcheck Indicators, Market Fundamentals Webcasts, Get-Togethers and more. If you have already purchased a subscription, be sure you are logged in For additional help or information, contact us at info@rbnenergy.com or 888-613-8874.