Lately the ethane market seems out of whack.  Ethane production continues to increase even as it's become the lowest margin (highest cost) feedstock for Gulf Coast petrochemical crackers – it's main market.  Ethane production by processing plants has been at an all-time high since June this year even as ethane prices fell to historical lows.  Meanwhile, ethane inventories have fallen from their recent peak in July.  How can all that make sense?  Today we speculate as to what may be going on.
Ethane was the highest margin (lowest cost) feedstock for Gulf Coast petrochemical crackers for almost all of the past five years as shale production resulted in increasing supplies putting downward pressure on ethane prices.  Most of the time it was a much more profitable feedstock than other NGLs -- propane, butane or natural gasoline, and vastly better than naphtha and gas oil.  Over the 2013-2014 period, the margin for ethane on the Gulf Coast averaged about 50 cents per pound of ethylene ($.50/lb), while propane came in at $.42/lb. Normal butane was about $.40/lb while natural gasoline brought up the rear at $.24/lb.  Now as of the first week in 2015, those numbers are flipped around.  The best margin is propane, still at $.42/lb, while butane is at $.39/lb and natural gasoline is $.37/lb.  Poor ethane is sitting at $.34/lb, partially due to more dramatic price declines for the other NGLs and partially because of the impact of lower ethylene prices.  Granted this is still a pretty darned good margin from a historical perspective, so it's not like the petchems are dealing with anything like what oil producers are going through right now.  But still, it is a big reversal for the margin on the NGL which was supposed to be the rising star of a half-dozen new world scale petrochemical plants expected to be completed between 2017 and 2020. [We calculate these petrochemical margin numbers each day and post them on the website for Backstage Pass subscribers.  See Spotcheck Petchem Margin Graphs]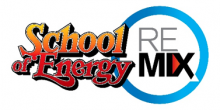 It's a REMIX! SCHOOL OF ENERGY CALGARY!
RBN's School of Energy has been reworked, restructured and reorganized to make the conference even better - more content, more models and more labs.
Calgary - March 30 - April 1, 2015
This is not the only unusual development in ethane markets.  U.S. ethane inventories have been increasing since the shale gas boom started in earnest in 2009.  As shown in Figure #1, ethane inventories (as reported by the Energy Information Administration – EIA) rose by about 10 million barrels during 2008 and then bounced in a range of 20 to 30 million barrels through 2012.  Inventories subsequently rose further in 2013 to about 35 million barrels and peaked at more than 40 million barrels in July 2014, before beginning a sharp decline in August.  As of October, ethane inventories sat at more than 3 million barrels below July (circled on the chart).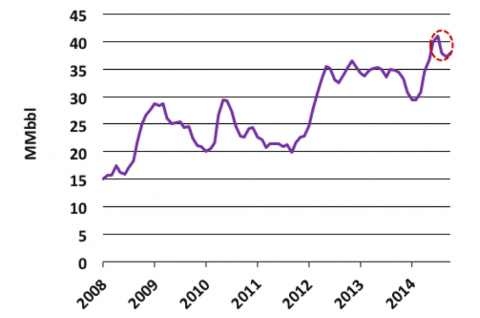 Figure #1
U.S. Ethane Inventories; Source: EIA (click to enlarge)
Message from Rusty
This is the first blog from Ron Gist, newest member of the RBN Energy team.  I am very pleased to announce that Ron will be focusing on natural gas liquids (including propane markets), gas processing, and petrochemicals.  Most recently, Ron was a Director with IHS (formerly Purvin & Gertz) where he served as the Project Manager of the monthly analysis and forecast of market factors that affect supply, demand and pricing of international NGLs for nearly 20 years.  He also participated in long-term forecasts of North America and international NGLs, as well as many studies regarding a wide range of issues involving the NGL industry.  Additionally, Ron is a well-known speaker at many industry seminars.  He is a long-time member of both the national Gas Processors Association (GPA) and the Houston Regional GPA chapter.  Ron graduated from the Colorado School of Mines with both Bachelors and Masters degrees in chemical engineering.  He will be augmenting the existing NGL consulting practice at RBN. Ron  can be contacted via our website contact page here.
To access the remainder of Where Has All the Ethane Gone, Long Time Rising? Cheap Ethane Used as Fuel Impacts Balances you must be logged as a RBN Backstage Pass™ subscriber.
Full access to the RBN Energy blog archive which includes any posting more than 5 days old is available only to RBN Backstage Pass™ subscribers. In addition to blog archive access, RBN Backstage Pass™ resources include Drill-Down Reports, Spotlight Reports, Spotcheck Indicators, Market Fundamentals Webcasts, Get-Togethers and more. If you have already purchased a subscription, be sure you are logged in For additional help or information, contact us at info@rbnenergy.com or 888-613-8874.