"Hey Joe, I said, where you goin' to run to now … where you gonna go?" now that no other options are left, Jimi Hendrix asked in his debut single, "Hey Joe." Joe's answer? " I'm goin' way down south, way down south, way down south to Mexico way!"
Texas and other Southeast Gulf gas producers are in the same boat as Joe, Bentek says in a recent report titled "Growing Mexican Gas Market Creates Southwest Price Premiums."  Having lost some of their old buyers in the Northeast to shale gas producers closer to that market – and with the prospects of losing more - producers in the Eagle Ford and the Permian and Anadarko basins need new options, and are looking to the fast-growing Mexican market as a way out.
In the first part of our two-part series, we examine how booming Mexican demand for gas is a boon for Texas gas producers. We look at what's driving growth in Mexican demand, and why a planned expansion in domestic Mexican gas production will not be nearly enough to keep pace—at least for the foreseeable future. We also talk about the ongoing effort to expand pipeline capacity both at the border and within Mexico, and how that new gas-delivery infrastructure will open new markets to gas producers in Texas.
In the second part of this series to be posted in a few days, we'll look at how the pull of Texas gas to Mexico will affect gas producers in Texas and gas buyers in the Southwest, who soon may find themselves paying premium prices for Texas gas and struggling to line up pipeline capacity. We'll also examine how long the boom in gas exports to Mexico might last, and how it may well be followed up by growth in U.S. LNG exports.
The Mexican natural gas market is entering what Bentek calls "a rapid growth period, driven by widespread additions of natural gas-fired power generation, expansion of the industrial sector and renewed growth of Mexico's gas distribution privatization program." Mexican demand for gas grew 17% in the 2007-12 period to 8.1 Bcf/d last year, and it's expected to rise by 30%--to 10.8 Bcf/d—by 2018 (see Figure 1). Just over half of the projected increase is tied to Mexico's rapid shift to gas-fired power generation. More than 17,000 MW of new gas-fired capacity is either under construction or planned through 2025, with nearly 13,000 MW of the total scheduled to come online by 2018. Of the expected 2.7 Bcf/d in incremental Mexican demand growth the next five years, fully 1.4 Bcf/d will come from the power sector; another 0.3 Bcf/d will come from the industrial sector, and 1.0 Bcf/d from other sectors, including expanded gas distribution systems serving commercial and residential customers. By 2025, incremental gas demand from power plants alone could total 2.5 Bcf/d, assuming 85% utilization of the new generating capacity to be built.

Figure 1 (Click Image to Enlarge)
Mexico has abundant unconventional gas supplies; according to a June report by the U.S. Energy Information Administration, the country ranks sixth in shale gas reserves, with an estimated 545 Tcf of "technically recoverable" shale gas—343 Tcf of it in Eagle Ford shale formations in northern Mexico's Burgos Basin. But PEMEX (Petroleos Mexicanos), the state-owned oil and gas company, has been slow to develop shale gas because of the higher returns it receives on conventionally drilled oil and liquids. According to the EIA report, "PEMEX envisions commercial shale gas production being initiated in 2015 and increasing to around 2 Bcf/d by 2025, with the company potentially investing $1 billion to drill 750 wells." We noted six months ago (See Part 1 of "Oh Rio, Rio—Gas Across the Rio Grande—U.S. Natural Gas Exports to Mexico") that because PEMEX's near-term budget for shale exploration is small and the fiscal terms are not attractive for outside investors shale gas production is unlikely to grow rapidly. Security concerns in the shale gas fields (the Mexican drug war) and a lack of water for hydraulic fracturing are also constraints on this development. Nothing's changed there.
Mexican gas production was flat at 6.2 Bcf/d in 2011 and 2012, and rose to 6.5 Bcf/d in 2013, with most production associated with oil. Bentek expects Mexican gas production to increase to 7.5 Bcf/d in 2018, but most of that growth is expected to occur near the end of the forecast period. The role of LNG imports to Mexico is expected to be very limited. Mexico has three LNG import terminals, but LNG imports will likely remain modest and flat—at about 0.5 Bcf/d—through 2018, largely because pipeline gas imports from the U.S. to Mexico are considerably cheaper than LNG.  Over the next five years, at least, Mexico can be expected to rely much more heavily on piped-in U.S. gas for its energy needs.
Mexican imports of U.S. gas have been rising the past several years; imports doubled in the 2005-12 period, peaking—so far—at 1.9 Bcf/d last October. Some 5.3 Bcf/d of U.S.-to-Mexico export capacity exists; that would suggest some 3 Bcf/d of capacity remains on existing pipelines, but constraints on the Mexican side of the border hinder utilization of the export lines. Pipeline developers are building and planning cross-border projects that will add 4.2 Bcf/d of export capacity—most of it from Texas, and some from Arizona—and as well as more than 2,800 miles of new pipelines within Mexico that together will be capable of delivering more than 10.3 Bcf/d to new power plants and other gas consumers (see Figure 2).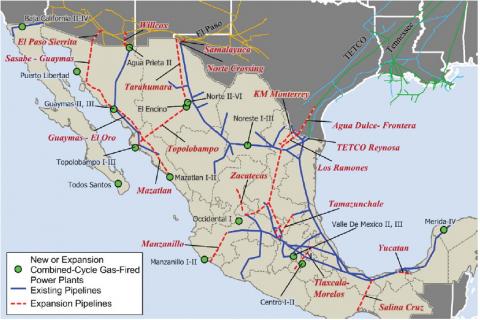 Figure 2 (Click Image to Enlarge)
Taken together, the pipeline projects represent an investment of more than $10 billion. We covered the pipeline projects in some detail in Part 2 of "Oh Rio, Rio". In essence, there are nine major geographic project groups with a total of 17 pipeline projects. Three of the project groups will dramatically boost export capacity. One is the Sierritas-Guaymas group along Mexico's west coast from Tucson, Arizona, south through Guaymas to Topolobampo along Mexico's Gulf of California coast; another is the Chihuahua-Topolobampo group, which will extend south from El Paso's South Mainline and Samalayuca Lateral near Clint, Texas, through Encino and Jimenez, then west to Topolobampo (interconnecting with Sierrita-Guaymas) and south to Mazatlan. The third group, the Los Ramones expansion, will extend south from Agua Dulce, Texas, across the border to Apaseo el Alto in central-western Mexico. Other export-focused pipeline projects are planned as well, as are several projects aimed at delivering gas from main pipelines to new Mexican power plants and other consumers.
Growing Mexican demand for gas and the development of new pipeline infrastructure to deliver it will allow for a big rise in gas exports from the U.S. Bentek estimates that exports will nearly double over the next five years, from 1.9 Bcf/d in 2013 to 3.6 B
To access the remainder of U.S. Natural Gas Headed Way Down South, Way Down to Mexico Way you must be logged as a RBN Backstage Pass™ subscriber.
Full access to the RBN Energy blog archive which includes any posting more than 5 days old is available only to RBN Backstage Pass™ subscribers. In addition to blog archive access, RBN Backstage Pass™ resources include Drill-Down Reports, Spotlight Reports, Spotcheck Indicators, Market Fundamentals Webcasts, Get-Togethers and more. If you have already purchased a subscription, be sure you are logged in For additional help or information, contact us at info@rbnenergy.com or 888-613-8874.