Crude oil trading dynamics in West Texas and along the Texas Gulf Coast have experienced a whirlwind of change. Permian production was skyrocketing in 2018, but has now started to slow. It seemed for a time that crude takeaway pipeline capacity wouldn't get built fast enough; now it looks like we'll have far too much too soon. And along the coast, the once-overlooked Port of Corpus Christi is quickly becoming the epicenter of export activity, overtaking Houston, Beaumont and Louisiana — sometimes all three combined — for most volume moved on a monthly basis. With new export terminals coming online and increased connectivity, Corpus appears poised to continue its recent string of record-setting export numbers. In today's blog, we review some recent breakthroughs in Corpus cargoes and shine a light on the new terminals in the area.
Corpus Christi exports are increasing at a rapid rate. From January through August of 2019, Corpus volumes averaged just 532 Mb/d on a monthly basis, according to ship-tracking data from RBN's Crude Voyager report. Since September, however, that monthly average has skyrocketed to 1.24 MMb/d. And in the past four weeks, export volumes out of the port have been 1.6 MMb/d, 1.536 MMb/d, 1.65 Mb/d and — for the week ending December 27 — 1.257 MMb/d, for an average of ~1.5 MMb/d (top of the right-most bar stack in Figure 1). Those numbers are truly astonishing, and at times, Corpus volumes have accounted for more than half of all crude exports moving out of the U.S. on a weekly basis. It's even more impressive that Corpus has recently taken over the top spot from both Houston and Beaumont. In 2018 and the first half of 2019, Corpus had been a consistent third wheel to those two, with Houston averaging just over 1 Mb/d since the beginning of 2019, and Beaumont averaging 661 Mb/d since the start of the year. Corpus's rapid growth hasn't caught the market by surprise, but it has been an interesting case study in how quickly infrastructure development and operational efficiency can change the tide in oil markets. (The port's exporting prowess also reinforces our view — stated in our 2020 prognostications blog yesterday — that crude export capacity along the Gulf Coast will not be a problem.)
Figure 1. Corpus Christi Crude Oil Export Volumes. Source: RBN (Click to Enlarge)
When we first covered the growth in Corpus exports in September 2019, they were being fueled by the recently completed Cactus II and EPIC pipelines. At the time, Cactus II flows, according to our Crude Oil Permian report and our recent blog, had started to pick up and were nearing total capacity on the 585-Mb/d system, while EPIC pipeline flows were still below the system's 400-Mb/d capacity, according to Texas Railroad Commission data. Data from our friends at Genscape tells us those numbers have increased significantly in recent weeks. Cactus II and EPIC are both continuing to funnel as much crude down to Corpus Christi as they can get their hands on. Most recently, we've also seen the addition of capacity from Phillips 66's Gray Oak Pipeline to Corpus. Gray Oak is the last of the big new Permian pipelines for at least a year or so, adding connectivity to both Corpus Christi and Freeport from the Midland markets. Gray Oak began linefill in October, with some operational capacity added in November, and is slated to be near its 900-Mb/d nameplate capacity early in the New Year. With Cactus II, EPIC and Gray Oak all targeting Corpus Christi and trying to fill their individual systems to the brim, there is a large volume of crude supply aimed at what is at least for now the southernmost export market along the Texas coast.
But even these relatively new pipeline systems are old news in today's oil market. Since our September update on Corpus volumes, we've seen multiple new export terminals come online, adding their own unique capabilities and additional capacities to the port. In September, the Plains All American and Enterprise Products Partners' joint venture (JV) Eagle Ford Terminals Corpus Christi LLC (light green tank icon in Figure 2) began operations and has since averaged 73 Mb/d of exports. (The yellow bar segment in Figure 1's December 2019 bar reflects the fact that Eagle Ford Terminals loaded nearly 155 Mb/d in the four full weeks of December.) Eagle Ford Terminals has four crude oil storage tanks with a total of 1.2 MMbbl of storage and the ability to load a Suezmax (capacity of 1 MMbbl). And while it's a JV, Plains' half-ownership means the facility has a nice tie-in to existing pipe infrastructure as well as that fancy new Cactus II system Plains just built.
In early December 2019, EPIC Midstream announced that it had loaded its first tanker, an Aframax (600+ Mbbl capacity), out of the West Dock of its IGC marine terminal (purple tank icon). The IGC terminal was previously called the International Grain Port Terminal; EPIC bought it, and in June 2019 started repurposing it to export crude. West Dock currently has the capacity to load Aframax's at a rate of 20 Mb/hour. EPIC is also developing a greenfield project at IGC called East Dock that will eventually be able to load Suezmax tankers at a rate of 40 Mb/hour. East Dock is expected to enter commercial service in the third quarter of 2020. We should mention here that the crude-carrying capacity of the EPIC pipeline system will increase to 590 Mb/d (from its current 400 Mb/d) in early 2020 when it finishes construction on its EPIC Crude Pipeline and ends interim crude service on its EPIC NGL Pipeline.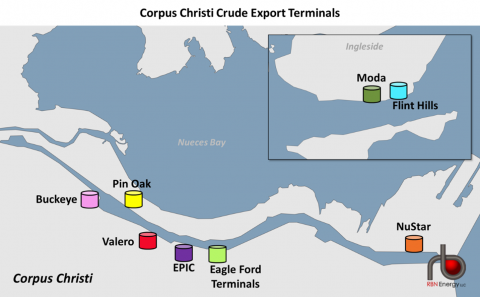 Figure 2. Corpus Christi Crude Export Terminals. Source: RBN (Click to Enlarge)
While the Corpus scene is still incredibly fluid, we are seeing consistently robust volumes out of the "traditional" stalwarts in the area. Moda Ingleside (dark green tank icon in inset map) has carved out a position as one of the largest movers and shakers in the region, averaging over 340 Mb/d in crude exports since the beginning of 2019, and most recently averaging over 530 Mb/d since the start of September. We detailed Moda's existing and planned capabilities at Ingleside a few months back in Harder, Better, Faster, Stronger. Moda is doubling down on the market expectation that storage tank capacity is going to be increasingly important, and the operator plans to continue building out significant infrastructure in 2020 and beyond. And next to Moda in volumes, NuStar Energy's Corpus Christi North Beach facility (orange tank icon) has also begun ramping up its operations. NuStar has averaged just 177 Mb/d in export volumes since the beginning of the year, but since September, its monthly average has increased to 348 Mb/d, and just last week 328 Mb/d was moved off its docks. (The folks over at NuStar were kind enough to share some of their growth plans with us a couple of weeks ago.) NuStar is already hooked into the Cactus II system through its storage and distribution facility in Taft, TX (across the bay from Corpus), and will have a connection to Gray Oak later in 2020. NuStar also has access to crude coming off the EPIC system via a connection with Harvest Pipeline Co.'s Gardendale system. All told, NuStar has access to about 1.2 MMb/d of inbound pipeline capacity, with flowing volumes increasing almost daily.
And those guys aren't alone. Buckeye (pink tank icon), Flint Hills Resources (aqua tank icon in inset map) and Valero (red tank icon) are all seeing relatively strong, albeit smaller, export volumes. We also are expecting volumes out of Pin Oak Terminals LLC (yellow tank icon) to begin in early 2020. The facility is a JV between trading giant Mercuria and Dauphine Midstream LLC. Almost 3 MMbbl of storage is under construction or near completion, and the facility will have competitive loading rates with other area terminals. A rising tide lifts all tankers, and an increase in pipeline capacity and interest in the Corpus market has certainly lifted the spirits of Corpus exporters. Even with Corpus trading at a slightly lower premium than Houston, the outlook is bright for the port.
We were fortunate to host some economic development officials from the Port of Corpus Christi at our xPortCon event this past spring. At the time, they, along with some of the terminal owners in attendance, were singing the praises of the export potential for Corpus Christi and how high their loaded volumes could go. Since then, thanks to hard work, smart infrastructure development and strong relationships between upstream pipes and downstream docks, Corpus has truly flourished. And with more pipeline capacity coming online in the next few months, we could see these record-breaking volumes continue their recent upward trend, further establishing the port as a primary export point for U.S. crude oil.
"Things Have Changed" was written, produced, and performed by Bob Dylan, and appears as the first track on the Wonder Boys (Music from the Motion Picture) soundtrack album. The song was recorded in July 1999, with Dylan's touring band at the time backing him up. The session took place at Sony Studios in New York City. Two takes were recorded, with the second take being the one used on the album. According to Dylan drummer David Kemper, "In about five hours we learned the song, recorded it, and mixed it." Personnel on the record were: Bob Dylan (vocals, piano), Charlie Sexton (guitar), Larry Campbell (guitar), Tony Garnier (bass) and David Kemper (drums). "Times Have Changed" was released as a single in May 2000, but failed to chart on the Billboard Hot 100. The song went on to win a Golden Globe Award for "Best Original Song" in 2000, and an Oscar at the 2001 Academy Awards, also for "Best Original Song." 
Wonder Boys (Music from the Motion Picture) was released in February 2000. "Things Have Changed" was the only single released from the album, which also contained three other Dylan songs. The album went to #155 on the Billboard Top 200 Albums chart. The soundtrack album also had contributions from Neil Young, Leonard Cohen and Clarence Carter, among others. 
Bob Dylan is an American singer, songwriter, author, actor, and visual artist whose career spans over 50 years. He has released 30 studio albums, 13 live albums, seven soundtrack albums, 19 compilation albums, 26 EPs, and 91 singles. He has won one Academy Award, one Golden Globe Award and 11 Grammy Awards. He is a recipient of a Nobel Prize in Literature, a National Medal of Arts, a Presidential Medal of Freedom, and a Pulitzer Prize Special Citation. He is an Officer of the Legion of Honor, and is a member of the Rock and Roll Hall of Fame and the Nashville Songwriters Hall of Fame. The Bob Dylan Center, an archival museum located in Tulsa, OK, next to the Guthrie Center, is scheduled to open in early 2021. Dylan still records and tours, and is scheduled to perform in Japan for a 14-city tour beginning in April 2020.