We just wrapped up our Spring School of Energy, and it was another huge success. RBN's School of Energy is unlike other crude oil, natural gas or natural gas liquids (NGLs) conferences. Our two-day core curriculum includes an introduction to energy market fundamentals as well as a comprehensive analysis of current markets. We walk through key developments for each of the three hydrocarbons including the increasingly important links between them.  A set of spreadsheet models supplements the presentation materials. Today's blog – fair warning this is an advertorial - introduces our latest online offering.
School of Energy Online Overview
We videoed more than ten hours of the Spring School of Energy and that is the core material that we are making available. In addition to the videos – that you will be able to access online - we also include all of the presentation slides and spreadsheet models.  
The content is organized the same way the conference itself is organized – in five Blocks. 
BLOCK #1: Introduction & Production – Rusty Braziel
BLOCK #2: Crude Oil – Sandy Fielden
BLOCK #3: Natural Gas – Scott Potter, Rick Smead and Sandy Fielden
BLOCK #4: Natural Gas Liquids – Rusty Braziel and Kelly Van Hull
BLOCK #5: Finals – Rusty Braziel
Each of these blocks are described in greater detail below
You can subscribe to any one of the first four Blocks, or all four as a package.  No matter which Blocks are included in your subscription, Block 5 comes along for free.  There is also a special deal for RBN Backstage Pass subscribers and attendees of the March School of Energy conference in Houston. 
Click Here for more information on School of Energy Online available on our website.
BLOCK #1: Introduction & Production – Rusty Braziel
Block #1 combines an introduction to energy market fundamentals with a deep dive into production economics modeling. Five sections cover the following topics:
The Domino Effect – RBN's Domino Effect thesis is that a cascading series of cause-and-effect events now link the hydrocarbon energy markets of natural gas, NGLs and crude oil together in ways never seen before.  Figure 1 shows the first five of 25 dominoes that we covered at the conference.  In this Block we define the Domino Effect and explain its principles.

Figure 1 First Five of 25 Dominoes
The Fundamentals of Fundamentals – Looks at identifying and interpreting fundamental data, examining the hydrocarbon value chain, market terminology, and the RBN "Rosetta Stone" of energy markets.
Production Economics – A look at how the economics of extracting hydrocarbons has been changed radically by shale technologies.  This section includes analysis of drilling and completion economics with a spreadsheet model.
Production Forecasting – The "Ladder Method" approach to production forecasting - based on assessments of type curves (initial production rates and decline rates), projections of drilling activity (completed wells) and infrastructure capacity constraints.  Includes a spreadsheet model.
Markets and Value – The RBN Laws of Price Forecasting and how price differentials are influenced by physical market events.
Check out Kyle Cooper's weekly view of natural gas markets at
BLOCK #2: Crude Oil – Sandy Fielden
Over the past two years, U.S. crude oil production has grown more than 50%, eclipsing the growth rates of both natural gas and NGLs. That growth has yet to show any sign of slowing down.  As U.S. crude oil production has grown and Canadian imports have increased, strains on pipeline delivery infrastructure have resulted in dramatic regional price swings and the development of transportation alternatives – crude by rail, and crude by water (U.S. flag barges and ocean going vessels).  Block #2 examines all of these developments, incorporates the basics of crude transportation and refining, and works through models for netback analysis, refinery analytics and crack spreads.
BLOCK #3: Natural Gas – Scott Potter, Rick Smead and Sandy Fielden
Even though the rig count might indicate that many producers are spending most of their drilling budgets on crude oil wells, natural gas production continues to increase – albeit at a more measured pace than a few years ago.  Contributing to that growth are associated gas from crude oil wells, residue gas from 'wet' high BTU gas being targeted for NGL yields, and huge production increases in the dry gas portions of the Marcellus.  But even with production remaining strong, natural gas prices in the East spiked to unprecedented levels during the Polar Vortex winter. Block #3 looks at these developments and provides a solid foundation in natural gas market dynamics, including the pipeline transportation network, trading hubs, basis, netbacks, storage, heat rates and degree day calculations. 
BLOCK #4: Natural Gas Liquids: Rusty Braziel and Kelly Van Hull
NGLs extracted from natural gas are today valued at two or three times more than natural gas, even with NGL prices lower than in the recent past and gas prices higher.  These pricing relationships have resulted in many producers shifting their drilling activity to higher NGL content plays.   The unsurprising result has been a significant increase in NGL production.  But that production could have been even higher.  Some of the ethane which could have been produced has been rejected and sold as part of the natural gas stream at processing plants simply because the petrochemical industry had no capacity to use the incremental ethane.  Other NGLs are also being produced in quantities greater than U.S. demand, and those liquids are being exported at record levels.  Exports combined with other weather related events contributed to huge spikes in propane prices this winter (see Figure 2).  All of these trends will continue to escalate over the next few years – unless a few wildcards like major levels of ethane exports are thrown into the mix.   Block #4 examines these developments and provides three important models for assessing production economics, the Frac Spread, and petrochemical feedstock economics.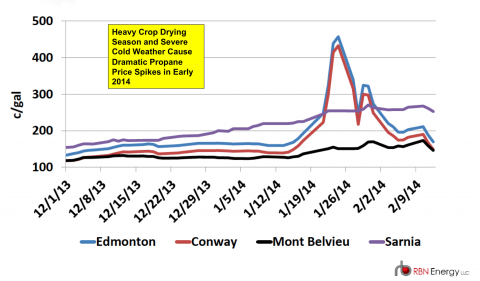 Figure #2
BLOCK #5: Finals – Rusty Braziel
The final School of Energy Block concentrates on the interrelationships of the natural gas, NGL and crude oil markets.  It includes a review of the Domino Effect and how it can be expected to play out in the future, and a unique perspective on the accuracy of all forecasts in a section titled "Why What We Thought We Knew …. About the North American Hydrocarbon Market …No Longer Matters".  Block 5 touches briefly on the relationship of physical and financial markets, but is primarily focused on the conclusions from all of the content presented in the School of Energy.  Note that Block #5 is included for free with the purchase of any of the other Blocks.
Each business day RBN Energy releases the Daily Energy Post covering some aspect of energy market dynamics. Receive the morning RBN Energy email by signing up for the RBN Energy Network.
"Online" was released by Brad Paisley in July 2007.   "So much cooler online" is the chorus.  It was the second single from his album 5th Gear and was his ninth Number One single on the Billboard Hot Country Songs.  RBN School of Energy Session A attendees enjoyed the Brad Paisley concert at the Houston Rodeo in March 2014. 
To access the remainder of So Much Cooler Online - School of Energy Content Goes Online you must be logged as a RBN Backstage Pass™ subscriber.
Full access to the RBN Energy blog archive which includes any posting more than 5 days old is available only to RBN Backstage Pass™ subscribers. In addition to blog archive access, RBN Backstage Pass™ resources include Drill-Down Reports, Spotlight Reports, Spotcheck Indicators, Market Fundamentals Webcasts, Get-Togethers and more. If you have already purchased a subscription, be sure you are logged in For additional help or information, contact us at info@rbnenergy.com or 888-613-8874.