Southern California is poised to have greater natural gas supply flexibility this winter, buoyed by improved access to local storage and the completion of repairs on an important inbound pipeline. Ongoing pipeline outages and maintenance had limited flows over the past few years, creating supply constraints that were then compounded by restricted access to the Aliso Canyon storage field. This led to major volatility in gas prices, which spiked as high as $39/MMBtu in July 2018. Recent repairs and regulatory changes aim to alleviate the situation and limit the likelihood of dramatic pricing moves during the 2019-20 winter season. Today, we provide an overview of recent developments in the SoCal gas market.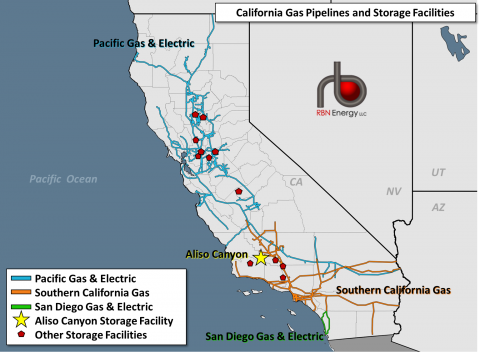 Figure 1. California Gas Pipeline Systems and Storage. Source: RBN (Click to Enlarge)
California has two major intrastate gas transmission pipeline systems: the Pacific Gas & Electric (PG&E) system (blue lines in Figure 1), which encompasses most of the northern half of the state, and the Southern California Gas (SoCal Gas, orange lines) system, which operates across much of the south (see Figure 1). In the southwestern corner of the state, there is also the Sempra Energy-owned San Diego Gas & Electric pipeline system serving local utility customers (SDG&E, green lines). The majority of the gas transported and consumed in California is sourced from out-of-state basins. While Northern California receives most of its gas from Western Canada and the Rocky Mountains, Southern California receives most of its gas from the Permian and San Juan basins, as well as the Rockies. Both the PG&E and SoCal Gas pipeline systems have multiple storage fields in California (red pentagons on the map), either owned outright or in partnership with other companies.
To access the remainder of Los Angeles, I'm Yours - Southern California Gas Constraints Ease you must be logged as a RBN Backstage Pass™ subscriber.
Full access to the RBN Energy blog archive which includes any posting more than 5 days old is available only to RBN Backstage Pass™ subscribers. In addition to blog archive access, RBN Backstage Pass™ resources include Drill-Down Reports, Spotlight Reports, Spotcheck Indicators, Market Fundamentals Webcasts, Get-Togethers and more. If you have already purchased a subscription, be sure you are logged in For additional help or information, contact us at info@rbnenergy.com or 888-613-8874.