In mid-September 2014 the joint venture partners in the shuttered St. Croix (U.S. Virgin Islands) HOVENSA refinery announced an agreement in principal to sell to a private equity fund. The refinery – shut since January 2012 - has been for sale since then but after losing $1.3 Billion in its last 3 years of operation has had trouble finding a buyer. Today we look at the hurdles a new owner has to overcome.
Refinery History
Hess Oil built a 45 Mb/d refinery on the south shore of St. Croix in the U.S. Virgin Islands (USVI) in 1966. The refinery expanded to 650 M b/d by 1974 - making it the largest refinery in the world (see picture in Figure #1). In 1998 Hess sold 50% of the refinery to Venezuelan national oil company Petróleos de Venezuela SA (PDVSA) – creating HOVENSA. Prior to the PDVSA merger the refinery mainly processed light crude from West Africa and the North Sea. After the merger the refinery was adapted to process heavy crude and sourced the majority of its supplies from Venezuela. By 2011, HOVENSA's refining capacity had been cut to 350 M b/d but the facility remained a major supplier of heating oil and gasoline to the US Atlantic Coast market. On January 18, 2012 HOVENSA announced the refinery would be closed and operated as a storage terminal. The global economic slowdown and newer more efficient refining capacity being built by competitors were cited as reasons for closing the refinery that lost $1.3 Billion in its last 3 years of operation.  The closure required agreement from the USVI government to terminate a concession agreement with the owners. Negotiations led to HOVENSA agreeing to a sale process and the owners continuing to operate the site as a storage terminal.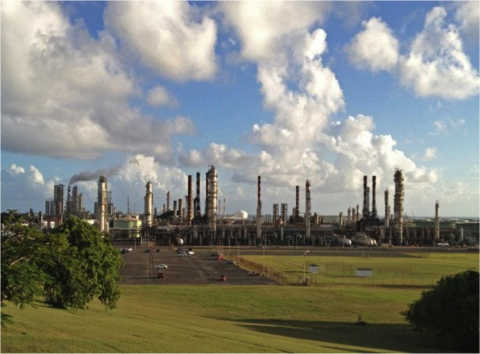 Figure #1
Source: Dominican News Online
For any new HOVENSA owner to run the refinery competitively again three hurdles have to be overcome. The first two of these hurdles are finding a market for its refined product output and a source of reasonably priced crude supplies. The third hurdle is making refinery-operating costs competitive. We take a look at these hurdles in turn.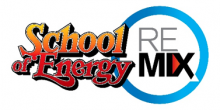 It's a REMIX!
RBN's School of Energy has been reworked, restructured and reorganized to make the conference even better - more content, more models and more labs.
Houston - October 29-31, 2014
Calgary - March 30 - April 1, 2015
Market for Refined products
The HOVENSA refinery used to supply most of its refined products to the East Coast. According to data from the Energy Information Administration (EIA) HOVENSA accounted for a monthly average 15 percent of all refined product imports to the U.S. Atlantic Coast region – known as Petroleum Administrative District for Defense (PADD) 1 in 2010. That percentage dropped to 12 in 2011. The largest share of PADD 1 imports is from Canada with 28 percent in 2010 and 27 percent in 2011. Since HOVENSA closed down in 2012, Canadian refined product imports to PADD 1 have risen to average 31 % in 2012 and 37 percent in 2013. But as we described in blog posts back in July 2012, the advent of lower priced U.S. domestic crude has led to a recovery in East Coast refining – reducing the need for imports somewhat (see Beginning to See The Light). Booming refinery throughput in the Gulf Coast region has also expanded potential transfers of refined products from that region to PADD 1 but these are constrained by limited pipeline capacity between the two regions and the high cost of marine shipments arising from Jones Act regulations. The Jones Act requires shipments between U.S. ports to be made on U.S. flag vessels with U.S. crew and labor regulations, which increases the shipping cost by several $/Bbl compared to non-U.S. flag vessels (see The Sea and Mr. Jones). The higher cost of Jones Act vessels has been exacerbated in the past two years by rising competition for tankers from producers shipping crude along the Gulf Coast and from the Gulf Coast to PADD 1 - increasing the freight cost further (see Rock the Boat – Coastal Trade). As a result, prices for refined products on the East Coast have generally been higher than at the Gulf Coast and there have been periods of shortage – most notably during Hurricane Sandy in 2012 when the government issued Jones Act waivers to ensure adequate gasoline and heating oil supplies reached the Northeast.
To access the remainder of Islands In the (Crude) Stream? – Prospects for a Tropical Refinery Restart you must be logged as a RBN Backstage Pass™ subscriber.
Full access to the RBN Energy blog archive which includes any posting more than 5 days old is available only to RBN Backstage Pass™ subscribers. In addition to blog archive access, RBN Backstage Pass™ resources include Drill-Down Reports, Spotlight Reports, Spotcheck Indicators, Market Fundamentals Webcasts, Get-Togethers and more. If you have already purchased a subscription, be sure you are logged in For additional help or information, contact us at info@rbnenergy.com or 888-613-8874.