The latest North Dakota Pipeline Authority (NDPA) data for April 2014 shows crude production in that State finally crossing the 1 MMb/d mark. That threshold was finally crossed after producers recovered from a harsh winter that shut in production and constrained new drilling. But while production continues to grow and is expected to reach 1.7 MMb/d by the end of 2019, producer crude takeaway preferences appear to be changing. NDPA data shows an 8 percent reduction in rail shipments out of North Dakota since November 2013. Today we investigate the shift away from rail transportation.
As Bakken production increases, the takeaway transportation routes for crude leaving North Dakota have been changing as producers figure their best route to market and look for the highest netback returns. [Netbacks are the price that producers get for their crude at the destination market less the cost of transportation.] Figure #1 below shows North Dakota monthly crude production estimates from NDPA in the pink shading. The green line is the NDPA estimate of monthly crude volumes leaving North Dakota by rail. These volumes grew rapidly from mid-2011 to April 2013 as rail infrastructure was built out in North Dakota to relieve price discounting caused by a lack of pipeline takeaway capacity (see Crude Loves Rock'n'Rail). But crude by rail volumes fell off in the second half of 2013 as producers switched back to pipelines in response to lower crude oil netbacks at rail destinations (see Netback, Netback, Netback to Where You Started From).  Crude by rail volumes rallied again in November 2013 to reach an all time high of 693 Mb/d on average but since then slipped by about 60 Mb/d to 630 Mb/d in April 2014.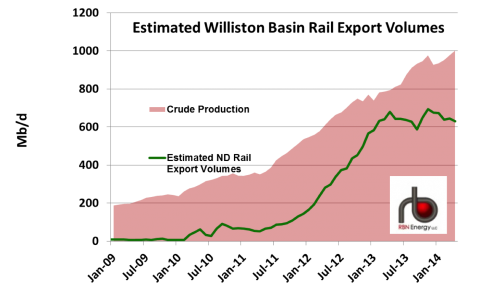 Figure #1
Source: North Dakota Pipeline Authority (NDPA), RBN Energy
As we have discussed in several RBN posts, since the build out of rail loading capacity in 2012 and 2013, producers in North Dakota have enjoyed the luxury of a choice of transport to get their crude to market. A few weeks back we covered the coming expansion of crude pipelines flowing west out of North Dakota and down to Guernsey, WY via the Butte LOOP and Double H pipeline that will add 160 Mb/d of capacity out of North Dakota this fall (see Gimme All Your Barrels). Back in March we described three competing proposals to add pipeline takeaway capacity flowing east out of North Dakota with the 225 Mb/d Enbridge Sandpiper project at that time looking the most likely to proceed and come online in 2016 (see Once, Twice, Three Times A Pipeline). Last week (June 23, 2014) another of those proposals, the Energy Transfer Partners (ETP) 320 Mb/d Bakken Pipeline from North Dakota to Patoka, IL (where it will connect to ETP's Trunkline reversal pipeline to Nederland, TX) moved ahead following shipper commitments and will be built by the end of 2016. And Enterprise Product Partners proposed to build a 340 Mb/d pipeline from Stanley, ND to Cushing, OK that would also be completed in 2016 if it wins shipper support and approval. And midstream companies are still building out rail loading facilities (for example the 100 Mb/d Northstar Transloading terminal in East Fairview, ND). Figure #2 below shows our latest estimates of both rail and pipeline takeaway capacity as well current and forecast production out to 2016. If you look at the chart in April 2014 (where the light blue and purple shading meet) you can see that production is well above pipeline and refinery capacity (red line) but that when you add together pipeline and rail (plus in-State refining capacity) the total of 2.7 MMb/d comfortably exceeds production. [Note we included the ETP Bakken Pipeline that has committed shippers, but not the Enterprise proposal in the 2016 capacity.]
To access the remainder of I Can't Stand the Train? Pipelines Steal (Back) Bakken Crude Volumes to the Gulf Coast you must be logged as a RBN Backstage Pass™ subscriber.
Full access to the RBN Energy blog archive which includes any posting more than 5 days old is available only to RBN Backstage Pass™ subscribers. In addition to blog archive access, RBN Backstage Pass™ resources include Drill-Down Reports, Spotlight Reports, Spotcheck Indicators, Market Fundamentals Webcasts, Get-Togethers and more. If you have already purchased a subscription, be sure you are logged in For additional help or information, contact us at info@rbnenergy.com or 888-613-8874.