Northeast producers are about to get a new path to target LNG export demand at Cheniere Energy's Sabine Pass LNG terminal. Cheniere in late December received federal approval to commission its new Sabine Pass lateral—the 2.1-Bcf/d East Meter Pipeline. Also in late December, Williams indicated in a regulatory filing that it anticipates a February 1, 2017 in-service date for its 1.2-Bcf/d Gulf Trace Expansion Project, which will reverse southern portions of the Transcontinental Gas Pipe Line to send Northeast supply south to the export facility via the East Meter pipe. Today we provide an update on current and upcoming pipelines supplying exports from Sabine Pass.
In the 11 months or so since it loaded and shipped its first export cargo in February 2016, Cheniere's Sabine Pass liquefaction and export facility in Cameron Parish, LA, has made a noticeable dent on the natural gas market, helping the market to reduce a massive year-on-year surplus in storage over the injection season and also enabling the U.S. to become a net exporter of natural gas for the first time last fall (see Feels Like the First Time Part 2 and We've Only Just Begun). To date, the terminal has loaded and shipped off 61 cargoes, and the pace has accelerated in recent months. Twenty-seven cargoes (44% of the total) have  been exported since November 1, 2016, five of those in the first six days of 2017 alone, according to Genscape's North American LNG Supply & Demand report.
Natural gas deliveries to the terminal since the first cargo have totaled close to 247 Bcf (or 0.75 Bcf/d), according to pipeline flow data from our friends at Genscape. They've averaged 1.62 Bcf/d in the last seven days, and just this past Sunday (January 8, 2017), flows show deliveries hit an all-time high of 1.69 Bcf/d. That's with just two liquefaction "trains" operating. As we've noted in previous blogs, Cheniere has plans to expand the terminal to six liquefaction trains by 2020. It's no wonder that Northeast producers are gunning for access to this new demand source. But thus far, the ability for Marcellus/Utica gas to find its way to the terminal has been limited. The Gulf Trace and East Meter expansions will soon improve the prospects for that. It should be noted here that other projects are targeting this demand as well (see Begin the Sabine). Among those is Kinder Morgan Louisiana Pipeline's (KMLP) Sabine Pass Expansion Project, which recently (on December 13, 2016) filed its application to reconfigure its system (which has existing connections designed to take regasified LNG imports) to move 0.6 Bcf/d north-to-south for delivery to Train 5 by April 2019 as per its precedent agreement with Sabine Pass.) For today's blog, however, we focus on the more imminent Gulf Trace and East Meter projects. Before we get to those, it's worth reviewing what's happened with deliveries to Sabine Pass to date.
We've looked at gas flows to the Sabine Pass liquefaction and export facility several times in the RBN blogosphere since commissioning activities began in fall 2015, first in Commencing Countdown (February 2016), around the time of the first export cargo from the terminal, again in July 2016 in Way Down Yonder, and most recently in our two-parter Feels Like the First Time. Figure 1 below provides an updated graph of delivery flows to the terminal.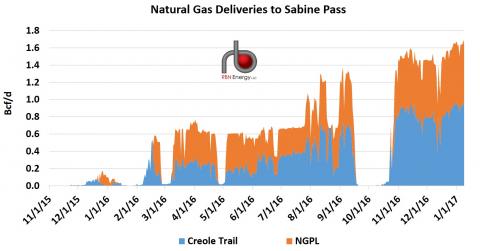 Figure 1; Source: Genscape
Up until now, the facility—the first to export LNG from the Lower 48––has had two pipeline interconnects from which it can receive natural gas for export: Kinder Morgan's Natural Gas Pipeline of America (NGPL), which is contracted to deliver as much as 550 MMcf/d—375 MMcf/d to Train 1 and 175 MMcf/d to Train 2; and Cheniere's Creole Trail, which used to flow inland from the coast but became bi-directional in 2015, and which is contracted to deliver up to 1.5 Bcf/d to the terminal, half each to trains 1 and 2. Creole Trail is supplied by receipts from three legacy long-haul pipelines: Williams' Transcontinental Gas Pipe Line Co. (Transco), Energy Transfer Partners' Trunkline Gas Co., and Spectra Energy's Texas Eastern Transmission Co. (TETCO)—with the interconnects located on the northern end of Creole Trail near Gillis, LA, in Beauregard Parish.
Initial flows to the terminal—for commissioning and eventually commercialization of Train 1—were choppy and experienced multiple disruptions (in March and again in May) but generally averaged about 0.6 Bcf/d between February and July. In August, deliveries to the facility jumped to more than 1.2 Bcf/d on many days as commissioning activity began for Train 2, and again in the first half of September, when the facility was consistently receiving close to 1.2 Bcf/d. Then, in the second half of September, the facility shut down altogether for a planned maintenance outage and upgrade. Deliveries dropped to zero starting September 20 and didn't resume until mid-October. Once they did restart, it was at a higher level than prior to the outage, with deliveries through November and December averaging nearly 1.5 Bcf/d. And, as we alluded to above, volumes have averaged 1.62 Bcf/d in the past seven days (Figure 1). In the initial months of operation at Train 1, the majority of the delivered volumes—about 0.33 Bcf/d on average—was coming from NGPL (orange area in Figure 1), while the remaining 0.25 Bcf/d was coming from Creole Trail (blue area). As Train 2 ramped up in August, so did deliveries from Creole Trail, and since the outage ended in earnest in mid-October, Creole Trail deliveries have averaged nearly 0.8 Bcf/d, exceeding NGPL's average deliveries by nearly 0.2 Bcf/d.
These routes tell us a good deal about where the gas is coming from. So next, let's take a look at what producing areas have been supplying Sabine Pass with the help of the map in Figure 2, which shows the various pipelines directly or indirectly connecting to the export facility, including the new Gulf Trace and East Meter expansions.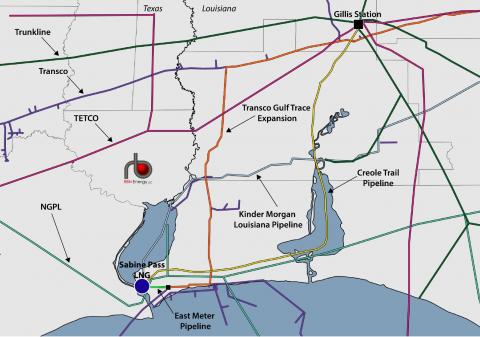 Figure 2 – Pipes Serving Sabine Pass LNG; Source:  RBN
In our analysis of flows upstream of these deliveries detailed in Commencing Countdown, Part 2, we noted that most of the initial supply for Sabine Pass exports was more than likely coming primarily from Texas and Louisiana. That's because NGPL (medium green line across lower third of Figure 2) connects to Sabine Pass along its TEXOK zone, which is the southeastern segment of the pipeline's bi-directional system that primarily picks up supply from the East Texas and Louisiana producing areas. There are plans to reverse flows on another NGPL segment—the Gulf Coast Mainline—in order to facilitate southbound flows from the Marcellus/Utica to Sabine Pass and Cheniere's other liquefaction project in Corpus Christi, TX. But for now, NGPL remains regionally supplied. Similarly, for the Creole Trail Pipeline (yellow line), we can look at the segments for each of the interconnecting pipes to get a sense of where the supply is coming from. Transco (orange/purple line) delivers into Creole at Gillis, LA (black square just east of Sabine Pass), which is near the boundary of Transco's Zone 2 and Zone 3 segments in southeastern Louisiana. Zone 2 has historically flowed gas supply from South Texas and Louisiana onshore and offshore east and north to serve East Coast markets. Those northeast-bound flows have dropped dramatically in recent years as Marcellus/Utica production has grown. But flow data for that segment shows that net flows continue to move in that traditional direction for now, which means that, like NGPL, Transco's portion of Creole Trail receipts is likely production from Texas and Louisiana. Then there is Trunkline (dark green line across the top), which connects to Creole Trail along its 1A zone, a segment extending from the system's "field zone" starting near Longville in southeastern Louisiana and running northeast to Tennessee. Like Transco, the 1A zone is still flowing west-to-east and, thus, we can assume it is still supplied by production receipts from Texas and Louisiana.
The one exception is TETCO (pink line), which connects to Creole Trail along its West Louisiana (WLA) zone. That segment historically has received gas from TETCO's southern zone in Texas as well as receipt points in East Texas, Louisiana and offshore Gulf of Mexico and flows have traditionally moved north and east from there. However, flow data shows TETCO's WLA zone has been flowing in the opposite direction, net receiving record amounts of gas from its northern zones (Marcellus/Utica production). This flow reversal is being facilitated by Spectra's fully subscribed Ohio Pipeline Energy Network (OPEN) expansion project, which came online in fourth quarter of 2015. The expansion added 550 MMcf/d of southbound capacity on TETCO to move Marcellus/Utica gas as far south as Gillis, not coincidentally where the pipe connects to the Sabine Pass feeder. Much of the increase in Creole Trail receipts in recent months has come from TETCO and some on Trunkline. But all in all, TETCO's deliveries into Creole Trail at Gillis likely make up the majority of Northeast production volumes that have made it all the way down to Sabine Pass—that is until the Gulf Trace-East Meter pipeline duo becomes operational by February (2017), just in time to serve start-up and commissioning activities for Train 3.
Cheniere's East Meter Pipeline (EMP)—a new 5,000-foot, 36-inch-diameter pipe—will increase the delivery capacity into Sabine Pass by 2.1 Bcf/d (60%) to 5.5 Bcf/d, from about 3.4 Bcf/d currently between NGPL and Creole Trail currently. And, moreover, any receipts from the pipe are most likely to be volumes from the Marcellus/Utica producing region. EMP will receive its gas from a new interconnect with Transco on the eastern side of the facility and move it to an existing feed gas header pipe on the western side of the terminal. All indications are that EMP is just about ready for service. On December 15, 2016, Cheniere filed a request for approval from the Federal Energy Regulatory Commission (FERC) to start introducing gas into the lateral no later than December 30 (2016); the approval was subsequently granted in a December 22 filing. The latest Sabine Pass construction report filed with FERC said the facility was preparing for tie-in.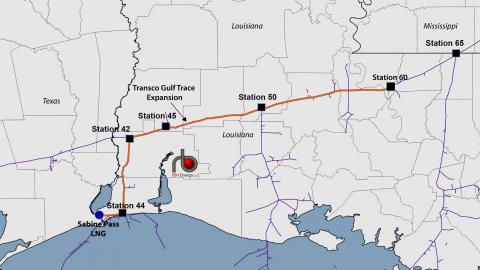 Figure 3 – Transco Gulf Trace Expansion Project; Source: Williams, RBN
The key to EMP receiving Marcellus/Utica gas, however, is Transco's Gulf Trace expansion (Figure 3), which will reverse flows on the existing Transco mainline along its Zone 3 segment from compressor Station 65 in St. Helena Parish, LA southwest through Stations 60, 50 and 45, to a new compressor station 42 in Calcasieu Parish, LA. From there flows will turn south to the Gulf Coast on Transco's existing Southwest Louisiana Lateral and west near the Gulf Coast at Station 44 in Cameron Parish to connect with the new 8-mile, 36-inch-diameter Gulf Trace Lateral and on to EMP via the new meter station. The project will soon—by February 1, 2017, according to a December 29, 2016 FERC filing—be able to deliver up to 1.2 Bcf/d of gas to EMP, all of which has been contracted by Cheniere for a 20-year term.
"Hear My Train a Comin" a blues-inspired song written by Jimi Hendrix and recorded in various live and studio settings between 1967 and 1970, though only one version (from the documentary film Experience (1968) was released during his lifetime. The song—often also alternatively introduced as "Get My Heart Back Together" by Hendrix—became one of several bluesy songs in his repertoire.   If you like Stevie Ray Vaughan, you'll like this tune.