New crude pipeline capacity being added in the Rockies to ease congestion will compete directly with rail terminals built or planned in the region. Some of these rail terminals are purpose built to take barrels off the pipelines for delivery to West Coast refiners or perhaps to facilitate blending of heavier Canadian grades with lighter shale crudes. The competition between pipelines and rail in the region underlines a key accomplishment of the post-shale crude distribution system - the advent of greater choice for producers. Today we describe growing rail alternatives in the Rockies.
In Part 1 we described the congested pipeline situation in the key Rockies pipeline hub at Guernsey, WY that developed in the past 3 years as new crude production in the Bakken, the Rockies and Western Canada converged in the region. At present, pipeline capacity into Guernsey is greater than outgoing capacity to Wood River, IL on the Spectra Platte pipeline. If local refineries in the Rockies do not soak up surplus crude then the mainline out of Guernsey becomes oversupplied and shippers need to find alternative routes to market. Three new pipeline projects are expected online this fall to relieve that pipeline congestion. These are the Hiland Partners Double H 50 Mb/d pipeline from North Dakota and Montana into Guernsey, the True Company Butte Loop pipeline that will flow up to 110 Mb/d from Baker Montana to Guernsey and the Tallgrass Energy partners 230 Mb/d Pony Express pipeline from Guernsey to Cushing. Then last week (May 7, 2014), after we posted Part 1, in an analyst call, Spectra Energy Partners discussed the possibility of building a twin to their existing Express-Platte pipeline system from Hardisty, Alberta through Guernsey to Wood River that could double the flow of Canadian oil through the Rockies (see Figure #1 below). That development could increase Rockies congestion in the future but no details are available yet. In this episode we look at the growth of rail loading takeaway capacity that competes with the new pipelines and compare the two transport alternatives.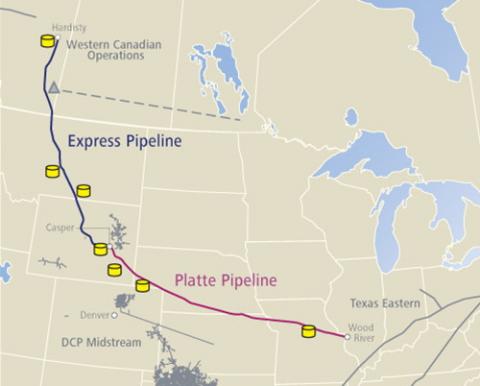 Figure #1
Source: Spectra Energy Partners (Click to Enlarge)
We have previously reviewed takeaway capacity from the Rockies in our Bananarama in the Niobrara series a year ago (April 2014) when we looked at both pipeline and rail developments. We also detailed rail terminal developments in the region a month earlier as part of our Crude Loves Rock'n'Rail survey (see Load Terminal Craze Sweeps the Nation). What follows is an update on the status of these rail terminal developments. Table #1 below summarizes the larger crude rail loading terminals developed so far, or on the drawing board to come on line this year or next. These terminals between them offer as much as 483 Mb/d of rail loading capacity in Colorado and Wyoming.
To access the remainder of Gimme All Your Barrels – The End of Rockies Crude Congestion - Part 2 you must be logged as a RBN Backstage Pass™ subscriber.
Full access to the RBN Energy blog archive which includes any posting more than 5 days old is available only to RBN Backstage Pass™ subscribers. In addition to blog archive access, RBN Backstage Pass™ resources include Drill-Down Reports, Spotlight Reports, Spotcheck Indicators, Market Fundamentals Webcasts, Get-Togethers and more. If you have already purchased a subscription, be sure you are logged in For additional help or information, contact us at info@rbnenergy.com or 888-613-8874.