The NYMEX New York October gasoline contract expired last Friday at $3.34/Gal, up 13 percent during the week from $2.91/Gal last Monday (September 24, 2012). In contrast the November contract closed 42 cents lower than October on Friday at  $2.92/Gal. The sudden jump in October New York gasoline prices during the last week of trading was caused by severe supply problems in the Northeast US. This week new cargoes en-route to New York have calmed market fears but the disruptions look set to repeat in a tightly balanced market. Today we investigate what happened.
Northeast Gasoline Fundamentals Context
Gasoline stocks in the Northeast (PADD 1) have been at historically low levels this year. The chart below shows that PADD 1 stocks have fallen consistently since the start of the year.  The Energy Information Administration (EIA) indicates that PADD 1 stocks are the lowest on record for this time of year since they began collecting the data in1990.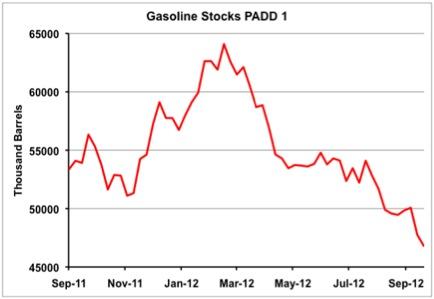 Source: EIA Data from Morningstar
We previously discussed the potential for gasoline shortages in the Northeast because of refinery shutdowns (see Don't Let The Sun Go Down on Me Part I). PADD 1 has refineries in Delaware, Georgia, New Jersey, Pennsylvania and West Virginia. In the summer of 2011 these refineries had combined capacity of 1.3 MMB/d but since then 0.36 MMB/d or 26 percent of that capacity has been shut down. East Coast refineries have traditionally supplied about 40 percent of the gasoline consumed in the Northeast, with imports and pipeline receipts from the Gulf Coast making up the remainder.
To access the remainder of Do We Need a New Gasoline Alley? - NYMEX October Settlement Spikes over Supply Fears you must be logged as a RBN Backstage Pass™ subscriber.
Full access to the RBN Energy blog archive which includes any posting more than 5 days old is available only to RBN Backstage Pass™ subscribers. In addition to blog archive access, RBN Backstage Pass™ resources include Drill-Down Reports, Spotlight Reports, Spotcheck Indicators, Market Fundamentals Webcasts, Get-Togethers and more. If you have already purchased a subscription, be sure you are logged in For additional help or information, contact us at info@rbnenergy.com or 888-613-8874.