Average margins for a Gulf Coast condensate splitter have been about $5/Bbl better in 2015 than they were in 2014 but are still about $4.75/Bbl worse than an equivalent Gulf Coast 3-2-1 crack spread. The economics of condensate splitters have also yet to be tested in an environment if – as could happen later this year – crude production begins to decline. Are condensate splitters a better investment than just exporting lightly processed condensate under relaxed export regulations? Two companies considering projects seem to have reached different conclusions recently. Today we continue our update on splitter projects with a look at economics.
In Episode 1 in this series we described the market for lease condensate from the South Texas Eagle Ford that is too light for most Gulf Coast refiners to process in any significant volumes without changes to their configurations. Although there is a market for condensate use as diluent in Canada – producers there actually prefer the better quality plant condensate (a.k.a., "natural gasoline") produced by processing "wet" (high BTU) natural gas. With growing supplies available from the Eagle Ford, one solution is to process condensate in a splitter – a form of simple refinery.  We walked through the list of 7 brand new condensate splitter projects that were proposed to that end between 2012 and 2014 by midstream companies. Then in 2014 the rules of the game abruptly changed overnight when the Bureau of Industry and Security (BIS) clarified decades old export regulations to allow the export of lightly processed condensate. That caused 3 splitter projects to be put on hold as producers reevaluated their commitments to relatively expensive splitter projects. Finally we noted that the most recent Energy Information Administration (EIA) Drilling Productivity Report data suggests the possibility of production declines for  Eagle Ford crude and condensate in the next couple of months – which certainly would threaten the economics of condensate splitters. This time we describe two new projects announced this year and then look at Gulf Coast splitter margins.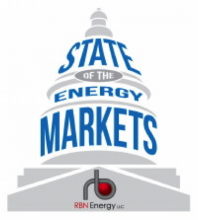 State of the Energy Markets
What is going on in today's markets for natural gas, NGLs and crude oil, why it is happening, and what is likely to happen next?
July 23rd, 2015 New York City
Two Gulf Coast infrastructure projects announced this year originally included plans for condensate splitter capacity located at Corpus Christi. The larger of the two plans comes from Cheniere Energy Inc – a company better known for its huge liquefied natural gas (LNG) liquefaction and export terminal projects – one of which is also located in Corpus Christi. Cheniere floated plans at the end of last year to build two facilities that would both split and/or process condensate for shipping to export or domestic destinations via an associated marine terminal. The first facility – the San Patricio gathering and processing hub - would have 1.5 MMBbl of storage initially and could be connected to close-by NuStar, Harvest and Double Eagle pipelines bringing crude and condensate from the Eagle Ford and the Permian Basin to Corpus. Cheniere initially announced plans for a 100 Mb/d crude/condensate splitter at San Patricio (that we included in our table last week) as well as an additional unit to stabilize up to 60 Mb/d of condensate. However, we understand that their splitter plans are now on hold and they will likely just build a stabilizer at San Patricio. The second Cheniere facility would be a marine terminal at Ingleside – connected by a 32 mile pipeline to the San Patricio hub with initial storage of 3 MMBbl and up to 2 marine docks capable of handling Aframax size vessels (approx. 750 MBbl) and barges. The map in Figure #1 shows the proposed layout of the two facilities as well as Cheniere's LNG facility at Corpus that (assuming permits) would be operating by 2018.
To access the remainder of Dancing In The Dark – Gulf Coast Condensate Splitter Economics Update you must be logged as a RBN Backstage Pass™ subscriber.
Full access to the RBN Energy blog archive which includes any posting more than 5 days old is available only to RBN Backstage Pass™ subscribers. In addition to blog archive access, RBN Backstage Pass™ resources include Drill-Down Reports, Spotlight Reports, Spotcheck Indicators, Market Fundamentals Webcasts, Get-Togethers and more. If you have already purchased a subscription, be sure you are logged in For additional help or information, contact us at info@rbnenergy.com or 888-613-8874.