Natural gas markets in the U.S. Northwest have been in turmoil ever since a rupture on Enbridge's BC Pipeline system over a month ago (on October 9) disrupted Canadian gas exports to Washington State at the Sumas border crossing point. Service on the affected line has been restored but at a reduced operating pressure for now, and Canadian gas deliveries to Sumas remain at about half of their pre-outage levels, creating supply shortages in the region. Spot natural gas prices at the Sumas, WA, trading hub have been volatile, soaring well above Henry Hub and rocketing to a record outright price of nearly $70/MMBtu late last week. The outage has reverberated across the Western U.S. gas market, sending regional prices reeling as gas flows adjusted to help offset supply shortages. Today, we examine the knock-on market effects of the outage on Western gas flows and prices, and potential implications for the winter gas market.
Before we get to the outage itself and its ongoing effects, we start with a brief overview of the BC Pipeline system and the surrounding infrastructure, as shown in Figure 1.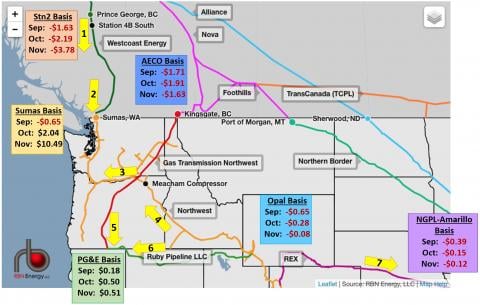 Figure 1. West Coast Pipelines and 2018 Basis Values (in $/MMBtu). Sources: RBN, NGI
 [Click on the map to view it in RBN's MIDI application and to see additional details on the individual pipelines. Follow the link on the map page to the MIDI homepage to explore MIDI's full capabilities.]
Enbridge's 2.9-Bcf/d BC Pipeline system (aka Westcoast Energy Pipeline, or WEP; dark green line on the map) comprises two parallel mainlines — 36-inch-diameter and 30-inch-diameter — that move Alberta and BC gas supply from northeastern British Columbia south to a 1.3-Bcf/d interconnect at the Huntingdon, BC/Sumas, WA, border crossing point (orange dot) with Williams's Northwest Pipeline (NWPL; light orange system). From there, the gas is delivered to local distribution companies, gas-fired power generation plants, gas storage facilities, as well as for petroleum refining, primarily in Washington State but also some in Oregon and Idaho.
To access the remainder of Chain Reaction - BC Pipeline Outage Disrupts Western U.S. Winter Gas Prices and Flows you must be logged as a RBN Backstage Pass™ subscriber.
Full access to the RBN Energy blog archive which includes any posting more than 5 days old is available only to RBN Backstage Pass™ subscribers. In addition to blog archive access, RBN Backstage Pass™ resources include Drill-Down Reports, Spotlight Reports, Spotcheck Indicators, Market Fundamentals Webcasts, Get-Togethers and more. If you have already purchased a subscription, be sure you are logged in For additional help or information, contact us at info@rbnenergy.com or 888-613-8874.