In the five weeks since February 11, the price of WTI crude oil on the CME/NYMEX spiked 50%, up from $26/bbl to $40/bbl (see black dashed circle in Figure #1).  For hedge funds that took long positions in February, it was an awesome trade.  And for beleaguered producers, it was certainly a bit of good news.  But there are no celebrations in the streets of Houston and Oklahoma City.  The fact that $40/bbl should be considered "good news" is sobering: Eighteen months ago, that price level would have been seen as a catastrophe for the producing community.  In fact, it still is. In today's blog we examine the factors that help push prices above $40/bbl and what it will take to really get US production growing again.
Yes, $40/bbl crude oil will help the balance sheets of most oil and gas producers. A handful of rigs might be put back to work.  But let's put things in perspective.  Since October 2014, the price of crude is down 60%, over 1,200 rigs drilling for crude (75%) have been idled (see Figure #1), and thousands of oil industry workers are looking for jobs. Producer CAPEX budgets have been slashed, and the reality is that a price of $40/bbl will do little to change the meager investment plans that most producers laid out in their Q1 earnings calls.  At $40/bbl, producer returns for drilling most shale wells are under water.  Consequently, new drilling has slowed to a crawl.  A few companies have declared bankruptcy, and more are on the way.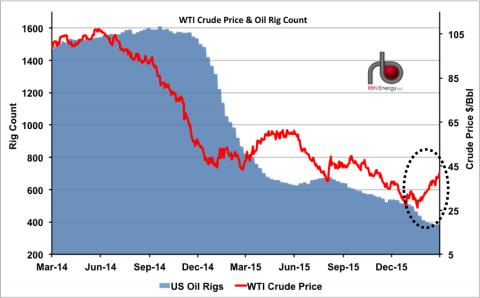 Figure #1; Source: Baker Hughes and CME Data from Morningstar, RBN Energy (Click to Enlarge)
In the midst of this carnage, the market has started – ever so slowly – to correct itself.  Production volumes are declining.  Even though the US Energy Information Administration reports that US crude oil production remains above 9 million barrels per day, it is down about 600 thousand barrels per day from its peak this time last year, and will likely drop at least another 750 thousand barrels per day by year end.
To access the remainder of Are We There Yet? - What $40/bbl Means to Crude Oil Markets you must be logged as a RBN Backstage Pass™ subscriber.
Full access to the RBN Energy blog archive which includes any posting more than 5 days old is available only to RBN Backstage Pass™ subscribers. In addition to blog archive access, RBN Backstage Pass™ resources include Drill-Down Reports, Spotlight Reports, Spotcheck Indicators, Market Fundamentals Webcasts, Get-Togethers and more. If you have already purchased a subscription, be sure you are logged in For additional help or information, contact us at info@rbnenergy.com or 888-613-8874.