Change continues to come fast and furious to midstream MLPs, with no master limited partnership facing a bigger shift than MPLX. MPLX LP, formed in 2012 by Marathon Petroleum Corp. (MPC), is no stranger to transformation. In 2015, MPLX acquired MarkWest Energy Partners for $14.7 billion, a move that in one fell swoop made the merged entity the fourth-largest MLP in the U.S. In October 2016, Marathon announced an aggressive "dropdown" strategy that will provide MPLX with additional assets that will generate about $1.4 billion in annual earnings by the end of 2019. MPLX also has a significant capital investment program that allocates $2.3-$2.8 billion to build out gathering and processing infrastructure and logistics and storage facilities in Appalachia and Texas. Today, we review our latest Spotlight analysis of one of the nation's largest MLPs.
Spotlight is a joint venture of RBN Energy and East Daley Capital Advisors. With the support of Oil & Gas Financial Analytics, Spotlight provides "deep dives" into the fundamentals that shape the outlook for midstream energy companies. Spotlight should not be viewed as investment advice. Spotlight is included as part of our Drill Down report series, which is available to RBN Backstage Pass members. For more about Spotlight, see the paragraph at the end of this blog.
MPLX LP is a publicly-traded (NYSE: MPLX) master limited partnership (MLP) formed in 2012 by MPC to own, operate, develop, and acquire midstream energy infrastructure assets (See Masters of the Midstream for more on MLPs). As of September 30, 2016, Marathon owned a 2% interest in MPLX through the general partner and a direct 24.9% interest in MPLX. The partnership has a market capitalization of about $11.4 billion and a debt to total capital ratio of 28%. The company is expected to generate $1.57 billion in operating income in 2016.
The company has two business segments:
The Gathering & Processing unit accounts for about 70% of MPLX's operating income. Its major operating regions are the Marcellus Shale and Utica Shale, where it is the largest processor and fractionator; the Northeast region (Kentucky and West Virginia); and the Southwest region (Texas and Oklahoma). The G&P segment, which MPLX acquired in the 2012 merger with MarkWest Energy Partners, has over 7,500 MMcf/d of gas processing capacity with another 800 MMcf/d of planned gas processing capacity additions.

The Logistics & Storage unit accounts for about 30% of the MLP's operating income. As we'll get to later, this segment could dramatically expand with Marathon's planned dropdown of assets in 2017-19, which are expected to generate over $1.4 billion in annual EBITDA by the end of this decade. Currently, the L&S segment has 1,008 miles of common carrier crude oil pipelines, 1,900 miles of common carrier products pipelines, a barge dock with 78 Mb/d of oil throughput capacity, four tank farms with 4.5 MMbbl of available storage capacity, a 1-MMbbl butane cavern, and 18 towboats and 205 tank barges.
MPLX's primary G&P assets are located in the Marcellus and Utica shales, and include 2.8 Bcf/d of gathering capacity, 5.5 Bcf/d of processing capacity, 417 Mb/d of fractionation capacity, and 25 Mb/d of condensate stabilization capacity. (See our Drill Down report, Join Together With Demand, for more on MPLX's important regional role). As shown in Figure 1, we expect MPLX's Marcellus and Utica G&P systems to grow both throughput and profits because of the increase in regional takeaway capacity, which will spur additional upstream investment and production. MPLX's Northeast System, also located in Appalachia, is expected to experience declining throughput since it serves conventional natural gas plays that have not been attracting investment dollars. MPLX's Southwest System, in turn, has 2.7 Bcf/d of gathering capacity, 1.5 Bcf/d of processing capacity, 29 Mb/d of fractionation capacity and 1.4 Bcf/d of transportation capacity. Because many of MPLX's Southwest System assets serve declining plays (Granite Wash, Cotton Valley, and Woodford), this system's earnings are expected to fall gradually over the coming years. MPLX's primary growth projects for its G&P segment are build-outs of gathering systems and four new processing plants serving the Marcellus and Utica shales.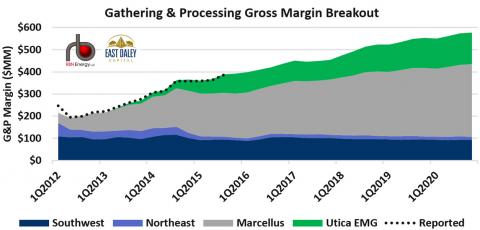 Figure 1; MPLX Gathering and Processing Margins by System; Source: RBN and East Daley
MPLX's primary Logistics & Storage assets are its Marathon Crude Oil and Refined Product pipelines–– the portfolio of L&S assets is shown in Figure 2. The Marathon Crude Oil Pipeline consists of six crude oil pipelines with a capacity of over 1.2 MMb/d. MPLX has two refined products pipelines units—Midwest and Gulf Coast—with a total of nearly 1,400 miles and a capacity of 1.2 MMb/d. These pipeline systems are expected to account for nearly 50% of the L&S segment's 2016 operating income. The Hardin Marine unit and the Ohio River Pipeline are also significant contributors, combining for $161 million in 2016 earnings. Hardin Marine, which was acquired for $600 million in a dropdown from MPC earlier this year, operates 18 towboats and 205 tank barges that transport crude oil and various petroleum products. The Ohio River Pipeline enables two Marathon refineries in Ohio and Kentucky to bring product to market.

Figure 2; MPLX Logistics and Storage Assets; Sources: MPLX and RBN
MPLX's L&S segment also benefits from new projects as well as the planned 2017-19 dropdown of additional assets from MPC. The most important of the new projects is MPLX's 9.2% interest in Energy Transfer Partners' Dakota Access Pipeline (DAPL) and Energy Transfer Crude Oil Pipeline (ETCOP), which together will transport crude oil from the Bakken Shale to the Gulf Coast. DAPL of course has been the focus of public and media attention the past few months; it and ETCOP should provide $80 million in annual earnings when they finally enter service. The Cornerstone Pipeline, MPLX's first Utica Shale liquids pipeline, began transporting condensate and natural gasoline to Marathon's Canton, OH refinery in late 2016 (see our 1-2-3 series on MPLX's three-part plan). The MLP's Utica Shale Build-out projects—part of that plan—are designed to distribute Marcellus/Utica field condensate and natural gasoline to additional Midwest refineries and to move natural gasoline into pipelines that serve Western Canada for use as diluent in transporting heavy oil from oil sands projects. These assets are expected to collectively generate $80 million in earnings in 2020.
A New Transformational Dropdown
In addition to its organic growth, MPLX is on the cusp of a transformational dropdown of assets from Marathon Petroleum that could nearly double its earnings by the end of 2019. As we have been saying, Marathon in October 2016 announced that over the next three years it plans to drop down assets that by the end of 2019 would generate about $1.4 billion in annual earnings: starting with $350 million in earnings in 2017, followed by another $275 million in 2018, and the remaining $700 million-plus in 2019.  These assets include about 5,400 miles of additional pipelines, 79 terminals, more than 2,000 railcars, significant refinery-support facilities, additional marine assets, and fuel distribution networks. More details on the cost and timing of these transfers have not been disclosed, but MPLX is currently exploring options to restructure its general partner interest or other actions to lower its cost of capital to fund the acquisitions and future growth projects.
The full Spotlight Report combines fundamental data with deep drill-down analysis to generate detailed forecasts for each of MPLX's assets. It explores the MLP's competitive advantages as well as the risks and potential opportunities provided by its gathering and processing systems and logistics and storage assets. Click here for more information on the MPLX Spotlight Report.
"Suspicious Minds" was a comeback hit for Elvis Presley in 1969, and remains an iconic tune. The single was The King of Rock 'n' Roll's 18th and final #1 record, and Rolling Stone magazine ranked it #91 on its list of The 500 Greatest Songs of All Time.