Crude production in the Niobrara shale formation is focused on two areas, the Denver-Julesburg (DJ) Basin in Northeast Colorado and the Powder River Basin (PRB) in Wyoming. Production has expanded in both basins (current output is about 435 Mb/d according to the Energy Information Administration) but much of the recent volume growth has come from the DJ basin. Expectations as recently as last year that production would expand to over 700 Mb/d in the next 4 years have been tempered by the crude price crash. A couple of large pipeline projects prompted last year by those production expectations have been cancelled since but others are still being built. Today we assess crude takeaway infrastructure in the DJ basin.
We described these new projects last October (2014) in "Hey M.R. D.J." Figure #1 is the map we used in that blog post – still showing all the projects – although (as we shall see) some have now been cancelled. As you can tell – it is quite a busy map. In the northern part of the play crude flows into the region from Canada on the Spectra Express and from the Bakken on the Bridger Butte Loop and Kinder Morgan Double H pipelines (solid green arrow on the map). Last year Enterprise Product Partners proposed the new-build 340 Mb/d Bakken to Cushing (BTC) pipeline that would ship crude from the Bakken as well as the PRB (purple dashed arrow). Spectra Energy proposed a new 400 Mb/d pipeline from Guernsey, WY to Patoka (red dashed arrow). The newly completed Tallgrass Pony Express pipeline now carries up to 330 Mb/d from Guernsey to Cushing (solid orange arrow). Pony Express also has a 90 Mb/d lateral in Colorado that serves the southern part of the play (short light green line on the map - NECL) that came online in April 2015 serving the DJ basin. Also serving the DJ basin is the 150 Mb/d SemGroup White Cliffs pipeline to Cushing that is expanding this month (October 2015) by 65 Mb/d to a total 215 Mb/d. SemGroup also talked to shippers last year about building a twin pipeline on the same route to double the White Cliffs capacity. Two additional new projects announced in 2014 from the DJ to Cushing are the NGL Energy Grand Mesa project (220 Mb/d) and the Magellan Midstream Partners Saddlehorn pipeline (200 Mb/d). All of the DJ to Cushing pipelines are represented on the map by the solid blue arrow.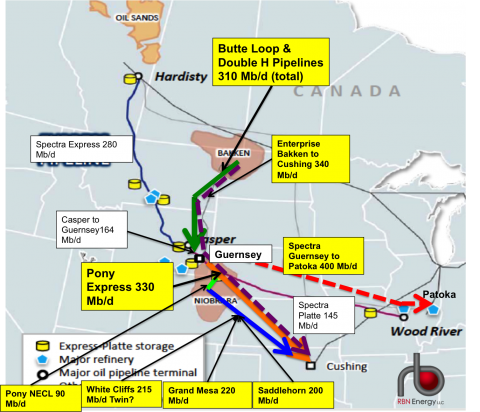 Figure #1; Source: Spectra Energy, RBN Energy (Click to Enlarge)
All of that project enthusiasm has understandably cooled down since oil prices crashed to the $50/Bbl range in January 2015 and stayed low ever since. In terms of projects completed this year the Pony Express expanded by 100 Mb/d in June 2015 and White Cliffs is expanding by 65 Mb/d this month as we mentioned. Meanwhile the BTC project was cancelled by ETP due to lack of shipper support and the Spectra Guernsey to Patoka project has been put on hold and no longer shows up in investor presentations. That leaves two new build pipeline projects alive and kicking in the Niobrara – the Magellan Saddlehorn and the NGL Energy Partners Grand Mesa pipelines that both follow a similar route from the DJ basin to Cushing.  Since a September 2014 original announcement the Saddlehorn project morphed from a 100% Magellan gig into a shared investment between Magellan (40%) Plains All American (40%), and producer Anadarko (20%). The pipeline will run from Platteville, CO to Magellan's storage terminal at Cushing and initially have 200 Mb/d capacity due online in Q2 2016 with the potential to double that by expansion. NGL Energy Partners own 100% of the 220 Mb/d Grand Mesa project from Weld County, Co to Cushing, OK that is scheduled online in Q3 2016. Both of these projects attracted shipper support through successful open seasons.
To access the remainder of Go D.J. – Will Niobrara Crude Production Keep Up With Pipeline Infrastructure? you must be logged as a RBN Backstage Pass™ subscriber.
Full access to the RBN Energy blog archive which includes any posting more than 5 days old is available only to RBN Backstage Pass™ subscribers. In addition to blog archive access, RBN Backstage Pass™ resources include Drill-Down Reports, Spotlight Reports, Spotcheck Indicators, Market Fundamentals Webcasts, Get-Togethers and more. If you have already purchased a subscription, be sure you are logged in For additional help or information, contact us at info@rbnenergy.com or 888-613-8874.