Two weeks ago (August 21, 2014) Plains All American announced their proposed "Diamond" crude pipeline project from Cushing, OK to Memphis, TN that will feed the Valero Memphis refinery starting in late 2016. The new pipeline will provide more direct access from Cushing to supplies of the light sweet crude this refinery processes that are being produced these days in the Williston, Denver Julesburg, Permian and Anadarko basins. Presumably the Diamond pipeline will replace existing arrangements where crude is shipped up the Capline pipeline to Memphis. That development looks to be another nail in the coffin for the northbound Capline crude trunk route between St James and Patoka, IL. Today we discuss the proposal and its consequences for Capline.
WEBCAST THURSDAY!

Mark Your Calendars

RBN Energy's second Fundamentals Webcast for Backstage Pass subscribers is scheduled for Thursday, September 4th at 2:30pm central time.  In this session, Rusty Braziel will review condensate exports, Northeast natgas basis and ethane supply/demand.  More information here.  
Plains propose to build a new 440 mile 200 Mb/d crude oil pipeline from its Cushing storage terminal to Valero Energy Corp's Memphis, TN refinery at a cost of $900 Million. The project is targeted to start in late 2016. Other project details are pretty thin on the ground and it looks like there will not be an Open Season to solicit shipper interest in using the Diamond pipeline. That is because Valero is basically the only interested shipper for what amounts to a Cushing lateral pipeline to feed their Memphis refinery. Plains said that Valero agreed to a long-term shipping contract with them as well as related storage and terminal services and that Valero also holds an option until January 2016 to buy a half interest in the pipeline. In the absence of an "official" map of the route, we have marked up an existing Plains map in Figure #1 below with a dotted orange line to indicate the likely route through Oklahoma and Arkansas.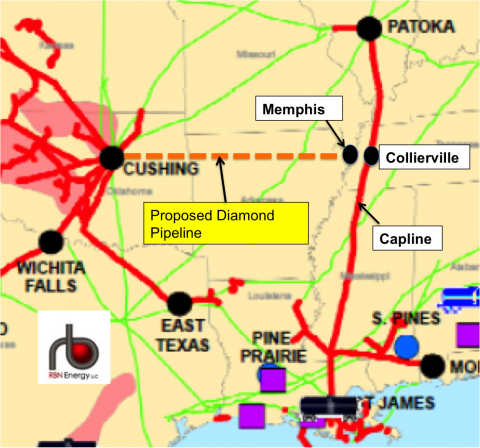 Figure #1
Source: Plains and RBN Energy (Click to Enlarge)
The Memphis refinery has traditionally been supplied with crude from the Gulf Coast via the 1.2 MMb/d capacity Capline pipeline (see Dragging the Capline) that runs from St James, LA to Patoka, IL (red line on the map in Figure #1). The Collierville pipeline, a 52-mile long 210 Mb/d capacity lateral from the Capline at Collierville, MO runs direct to the Memphis refinery. The Collierville crude system was part of the Valero logistics assets dropped down into its Master Limited Partnership (MLP) called Valero Energy Partners LP (VLP) last year (2013). We posted a blog on the IPO for VLP in December 2013 (see "Get Up, Drop Down, Like a MLP Machine  – Valero's Master Limited Partnership"). The map in Figure #2 showing the Collierville assets was provided by VLP as part of that IPO transaction. You can see the Collierville pipeline as well as the Collierville terminal that consists of three storage tanks with 975 MBbl storage capacity. The Collierville crude assets also include a 330 MBbl storage tank at St James. VLP stated in their IPO prospectus that for the six months ended June 30, 2013 approximately 95% of the total crude oil and feedstocks supplied to the Memphis refinery was transported through the Collierville system. And up until a few years ago that meant mostly Light Louisiana Sweet (LLS) crude delivered by gathering systems into St James and shipped up the Capline.
Join Backstage Pass to Read Full Article