Over the next five years, production of natural gas liquids (NGL's) from gas processing plants will increase by at least one million barrels per day, or about 40% over 2012.  Perhaps more.  That's good news for natural gas producers, processors and end-use markets.  But there is a catch.  The rate of production does not match up with demand.  While production is a steady, "ratable" volume, demand is anything but ratable.  Demand swings with petchem feedstock economics, the gasoline blending season, weather and a myriad of other factors.  The flywheel that balances supply and demand on any given day is storage.  But not just any storage.  For NGLs, storage of large volumes means salt caverns.  Huge caverns thousands of feet below the surface.  In this NGL storage blog series starting today, we'll look at the history of NGL salt storage, where it exists, how it is used, and where more of it is needed.  In this first installment we'll go all the way back to the origin of NGL salt storage. All the way back to Smoky Billue.
NGL Storage Recap
But before we get to Smoky, let's get everyone caught up with the NGL blogs that set the stage for our review of NGL storage.  In "Carbon Rich Value High – Trading and Pricing Natural Gas Liquids Part I, Part II, and Part III we described the markets for each of  the five NGLs and the way that they are traded.   We put the spotlight on propane, the product with the biggest demand swing in Part II of our "Long and Winding Road" series.   And earlier this week we looked at the seasonal use of normal butane for RVP control in motor gasoline in Regulatory Gas Pressure Party.  Propane and normal butane have the largest seasonal inventory swings of the NGLs, which can be seen in the graph below of Energy Information Administration (EIA) overall US NGL storage totals for the five products over the last 6 years.  Propane is the brown line and normal butane is the green line.  Clearly storage is an integral part of the NGL marketplace.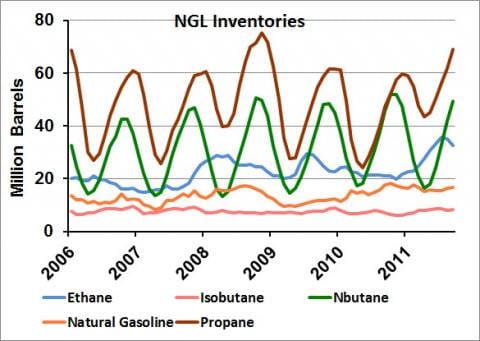 The Problem with Storing NGLs
Look at that graph.  Where do you put 75 million barrels of propane and 50 million barrels of butane? You can't  put these products in regular petroleum storage tanks – like those used for crude oil and motor gasoline.   The vapor pressures of these products are much too high.  The only way propane and butane in tanks stay in liquid form is to keep them under high pressure in thick walled 'bullet' or 'sphere' containers – or to chill them to -44F in the case of propane and 30F in the case of butane.  It is even more difficult to store ethane.  It takes extreme pressure to keep ethane in liquid form, or it must be refrigerated to -127F (super cold).  Only natural gasoline can be stored in regular petroleum storage tanks.
Join Backstage Pass to Read Full Article