Buy Individual ReportFull Report Downloads for Subscribers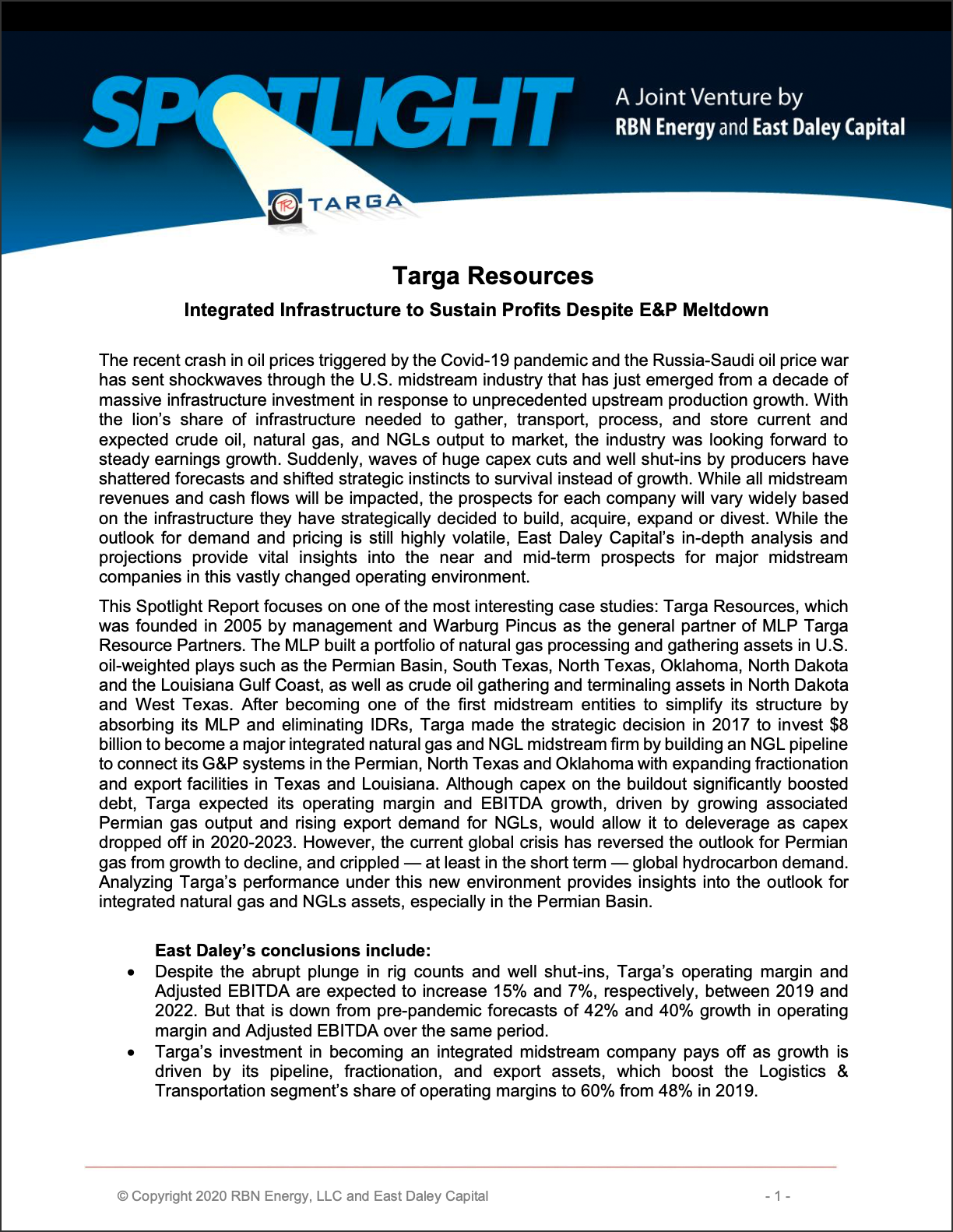 This Spotlight Report focuses on one of the most interesting case studies: Targa Resources, which was founded in 2005 by management and Warburg Pincus as the general partner of MLP Targa Resource Partners. The MLP built a portfolio of natural gas processing and gathering assets in U.S. oil-weighted plays such as the Permian Basin, South Texas, North Texas, Oklahoma, North Dakota and the Louisiana Gulf Coast, as well as crude oil gathering and terminaling assets in North Dakota and West Texas. After becoming one of the first midstream entities to simplify its structure by absorbing its MLP and eliminating IDRs, Targa made the strategic decision in 2017 to invest $8 billion to become a major integrated natural gas and NGL midstream firm by building an NGL pipeline to connect its G&P systems in the Permian, North Texas and Oklahoma with expanding fractionation and export facilities in Texas and Louisiana. Although capex on the buildout significantly boosted debt, Targa expected its operating margin and EBITDA growth, driven by growing associated Permian gas output and rising export demand for NGLs, would allow it to deleverage as capex dropped off in 2020-2023. However, the current global crisis has reversed the outlook for Permian gas from growth to decline, and crippled — at least in the short term — global hydrocarbon demand. Analyzing Targa's performance under this new environment provides insights into the outlook for integrated natural gas and NGLs assets, especially in the Permian Basin.
The insights in this Spotlight report based on unique in-depth analysis and projections from East Daley Capital include:
Despite the abrupt plunge in rig counts and well shut-ins, Targa's operating margin and Adjusted EBITDA are expected to increase 15% and 7%, respectively, between 2019 and 2022. But that is down from pre-pandemic forecasts of 42% and 40% growth in operating margin and Adjusted EBITDA over the same period.
Targa's investment in becoming an integrated midstream company pays off as growth is driven by its pipeline, fractionation, and export assets, which boost the Logistics & Transportation segment's share of operating margins to 60% from 48% in 2019.
Operating margin for the Gathering & Processing segment is expected to fall 18%, from $920 million in 2019 to $756 million in 2022, on significant declines outside of the Permian Basin, where margins will remain stable.
The company has slashed 2020 growth capital investment by an additional 40% to $700-$800 million, enough to complete its major infrastructure expansion, then will drop investment to about $100 million in 2021 and beyond as it shelves significant additional growth projects.
Targa's decision to slash its dividend 90% to save an estimated $755 million in distributable cash flow, along with recently announced capex and opex cost cuts, is forecast to lower its net debt by 29%, from $7.5 billion at year-end 2019 to $5.4 billion by year end 2023.
Lower cash flow growth is likely to impact the timing and scope of Targa's repurchase of Stonepeak's stakes in three development joint ventures involving the Grand Prix and GCX pipelines and the Train 6 fractionator at Mont Belvieu.
Spotlight: Targa is included in RBN's Drill Down report series, a suite of reports covering many of the key issues expected to impact the markets for crude oil, natural gas and natural gas liquids. Spotlight reports are part of RBN Backstage Pass™ premium resources that also include Blog Archive Access, Spotcheck Indicators, Market Fundamentals Webcasts, Get-Togethers and more. Spotlight is a joint venture of RBN Energy and East Daley Capital Advisors.  By subscribing to RBN's Backstage Pass™ Premium Services, you plug into our network and get direct access to our premium resources.
For more information on our friends at East Daley Capital, please visit: https://rbnenergy.com/partners/east-daley-capital-advisors
Download a preview of Spotlight: Targa Resources' Integrated Infrastructure to Sustain Profits Despite E&P Meltdown