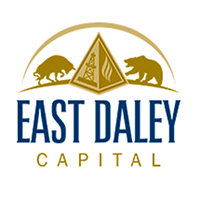 East Daley Capital: The Midstream Expert
Relentlessly Curious. Incredibly Detailed. Powerfully Actionable.
The East Daley Capital Difference
East Daley Capital is the only comprehensive provider of Midstream asset-level data and analysis that covers both the capital and commodity sectors. We go deep, to empower our clients with North American Midstream expertise found nowhere else on the market. Our proprietary methodologies and datasets uncover risk and opportunity by leveraging analysis of the intersection of energy capital and commodity markets. East Daley provides unbiased, actionable market intelligence to many of the largest midstream companies in the oil and gas industry, as well as investors and capital market participants in the energy sector to give them the EDC Advantage with their strategy and execution.
Learn more at sales@eastdaley.com and 303-499-5940 or fill out the form below.
New Coverage Highlight
East Daley provides extensive coverage of Canadian commodity markets, connecting the fundamental supply and demand drivers in basins like the WCSB with financial outcomes of cornerstone midstream companies like PBA and TRP available today, and ENB and KEY coming soon. This coverage rounds out  an industry-leading North American commodity and financial market product set that includes detail midstream company asset level financial models, flexible supply forecast, oil/gas/NGL takeaway analysis, counterparty analysis, contract analysis and much more.
Understanding why Canada matters now more than ever:
Canadian companies, such as TC Energy, Pembina and Enbridge, represent one third of total North American midstream market capitalization 
With the uncertainty around political dynamics in the U.S. and potential impacts to regulations, investors are increasingly looking North
To understand North American commodity supply economics it is critical to understand the roles of both the U.S. and Canada
The Canadian market is complex.
To survey, quantify, and understand the Canadian midstream market, over the course of year, EDC had to:
Map and connect individual producers to the +2,000 reported facilities that make up the value chain of distinct gathering, compressors, processing/straddle plants, and frac plants
Dissect the reporting dysfunction of oil sands data into crude and gas data sets by mine, then tie those to total oil sands production
Forecast NGL production by purity product
Link the commodity value chain to asset-level expectations for each midstream company
List, model, and aggregate short-term contracts and their net impact on cash flow volatility from commodity prices  
East Daley Capital Backstage Pass Contributions
Spotlight Drill Down Series provide a deep dive into the fundamentals that shape the outlook for midstream energy companies.

In each report we "Spotlight" a midstream energy firm, usually one operating within an MLP structure. Our goal is to provide a comprehensive, fundamental- based view of our Spotlight companies based on a bottoms-up analysis of their assets and operations. We tear apart their asset structure to reveal what volumes are flowing, what rates are (and can be) charged, how they are exposed to commodity price risk, how their assets fit together, and what aspects of their operations provide competitive advantages in today's extremely volatile energy marketplace.

Daily Energy Blogs East Daley Capital is a regular contributor to the RBN Energy Daily Energy Blog where they provide unique insights into midstream energy markets.
East Daley 2020/2021 Market Studies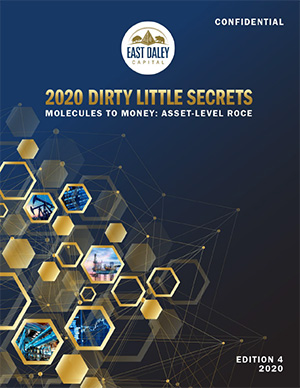 Dirty Little Secrets (DLS) Annual Report - An in-depth look at the investment opportunities and risks in the North American midstream oil and gas sector providing insight into movements that will impact a midstream strategy. 

Dirty Little Secrets (DLS) Annual Report is a 250+ page reference manual and action plan to understanding and capitalizing on dynamics in the midstream sector. Building on the themes from the annual Midstream Guidance Outlook, Dirty Little Secrets includes tailored sections: Midstream Equity Financials, Commodity Fundaments, and Company asset-level analysis across East Daley's midstream companies under coverage. The report is broken down into two parts, where the first three sections are published in Q4 to highlight the trends and themes ahead of the coming year, and the fourth section, with deep insight into each company, is published at the beginning of Q1.

Midstream Guidance Outlook - East Daley's thought leadership and critical perspective on the industry outlook, themes and trends for the coming year with predictions on major impacts to the Midstream sector.

Bringing together the commodity markets and capital markets with asset-level financial modeling, The Midstream Guidance Outlook, released each November, is a pre-cursor to East Daley's in-depth annual report: Dirty Little Secrets (DLS). DLS provides a comprehensive analysis of the sector including key thematic and asset-level analysis across East Daley's midstream companies under coverage.
Please complete the form below for additional information.